Kadhi is loved by one and all and it is also one of the most popular Indian dishes that makes many of us very nostalgic too! While Punjabi kadhi is full of besan pakodas, the sweet and sour Gujarati kadhi is slightly thinner in consistency. Also, Dapka kadhi, a version of Gujarati kadhi, has moong dal pakodas instead of besan pakodas. The kadhi of Uttar Pradesh, on the other hand, has a twist of tomatoes and onions. Marwaris replace the pakodas with gatte and a mix of dry spices to make it tastier. As we move towards south, the version of kadhi is revamped. The Morekozhambu of Tamil Nadu has a paste of coconut, giner, chillies, cumin and coriander seeds while Paruppu urundai morekozhambu uses pakodas made of toor daal. But what's the easiest way to make delicious kadhi with an unforgettable taste? Read on to know the best and easy kadhi recipe.
Ingredients
For Kadhi
Yoghurt: 3 Cups
Gram flour/Besan: 1 Cup
Salt: As per your taste
Turmeric: 1 tsp
Chilli powder: 1 tsp
Garam masala: 1 tsp
Asafoetida/Hing: 1/2 tsp
Cumin seeds: 2 tsp
Whole red chillies: 5-6
Water: 6 Cups
Oil: 1/4 Cup
For Tempering
Butter: 1 tbsp
Chilli powder: 1 tsp
For Pakodis
Gram flour: 1 Cup
Salt: 1 tsp
Oil: 1/2 Cup
Read More: Try Your Hand At Making Famous Himachali Dishes Using Yogurt
Method
Method For The Kadhi Pakoris
Put all the ingredients in a bowl and mix to make a smooth batter with water. Keep this aside for 15 minutes.
Now take a frying pan and heat 1/2 cup of oil in it.
Start beating the pakori mixture to make it fluffy and light. Add the mix spoon by spoon to the hot oil. Fry on medium heat.
Flip the pakoris to another side when they turn brown.
Scoop out the pakoris from the oil and drop them into a kadahi. Repeat this procedure with the rest of the mixture.
Method For The Kadhi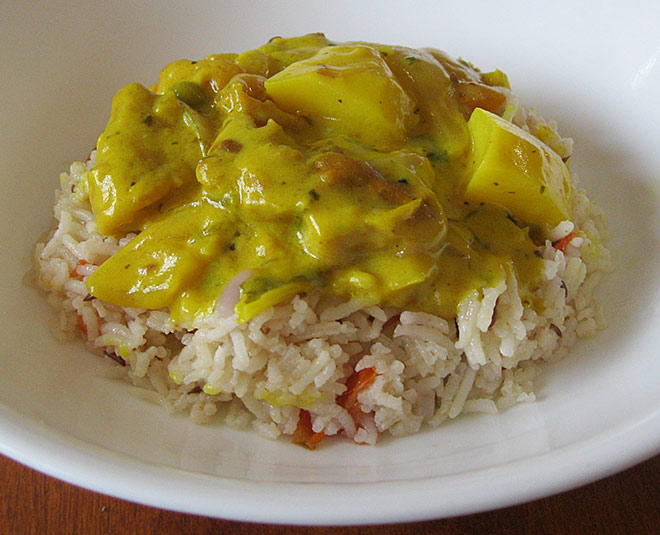 Mix the gram flour, garam masala, chilli powder, turmeric and salt together in a bowl.
Now slowly add the yoghurt to form a smooth paste followed by water.
Take a large, heavy-based pan and heat the oil in it. Add the hing, cumin seeds and whole red chillies.
Now add the flour and yoghurt mix to this and boil it.
Lower the heat to let the kadhi thicken a bit.
Turn off the gas and pour the kadhi into a serving dish. Bring on the pakoris and dunk them into the kadhi.
Add chilli powder to heated butter and pour this over the hot kadhi right away.
Heat the clarified butter, add the chilli powder and pour over the kadahi immediately to garnish.
Your delicious kadhi is ready to eat. Have it with rice and if you want a special feel, make some mint chutney and dunk chopped onions in it to have it with the kadhi chawal. For more easy and quick recipes for lunch, breakfast, dinner, snacks and everything else, keep reading and cooking. Don't forget to comment and let us know how your version of tasty kadhi was!
Did you like this article ?