Aloo sabzi is one of the most prepared dishes in our Indian kitchens. We prepare it in so many different ways and let's be honest, we can't really get enough of it.
However, there are days when you just don't feel like having the leftover aloo sabzi with chapati or paratha. You can turn your leftover aloo sabzi into delicious and quick snacks too. Here are 3 easy recipes. Read on.
Aloo Frankie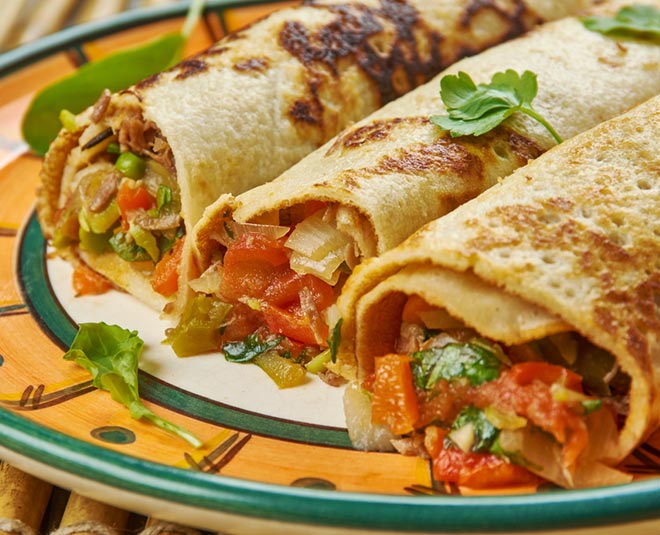 You Will Need
3/4 Cup Refined Flour Or Maida
1/2 Tsp Oil
Salt To Taste
Leftover Aloo Sabzi
1/2 Cup Grated Cheese
3 Tbsp Cornflour
2 Tbsp Green Chillies
1/2 Tsp Garam Masala
Oil For Deep Frying
Black Pepper As Required
Lettuce
Tomato Slices
Onion Rings
Directions
In a bowl, add maida, oil, and some salt. Keep adding water and knead a soft dough.
Take out a small portion and roll out a thin roti. Flip the side and cook till golden brown.
In a pan, add some oil, mashed potato sabzi, cornflour, green chillies, and garam masala. Mix well.
Also, sprinkle salt and black pepper as per taste.
Take off the flame when the mixture cools down.
Using your hands, make small potato rolls.
Place two of them on the frankie and top with lettuce, onion rings, and tomato slices. Add some cheese over it and roll. Enjoy!
Don't Miss: Make Cafe Style Potato Hash Browns At Home Using Just A Few Ingredients
Aloo Kebab
You Will Need
1 Cup Leftover Aloo Sabzi
1 Chopped Onion
2 Chopped Green Chillies
2 Tbsp Coriander Leaves
1 Tbsp Dry Kasuri Methi
1/2 Tsp Black Pepper Powder
1/2 Tsp Red Chilli Powder
1/2 Tsp Cumin Powder
5-7 Garlic Cloves
2 Tbsp Grated Cheese
Salt As Per Taste
1 Egg
Oil For Cooking
Directions
In a bowl, transfer the leftover sabzi and mash it well.
In a pan, add some oil and drop in garlic and onions. Saute for a couple of minutes
Add green chillies, coriander leaves, and spices to the pan and mix well.
Add kasuri methi and grated cheese and mix again. Take off flame.
Once cool, start to make small patties using the dough.
Break an egg and dip the pattie in it. Shallow fry or deep fry depending on choice.
Enjoy with homemade mint chutney.
Aloo Cheese Croquettes
You Will Need
Leftover Aloo Sabzi
1/2 Cup Maida Or Refined Flour
1/2 Tsp Black Pepper Powder
Salt As Per Taste
Bread Crumbs
1/2 Cup Cheese
Tomato Ketchup For Serving
Directions
In a big bowl, add leftover sabzi. Sprinkle salt, pepper and mix well.
Divide the potato mixture in small balls.
Make a small hole with your finger in the ball and place the cheese cube in between and close the ball.
Prepare a mix using refined flour and water.
Dip the potato balls in this mixture and then roll on the breadcrumbs.
In a kadhai, heat oil and drop the potato croquettes. Take off the flame when golden and crisp.
We hope you enjoy making these snacks using leftover potato sabzi! Do you have any interesting recipes which can be prepared using leftover sabzis? Share with us on our Facebook page. For more such easy recipes, stay tuned!