If going healthy is your motive then switch to recipes that utilise healthy superfoods and grains like millets. Here are some recipes rolled out by celebrity chef Kaviraj Khialani that you can prepare easily.
Sprouts And Millet Pulao
Ingredients
Millets 1 Cup
Fresh Sprouts 1 Cup
Oil/Ghee 1 Tbsp
Cumin Seeds 1 Tsp
Curry Leaves 8 To 10 Nos
Ginger 1 Tsp Chopped
Salt To Taste
Turmeric Powder ¼ Tsp
Tomatoes 1 Med Cubes
Fresh Coriander Leaves 1 Tbsp For Garnish
Fresh Lime 1/2 No To Be Squeezed Before Eating
Roasted Crushed Peanuts 1 Tbsp Garnish
Method
Prepare all the ingredients for the recipe.
You may soak the millets for a couple of hours in 1 is to 3 ratios with water/ I prefer to dry toast them for this recipe for 3 to 4 mins until they get fragrant.
Heat oil/ghee in a pan, add in the curry leaves, cumin, ginger and saute for 10 seconds, add in the tomatoes and millets.
Add turmeric, salt to taste, add more spices like coriander powder, red chili powder, chopped green chilies, add veggies of your choice if desired.
Add 2 cups of hot water into the pan, mix well, simmer and cover, cook the millets on low flame for around 15 to 20 mins, check for liquid, stir and turn off flame when cooked.
Cover and leave aside 10 more mins allow to fluff up, garnish with coriander, peanuts and squeeze lime juice, serve with a bowl of salad and curd.
Soy Spinach Millet Indiana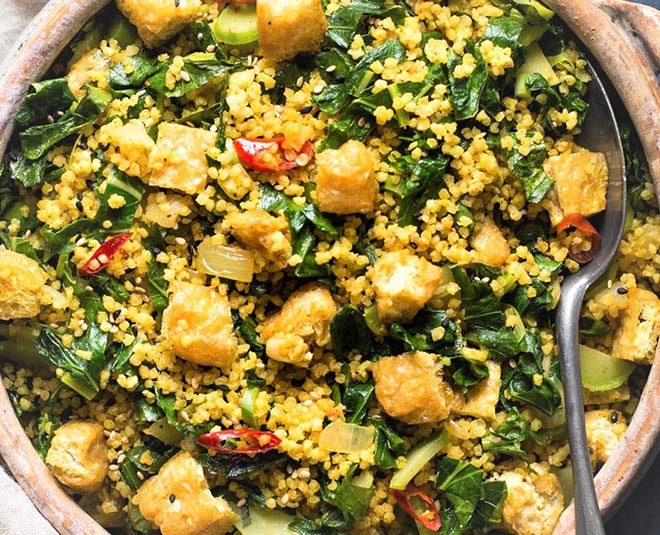 Ingredients
Millets 1 cup, Soaked In Water For 1-2 Hours
Soy Chunks ½ Cup Soaked In Warm Water 10 mins
Spinach Leaves 1 Bunch, Cleaned And Roughly Cut
Oil/Ghee 1 Tbsp
Hing ½ Tsp
Mustard Seeds 1 Tsp
Slit Green/Red Chilies 2 Nos
Water As Needed
Salt to taste
Turmeric Powder 1/2 Tsp
Coriander Powder 1 Tsp
Sunflower Seeds/ Flax Seeds 1 Tsp
Slice of lime, To Squeeze Before Eating
Assorted Nuts (Cashews/Raisins/Almonds) 2 Tbsp
Don't Miss: Celebrity Master Chef Kaviraj Tells How Millets Boost Health In Different Ways
Method
Prepare all ingredients for the recipe.
Heat oil/ghee add in the hing and other ingredients one by one.
Add in the drained millets, salt, spices and mix well, add in the hot water 2 cups to at the start, simmer and allow to cook for 5 mins.
Now add in the squeezed soy chunks and mix cover and cook further for 8 mins.
Add in the spinach leaves and cook for 3 mins more, stir well.
Turn off flame once millets are soft, allow to puff up.
Serve hot garnished with nuts/seeds/leaves/herbs/ squeeze of lime and serve.
Healthy Millet Bowl
Ingredients
Millets 1 Cup, Soaked In Water For 1 Hour
Ghee 1 Tsp
Honey 1 Tbsp
Jaggery 1 Tbsp
Green Cardamom 2 Nos
Dates 3 To 4 Chopped
Milk/Soy Milk/Non-Dairy Milk Like Oats Milk Can Also Be Used
Assorted Chopped Nuts 1 Tbsp For Garnish
Water 2 Cups To Cook The Millets
Don't Miss: Checkout These Healthy Methi Recipes By Celebrity Master Chef Kaviraj
Method
Drain the soaked millets and add them to the water and allow to cook, add in the green cardamom for flavor and add ghee.
Once millets are simmering on one side, in another saucepan warm the milk add in the dates and jaggery mix it well.
Add in the millets once cooked into the milk mixture, cover and simmer for 10 mins.
Serve warm/chilled drizzle a little honey on top and garnish with nuts.
Dr. Kaviraj Khialani Celebrity Master Chef, is a Mumbai-based author, food designer, creative cuisine specialist, food writer and consultant. He has mastered over 33 international cuisines and has also worked with the airlines and hotel industry. He has also been featured on various food shows on TV. A recipient of several National Awards, Khialani has been recognised globally for his valuable contribution to the food and hospitality industry.
Stay tuned to HerZindagi for more healthy recipes.