Winters are here and who doesn't love a piping hot bowl of halwa during this weather? I know we all crave for such delicacies at this time of the year. However, you must be bored of your regular suji and atta halwa that every one of us have been eating for years. So, here are some delicious and easy halwa recipes that you can try this winter season.
Watermelon Halwa
Ingredients
3 large wedges watermelon rind
2 tbsp ghee
1 tbsp suji
1 tbsp besan
½ cup sugar
½ tsp cardamom powder
Pinch of nutmeg powder
1 cup milk
Instructions
Peel the outer layer of the melon.
Now, chop the rind and grind it to make a paste. However, don't use water for this.
Heat some ghee in a pan.
Add besan, suji and cook on low flame till it turns brown.
Now, add the watermelon rind and cook until it turns thick.
Add sugar. Cook for another 10 minutes.
Add milk,nutmeg powder and cardamom powder.
Cook for another 5 minutes and switch off the flame.
Your watermelon halwa is now ready to be served.
Sweet Potato Halwa
Ingredients
1 cup cornmeal
4 - 5 sweet potatoes
1 - 2 tsp ghee
10 raisins
2 tsp cardamom powder
1 cup jaggery
1/2 cup coconut (grated)
1/2 cup almonds
Instructions
Place the cornmeal in the microwave after soaking it for 15 minutes.
Now, boil the sweet potatoes. Peel the skin and grate it.
Heat some ghee in a pan. Add cashew nuts, raisins and saute it. Add sweet potato and saute it until it is slightly coloured.
Add cornmeal and cook it. Add cardamom powder and mix. Cook for another 2 - 3 minutes with the lid on.
Add jaggery and cook for 3-4 minutes until jaggery dissolves.
Now, add grated coconut, ghee and switch off the flame. Mix it well.
Now, garnish it and serve hot.
Beetroot Halwa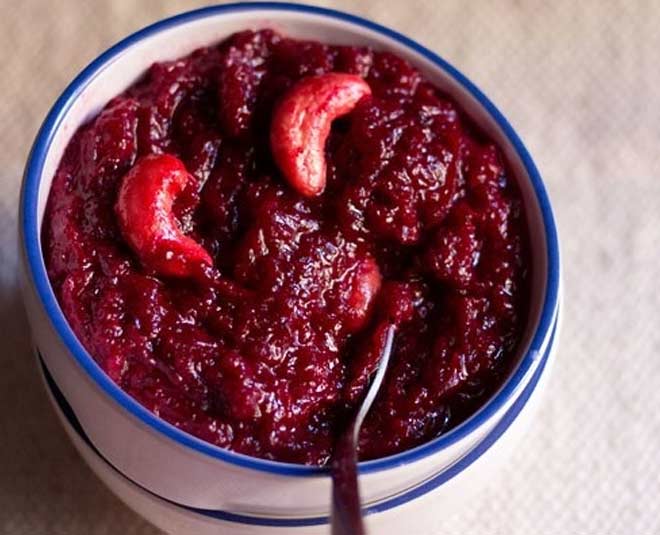 Ingredients
500 Grams Beetroot (Grated)
3 Cups Full Fat Whole Milk
6 Tbsp. Regular Sugar
3 Tbsp. Ghee
1/3 Tsp Cardamom Powder
15 – 20 Cashews
1 Tsp Golden Raisins
Instructions
Take a pan, add milk and beetroot.
On a low to medium flame, bring the whole mixture to a boil and then simmer.
Keep on stirring at intervals.
The grated beetroots will cook in the milk. The milk will start to evaporate.
When the milk is about 75% reduced, add ghee and sugar to the mixture.
Stir well and continue to simmer. Keep cooking on low flame.
Towards the end, add cashews, raisins and cardamom powder. Simmer till all the milk has evaporated.
Now, switch off the flame.
Now, your beetroot halwa is ready to be served.
Don't Miss: Expert Suggests How To Choose The Right Knife
Gajar Halwa/Carrot Halwa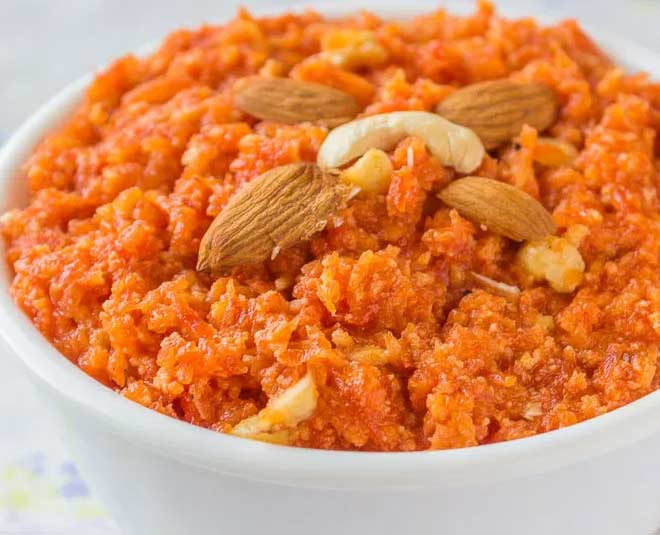 Ingredients
1 kg carrot
1/4 cup ghee
10 cashews
10 almonds
3 cups milk
3/4 cup sugar
1/2 cup khoya
1/4 tsp cardamom powder
Don't Miss: Expert Shares Secrets To Make Your Butter Chicken Perfect
Instructions
Start with peeling the skin of the carrot and grate it.
Heat the ghee in a large pan. Add cashews and almonds.
Fry until they turn brown.
Now, add the carrot and saute well.
Now, pour the milk and mix well.
Boil for 10 minutes and keep stirring occasionally.
Continue to boil until the milk is reduced.
Now, add sugar.
Cook until the sugar dissolves and the halwa thickens.
Turn off the flame. Add 1/2 cup khoya and 1/4 tsp cardamom powder and fried nuts. Mix well.
Your gajar ka halwa is now ready to be served.
For more such stories, stay tuned to HerZindagi!