When it comes to food, we Indians love our desi curries and mouth-watering appetisers. But, let's admit it, there are days when we feel like savouring fusion foods, especially the ones that have the aroma of Indian spices, and flavour of continental dishes. Cookbook author and actor Padma Lakshmi is often seen cooking various Indian dishes with a twist. And since her birthday is just around the corner, we thought of borrowing some of her recipes and sharing them with you, so that you can make those at home and settle your hunger pangs in no time!
Padma's Khichdi
She, who has hosted the Emmy-award winning cooking competition program, Top Chef, loves serving much-loved Indian food, khichdi to her family and friends. This recipe is her healthier take on the traditional dish.
Ingredients
1 cup of masoor dal
½ cup of basmati rice
1 teaspoon kosher salt
½ cup of diced carrots
2 tablespoons canola oil
2-3 dried red chillies
1 bay leaf
¾ teaspoon of black mustard seeds
½ teaspoon of ground cumin
½ teaspoon of black pepper
1 teaspoon of unsalted butter or ghee
Steps
Start by washing your lentils (dal) in a bowl.
Take a pressure cooker or a large stockpot. Add lentils, salt, rice, and bay leaf.
Then add water to soak the ingredients. Stir well.
Turn on the stove on medium-high heat and bring the mixture to a boil.
Reduce the heat to medium flame and stir, so that ingredients don't stick on the bottom.
Add carrots and let it cook for 20 minutes until the rice is tender and the consistency is thick.
Meanwhile, place another pan on the stove, add and heat canola oil until shimmering.
Also, add chilies, mustard seeds, cumin, and pepper. Add this mixture into the khichdi.
Let it cook for another 2 minutes, remove from the heat, and serve.
Padma's Special Chicken Korma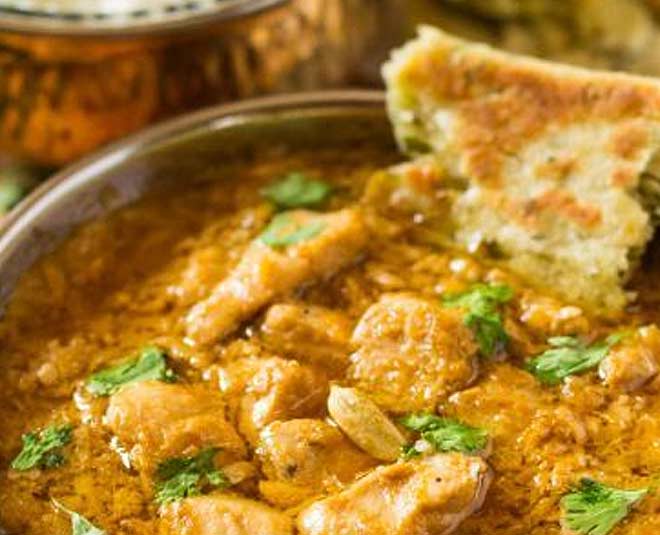 This recipe is a big hit among Indian NRIs since it is so easy to make and reminds them of incredible Indian flavours. The recipe also has a tang of global cuisine, which makes it a perfect fusion dish. To prepare Padma Lakshmi's special chicken korma dish, you will need:
Ingredients
4-5 boneless skinless chicken breasts
2 tablespoons white wine vinegar
½ cup of tamarind pulp
10 green cardamom pods
3 star anise
½ teaspoon of black peppercorns
4 diced tomatoes (benefits of eating tomatoes)
3 tablespoons of sesame oil
3-4 hot red chilli peppers
3 black cardamom pods
1 cinnamon stick
3 minced garlic cloves
9 sliced shallots
½ cup of crushed raw cashews
1-inch ginger root
1 teaspoon garam masala
1 teaspoon salt
Steps
Take a large bowl, combine chicken and vinegar. Refrigerate it for around 30 minutes.
Then take another bowl, add tamarind and soak in boiling water for 20 minutes.
Take your mixture grinder, add green cardamom seeds, cloves, star anise, and peppercorns and grind until combined.
Also, add ground spices into the tamarind gravy and cover with a lid.
Clean the grinder, and make tomato puree in it.
Place a wok on the stove, add oil, red chilies, black cardamom, and cinnamon stick. Cook for 2 minutes.
Also add garlic, shallots, cashews, and ginger.
Add both tamarind and ground-spice mixture. Keep stirring occasionally.
Add the reserved tomato puree mixture and garam masala. Cook until mixture thickens.
At this point add salt and then add chicken breasts.
Cook for another 10 minutes and your chicken korma is ready!
Padma's Favourite Dosa
Born in Chennai, India, into a middle-class Tamil family, Dosa happens to be one of her favourite dishes. Reportedly, this dosa recipe was shared with her by her aunt Bhanu. Recently, Padma also posted a clip of preparing dosa on her IG profile for the vice-presidential nominee for the 2020 US election, Kamala Harris. Apparently, Kamala too loves this south Indian dish.
Ingredients
3 cups white long-grain rice
1 ¼ cup of white gram lentils (urad dal)
¼ teaspoon fenugreek
¼ cup of canola or sesame oil
Salt to taste
Steps
Take a large bowl, add water and rice. In another bowl, soak lentils in water. Let both bowls sit for at least 5 hours.
Blend both lentils and rice together in a blender until a smooth batter is formed.
Also, add fenugreek in it.
Take a deep bottomed pot, pour the batter in it.
Cover and place the pot in an off oven and let it sit overnight.
After a minimum of 24 hours, check to see if the batter has risen.
Now stir the batter and add a tablespoon of salt.
Place a flat griddle on the stove and heat on the medium-high flame.
Pour just a ¼ cup of batter and start spreading it evenly in a circle.
Drizzle oil around the edges to crisp up the dosa.
After a minute or two, take a spatula and lift the dosa and flip carefully.
Just heat through for a minute and serve with chutney.
Padma's Mexican Mac & Cheese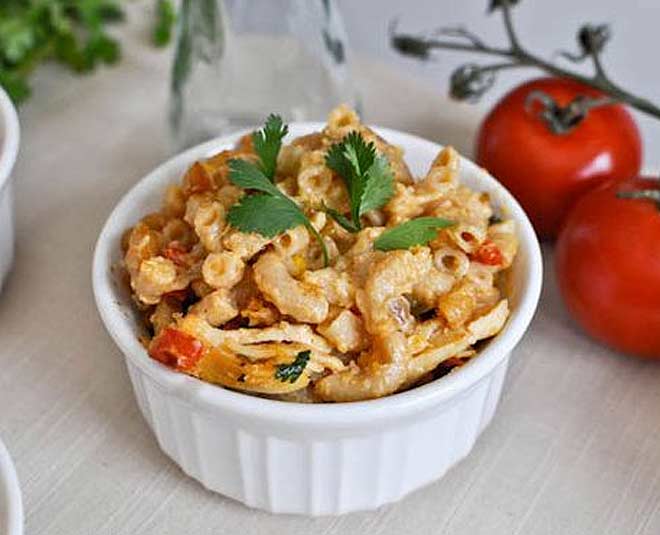 If you're looking for some comfort food recipes, Padma Lakshmi is here to help. The supermodel comes up with some of the most scrumptious, wholesome, and satisfying fusion recipes. This special Mexican mac & cheese dish is one of them.
Ingredients
2 cups of ditalini or other small elbow macaroni
4 cups of whole milk
2 tablespoons of olive oil
½ cup of diced shallots
3 to 4 minced pickled jalapenos
1 1/3 cups of grated cheddar cheese
½ teaspoon of dried Mexican oregano
1 cup of grated mild jack cheese
1/8 to ¼ teaspoon of raw sugar
1/3 cup of goat cheese
8 tablespoons of butter
Steps
Place a wok on the stove, add and heat the olive oil.
Add shallots, chilies, oregano, sugar, and stir for 5 minutes.
Once the shallots begin to caramelise, add the butter. Keep stirring.
Add milk, macaroni, and turn the heat up.
After a minute or so, add cheddar and jack cheese.
Stir gently and then add the goat cheese.
Keep stirring occasionally and let it cook for 30 minutes.
Preheat the oven to 350°F.
Turn off the heat and sprinkle the rest of the cheddar cheese over the top of the macaroni to form a layer of cheese.
Then put the wok in the oven for 10 minutes.
Once cooked, serve immediately.
Padma's Stir Fried Rice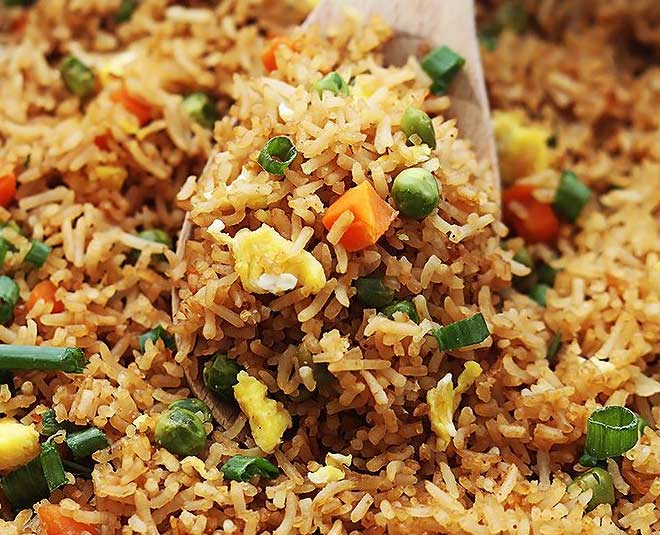 Fusion food list cannot be considered complete without a delicious Indo-Chinese recipe. This stir fried rice recipe by Padma Lakshmi is simple and is loved by her fans and followers.
Ingredients
2 tablespoons of canola oil
½ cup of diced red and yellow bell peppers
½ cup of diced onions
1 teaspoon of Madras curry powder
1 teaspoon of minced garlic
1 teaspoon minced fresh ginger
½ cup of frozen or fresh peas
1 package Thai jasmine rice
2 tablespoons of soy sauce
¼ cup of chopped fresh cilantro
1-2 tablespoons of fresh lime juice
Salt to taste
Steps
Place a wok on the pan, add oil and heat on medium-high flame.
Add diced bell peppers, onions, peas, garlic, ginger, and curry powder. Stir and let it all cook for about 5 minutes.
Heat rice in a microwave for 3 minutes.
Then add 2 tablespoons of soy sauce and stir to evenly coat veggies.
Add jasmine rice in it. Sprinkle salt to taste.
Stir and for 2-3 minutes. Garnish with fresh chopped mint and lime juice and serve hot.
If you liked this article, do comment on our Facebook page. Stay tuned to HerZindagi to read more updates.