We Indians love our smoked or tandoori dishes. Be it vegetarian cuisine or a non-vegetarian delicacy, the process of preparing a few dishes using the smoking technique is an ancient culinary technique, which helps to give food a unique flavour. While it adds a distinctive tang to the food, smoking also entails an exciting cooking process. But as much as people enjoy their tandoori chicken, litti chokha, smoked fish, and much more, one can't deny there are also certain health risks that come with these mouth-watering cuisines. The chemical reaction and the burnt element can potentially turn out to be harmful to health. So, in order to enjoy scrumptious smoked dishes without taking a toll on health, use these simple tips:
Do Not Burn Your Food
The idea behind tandoori dishes is to keep the main ingredient moist from the inside and crisp from the outside. However, if you will burn it, you will only be eating corbonised elements, which doesn't taste good and is very hazardous for health. It is best to do your research before start cooking. Your vegetables like tomato, baby corn, onion, capsicum will always take less time to cook, whereas, meats will need more time, along with certain techniques to prepare. You will need to oil them twice or thrice, along with turning them constantly towards the fire. Also, cook each side for an equal amount of time, so that you don't overcook one side and leave the other raw.
Don't Miss: Know which is the healthiest cooking oil and how much you can have in a day
Marinating Is The Key

The more you marinate, the better your food is likely to taste. However, marinating items is not just synonymous to taste, the process also keeps your food from overcooking. You can also pick the most wholesome ingredients to marinade meats and veggies for the added health factors. Try marinating veggies and meat overnight to let the juices of healthy elements seep in. While it is easy to marinade ingredients in the store-bought sauces, it is not that healthy and is also high in salt content. Therefore, marinade with a simple homemade sauce, it will be wholesome and it will also prevent the meats and veggies from overcooking and burning.
Club With Healthy Ingredients
Even if you don't eat those side elements, clubbing those wholesome foods will increase the nutrition factor of your food. While you are smoking up vegetables to prepare some sort of chutney, or you're tenderising fish or chicken, adding herbs, spices, extra vegetables into your recipe will result in surprisingly healthy and delicious dishes. It is because the juices get mixed, and gives the recipe a unique tang. Some of the ingredients you can always include are mushroom, chillies, capsicum, tomatoes, corn, onions, broccoli, potatoes, and eggplant.
Don't Miss: Food Items Which Should Never Be Stored In The Fridge
Consume Small Portion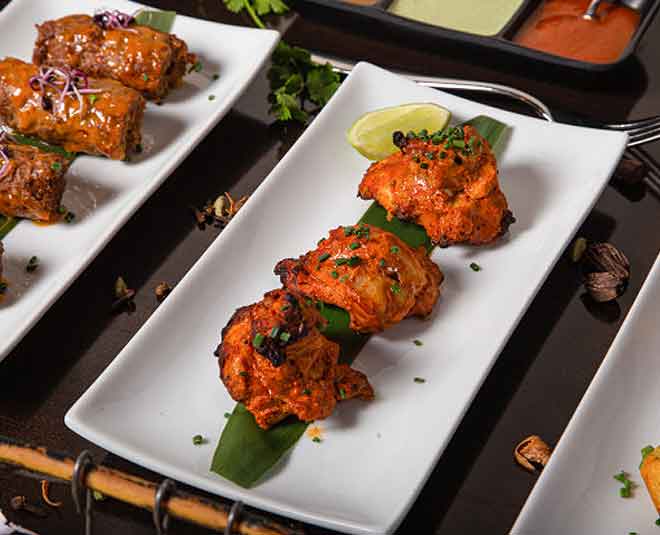 We know the tandoori dish is looking lip-smacking and your taste buds are demanding for more and more, however, you must avoid overstuffing yourself from food rich in fat and spices. While tandoori dishes have less oil and grease in comparison to most other types of cooked recipes, it is always good for your stomach to digest food slowly. You must cut the portions and arrange them into smaller plates. Like this, you will eat less, enjoy different varieties, and will also feel full.
Pick Your Meats Smartly
We know there are meats that have more fat content than that of a fish or other kinds of seafood. In order to look after your health, you must pick the meat smartly, so that you can minimise the fat content of your smoked recipes. It is especially important for heart patients, and for people, who consume non-vegetarian dishes on a regular basis. A smart thing to do is to pick pieces that have less fat, such as liver, or breast.
If you liked this article, do comment on our Facebook page. Stay tuned to HerZindagi to read more updates.