We all love munching on something new each day but the lengthy recipes and so many ingredients are surely responsible for discouraging us to do so. And at the end of it all, we are stuck to the regular dishes that we usually eat. But what if we told you a way out of this loop? Yes, we sure can! All you have to do is try out some really simple recipes involving only 3 common ingredients and very little cooking time. So, if you are excited to see what these recipes are then take a look below.
Peanut Butter Cereal Bites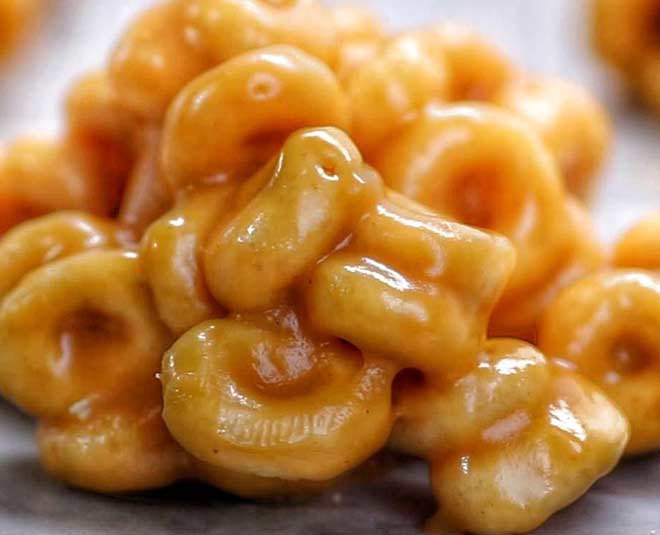 These are the regular cereal bites that we have at home coated with a tasty coating of peanut butter See how it is made.
Ingredients
Honey
Peanut Butter
Honey Nut Cereal
Method
To make these amazingly delicious cereal bites wrapped with a layer of honey and peanut butter, all you have to do is.
Take equal parts of both peanut butter(benefits of eating peanut butter) and honey in a bowl that is microwave safe.
Then place it in the microwave and turn it on and let it heat for about 1 minute.
Then take out the bowl and using a spoon, blend the honey and peanut butter well and combine.
Add 4-5 parts of the cereal and mix along with this mixture
Scoop in with a spoon and place over butter paper, let it cool and enjoy!
Peanut Butter Cookies
Peanut butter is one of the tastiest and healthiest things to munch on. And if just in case you are tired of eating it like you usually do, then go ahead and make some cookies out of it.
Ingredients
1 Cup Peanut Butter
1/2 Cup Sugar
1 Egg
Method
These cookies are super delicious and easy to make. Start by preheating the oven to 350 degrees.
Then mix all the ingredients in a bowl and blend well to make a dough out of it.
Roll balls out of this dough and flatten them over a nonstick baking sheet.
Press a fork over the top of the cookies to make interesting patterns.
Bake for 10 minutes and take them out once they are golden brown.
Remove from the tray and let them cool before eating.
Flourless Blueberry Muffin
Who doesn't like muffins? We all do. So, just imagine, what a great thing it would be if you get to prepare them without hassle. Here's how you can do it.
Ingredients
10 Bananas & 2 Cups Blueberries
1 Cup Butter
Cocoa Powder
Method
To prepare this delicious and fruity flourless muffin, just preheat the oven to 350 degrees.
Then mash the bananas(banana dessert recipes) with the help of a fork.
Add the butter to the bananas and put them in a bowl. Mix them thoroughly together.
Divide this batter into two parts, mix cocoa powder to one part and blueberries to the other and give them both a good blend.
Finally, take your muffin tray and grease it with butter. Next fill half of the muffin mould with one batter and the other half with the other batter to make a scrumptious combination.
Bake the muffins for about 20 minutes and take them out, cool them down, and serve.
So, try these amazing dishes and let us know how you liked them. Stay tuned to Her Zindagi for more such delicious and easy recipes.