During this quarantine period when all of us are under lockdown, and frustrated, we have to look for ways to de-stress and eat healthy at the same time. Our HerZindagi team has been trying to do its best to keep you entertained and give you ideas to keep yourself occupied. Not just this, we also want you to stay healthy and eat right and not give into sinful cravings every now and then. But healthy needn't be boring, I have compiled a list of really easy and tasty recipes with which you can cook up a storm in less than an hour, for dinner!
Spiced Paneer With Chilli Lentils (Sabat Masar Dal)
Ingredients
75g sabat masar
500ml water
1 grated small onion
Thumb sized piece of ginger chopped and peeled
1 chopped red chilli
½ tsp garam masala
½ tsp turmeric
230 gms cubed paneer
Bunch of chopped coriander
Sunflower oil or whatever oil you cook in
Method
Take a deep vessel and pour in the water and all the other ingredients and bring it to a boil on a simmer. The dal takes time so once it comes to a boil, cover the vessel and cook for another 20 minutes till the dal becomes soft.
Drain the water, add coriander and stir well.
Take a non-stick pan and heat some oil.
Toss in the paneer, a pinch of turmeric and garam masala and fry till golden. Don't deep fry , shallow fry is what we want.
Now take the paneer and mix it into the dal and serve with rotis.
Coconut & Peanut Aubergine Curry (Brinjal or Baingan)
Ingredients
Oil for shallow frying
2 aubergines cut into large chunks
2 chopped onions
2 cloves of crushed garlic
5 sm grated ginger
1 tsp cumin seeds
1 tsp coriander seeds
1 tsp turmeric
½ tsp chilli powder
300 ml coconut milk
1 tbsp tamarind paste
1 tbsp peanut butter
Method
Heat a spoonful of oil in a pan and fry the baingan until golden and soft and then drain them on absorbent paper.
Now, add the onion and saute until soft and golden.
Next, add the garlic and ginger and cook for a minute and then fold in all the spices and cook for 2 minutes.
Now, add the coconut milk, tamarind and peanut butter and cook on simmer till the butter dissolves.
Add the baingan back and simmer for 15 minutes.
Stir in some coriander and serve with bread or rice.
Cauliflower Rice With Aubergine Ragoût
Ingredients
1 diced onion
Olive oil
1 diced aubergine
400 gms chopped tomatoes
1 tsp cumin seeds
1/2 tsp cinnamon
1 tbsp harissa paste but here we can substitute it with red chilli paste
A bunch of chopped coriander
1 cauliflower broken into florets
½ tsp ground cumin
½ tsp coriander powder
Method
Heat some oil and fry the onions and then add the aubergine until golden.
Add the chopped tomatoes, spices, chilli paste and a splash of water.
Leave it on simmer for 20 minutes till we can see the aubergine breaking down.
Put the cauliflower in a food processor till it becomes grainy.
Heat a little olive oil in a large non-stick frying pan and toast the spices for a minute and then add in the cauliflower.
Stir-fry for 2 minutes and serve with the aubergine mix you made which is called ragoût, with chopped coriander seasoning.
Roast Cauliflower Korma
Ingredients
1 large cauliflower broken into florets
2 tbsp oil
1 1/2 tsp turmeric powder
Salt
4 cardamom pods
2 tsp cumin seeds
1 large finely chopped onion
1 chopped green chilli
2 crushed garlic cloves
1 tbsp grated ginger
2 tsp coriander powder
4 powdered cloves
200ml water
2 tbsp ground almonds
5 tbsp curd
Chopped coriander
Method
Put the cauliflower in a bowl with 1 tbsp oil, a tsp of the turmeric and salt as per taste. Now toss it all together and roast on a non-stick for 30 minutes until you see some browning and it begins to soften.
Now heat some oil in another pan and add cardamom and cumin seeds, and sizzle until fragrant.
Add the chilli and onion and cook until the onion softens and lightly golden.
Next, cook the ginger and garlic for 2 minutes and stir in the turmeric and rest of the spices.
Now mix in the roasted cauliflower and stir well, then add the stock and almonds.
Cook on simmer for 5 minutes and then stir in the curd and heat through gently.
Stir in the coriander and serve with rice or roti.
Don't Miss: Viral Food Trend: Dalgona Chocolate Coffee, Dalgona Style Milk Bubble Tea, 4 Recipes Of Dalgona You Can't Miss
Cauliflower Crust Pizza
Ingredients
½ cauliflower broken into florets
1 beaten egg
50 gms cheese
Olive oil for cooking
½ clove of garlic
250ml paste or puree of tomatoes
Handful of basil
100 gms thinly sliced mozzarella cheese
Method
Cook the cauliflower for 4 minutes in boiling salted water, then drain well.
Once it cools down, pat it dry and then put it in the food processor to make a couscous.
Now mix it into a bowl with egg and parmesan cheese.
Mix until it comes together.
Now take your microwave friendly vessel or Spread onto a lined baking sheet, sprayed with oil and press into a pizza base shape using a spatula.
Bake for 20 minutes in the oven or microwave and keep checking until it is golden and feels firm.
While it bakes fry the garlic in olive oil for a minute and then add the puree or paste.
Simmer until it thickens and becomes spreadable.
Add the basil and season.
Spread the tomato sauce over the base then add the mozzarella.
Put it back in the oven for 10 minutes until the cheese has turned golden.
Serve with the seasonings you like. .
Allahabadi Tehri
Ingredients
2 tbsp mustard oil
2 potatoes
2 bay leaves
½ inch cinnamon stick
2 black peppercorns
3 cloves
2 black cardamoms
5 green cardamoms
1 chopped onion
1 tsp chopped ginger
1 tsp chopped garlic
1 chopped green chillies
1 tsp cumin powder
1 tsp coriander powder
1 tsp turmeric powder
1/4 tsp red chilli powder
1/4 tsp hing water
1/2 tsp salt
1 chopped carrot,
1 chopped cup cauliflower
2 tsp chopped green beans
2 tsp peas
2 tbsp curd
2 tsp coriander leaves
1 cup rice
2 cups vegetable stock or water
Method
In a heavy bottomed pan heat the oil and fry potatoes till golden brown.
Now take some oil in a pressure cooker and add the whole spices (bay leaves, cinnamon stick, black peppercorns, cloves along with black and green cardamoms).
Saute on a low flame and then add chopped onion to it and cook.
Add the green chillies and ginger, garlic and stir until a flavour comes out.
Now add the cumin powder, coriander powder, turmeric powder and red chilli powder, hing water and salt. Mix well.
Add all the vegetables and fried potatoes and mix them all with the spices and cook for 4-5 minutes.
Add curd, coriander leaves and rice.
Now add the vegetable stock and mix well.
Pressure cook this for 1 whistle and your Tehri is ready.
Cauliflower rice
Ingredients
Method
Pulse the cauliflower that you have broken into florets, in a food processor, to make fine grains.
Stir-fry it and roast for a bit till it becomes a little light brown in colour.
Now just like jeera rice, you can instead of roasting, fry cauliflower rice in a drizzle of oil with salt and pepper and a few herbs or spices if you like.
You can have this with a curry or even like quinoa salad wherein you can tip the rice into a bowl and top with roasted veggies, dals, beans, chickpeas, a few seeds or chicken for non veg lovers and a dollop of curd.
This makes for a very healthy and protein-rich dinner.
Veg Risotto
Ingredients
2 cup broken rice
2 cup frozen mixed vegetables
3 tbsp virgin olive oil
4 cup vegetable broth
4 tbsp cheese
Salt as required
2 onions
2 garlic cloves
1/2 tsp peppercorns
3 tbsp butter
Method
Warm the vegetable stock in one pan and in another, heat oil on a medium flame.
Once the oil is hot add chopped garlic cloves and onion slices and saute.
In the same pan add rice and stir well.
After sometime, stir in the vegetable stock and add the frozen vegetables with the butter, peppercorns and cheese in the same pan.
Cover the pan and leave it on simmer for 10 minutes.
Then cook on the medium flame for another 2 minutes but uncovered.
Serve.
Don't Miss: Easy To Make Chicken Coconut Milk Curry Recipe That Everyone Will Love
Hariyali Biryani Risotto Recipe
Ingredients
10 gms olive oil
5 gms celery
10 gms butter
30 gms broccoli
20 gms beans
10 gms onion
1 gms chilly flakes
20 gms green peas
30 gms mint coriander paste
200 gms risotto (cooked broken rice with semi creamy consistency)
30 gms cream
Salt as per taste
1 tsp pepper
Method
Heat oil and butter and butter in a pan.
Add the celery, sliced onions, and saute.
Add the broccoli, beans and green peas and saute.
Add the cream and water.
Add risotto and mix it well.
Season it with some pepper and salt if need be and transfer into a plate.
Makhni Paneer Biryani Recipe
Ingredients
250 gm cubes of paneer
1 1/2 cup ghee
2 tbsp whole spices
1 large finely chopped onion
3 tbsp butter
2 cups tomato puree
2 green chillies
4 cloves of garlic
1 tbsp chopped ginger
1 tsp haldi
1 tsp cumin and coriander powder
1 tsp tandoori masala
1/2 tsp cardamom powder
1 tsp sugar
1/4 cup cashew paste
1/2 cup cream
Salt to taste
5 cups cooked Basmati rice
1 cup fried onions
1/2 cup almond slivers
1/2 cup chopped mint and coriander
Method
Fry the paneer cubes in ghee and set it aside..
In the same pan, add all the whole spices.
One the spices start crackling, add the chopped onions, green chillies, ginger garlic and fry for 2 minutes.
Add the powdered masalas and the tomato puree and cook on simmer for 10 minutes.
Add the cashew paste and cream.
Add the paneer into the gravy and simmer for 6 to 8 minutes.
Now take the serving vessel and layer the rice and the paneer alternatively.
Garnish with fried nuts, onions and fresh mint and coriander.
Now cover it and heat it for 10 minutes to merge the flavours and serve hot
Egg Biryani
Ingredients
2 cups of soaked Basmati rice
6 eggs
1 sliced onion
5 slit green chillies
1 bay leaf
4 cloves
8 peppercorns
1 inch cinnamon
1 tsp ginger and garlic paste
2 tbsp oil
Salt to taste
Method
Boil the eggs and shell them.
Heat oil in a large dish and then add the whole spices.
Now add the onion and green chillies with the ginger garlic paste and fry them until they turn light brown.
Add the drained rice to it and fry for a minute.
Add salt as per taste.
Now put the boiled eggs into it and pour four cups of water.
Cover and cook till the rice is half done.
Now stir in a bit of lemon juice and mix gently.
Cover and cook till the water dries up and the rice is cooked.
Serve.
Beetroot Rice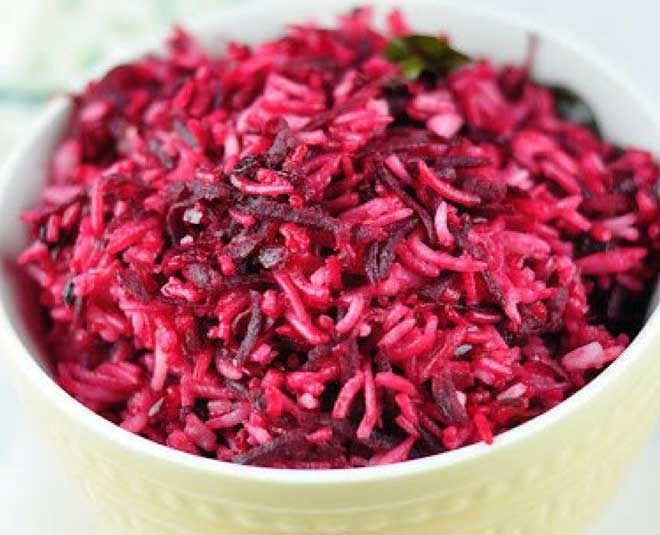 Ingredients
1 tbsp ghee
1 tsp cumin
1 bay leaf
4 cloves
2 cardamom pods
1 inch cinnamon
½ sliced onion
1 slit chilli
1 tsp ginger garlic paste
½ finely chopped tomato
1 cup chopped beetroot
2 tbsp beetroot, grated
¼ tsp turmeric
¼ tsp garam masala
1 tsp salt
2 tbsp finely chopped mint / pudina
1 cup soaked basmati rice
2 cup water
1 tsp lemon juice
2 tbsp chopped coriander
Method
Take a kadhai and heat a tbsp ghee and saute with the cumin, bay leaf, cloves, cardamom and cinnamon stick.
Next, add the onion, chilli and ginger garlic paste and saute well.
Now, add the tomato and saute until they turn soft and mushy.
Now add the chopped beetroot and the grated beetroot and saute for 2 minutes.
Add the turmeric, garam masala, salt and mint and saute.
Add the rice, 2 cups of water and mix well.
Simmer and cook for 20 minutes while covered
Once the rice is cooked, add the coriander and mix well.
Serve with raita.
Dhaniya Rice
Ingredients
2 cups Basmati rice
1 whole bunch of coriander
1 sliced onion
½ tsp of tamarind paste
2 red chillies
1 tsp urad dal
1 tsp mustard
3 tbsp oil
2 tbsp of garam masala
1 tsp cinnamon powder
1 bay leaf
4 cloves
1 tbsp ghee
A pinch of hing
Salt to taste
Method
Soak rice in warm water for half an hour.
Heat 1 tbsp oil in a pan and saute mustard and once it splutters add urad dal, red chillies and hing.
Fry until the dal turns light brown and keep aside.
Cook the rice .
Chop the coriander to add it to the mixer.
Blend the coriander, tamarind paste and the fried ingredients together.
Add salt and grind with a little water.
Fry the cloves, onions, cinnamon and bay leaf in the remaining oil.
Now, add rice in parts and mix continuously to avoid lumps.
Add 2 tbsp of the chutney and mix.
Alternate till all the rice is mixed and the dhaniya is evenly coated on the rice.
Add garam masala, salt and mix.
Add the ghee and mix well before serving.
Serve with curd.
Don't Miss: Make Comforting, Nutritious & Tasty Bisi Bele Bath, In 40 Minutes, Using This Recipe To Detox!
Lauki Koftas Curry without Onion
Ingredients
For Koftas:
1/2 tsp ginger paste
1/2 tsp red chilli powder
1/2 tsp garam masala
1 cup grated bottle gourd pieces
4 tbsp besan flour
Salt for taste
For Gravy:
1 tsp red chilli powder
1 tsp coriander powder
1/4 tsp turmeric powder
1 tsp garam masala powder
1 cup tomato puree
3/4 tsp cumin seeds
1 tsp ginger paste
5 cashew nuts
Bottle gourd juice that was left
1/2 cup curd
2 tbsp coriander leaves
Method
Preheat the oven to 350 F meanwhile mix the bottle gourd pieces with salt and keep aside.
Strain the water and keep it for gravy.
Add the remaining ingredients to the bottle gourd and make small balls.
Bake for 25 mins until it turns golden brown.
In a pan, heat the oil and cumin seeds,and once they start spluttering, add the ginger paste and fry for a few minutes,
Grind the cashews to make a paste with curd and set aside
Back to the pan, add the tomato puree, juice, red chilli powder and coriander powder, haldi, garam masala powder, salt and bring them to boil.
Keep the flame on simmer for a few mins.
Add the cashew-curd paste and cook. Do so until the oil separates.
Now add the oven baked lauki koftas to the gravy and cook for 2 mins.
Garnish with the chopped coriander leaves.
Serve hot.
Brinjal With Coconut Masala
Ingredients
4 long aubergines
1 tbsp crushed peanuts
1 tbsp grated coconut
1/2 tsp red chilli powder
1 tsp dhania powder
1/4 tsp haldi
1/2 tsp garam masala
1/2 tsp amchoor
1/2 tsp each ginger & garlic paste
Salt to taste
1 tbsp oil
1 tbsp chopped coriander
Method
Mix the coconut, spices, peanut and salt together.
Slit the aubergines lengthwise and studd each with the masala mixture.
Place them in a shallow bowl which has a loose lid.
Heat oil and add the ginger garlic paste and also the aubergines.
Cover and microwave on high for 5 minutes
Turn once at half time.
Let it be for 4 minutes and serve.
Garnish with coriander.
Amla Sabzi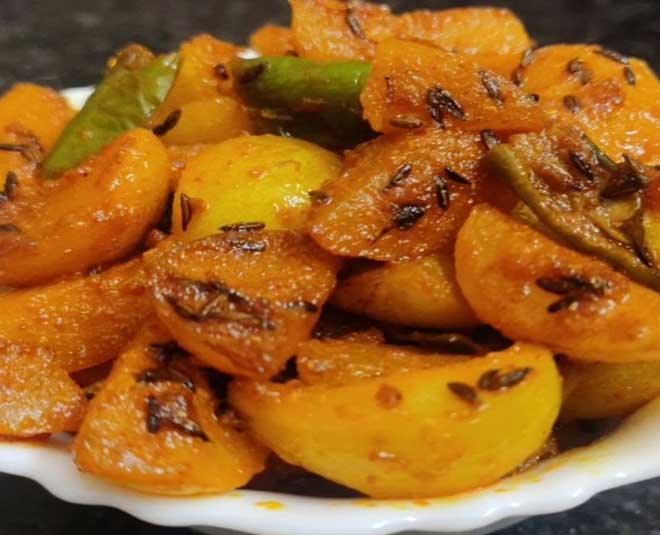 Ingredients
250gms amla
1 tsp chilli powder
1/2 tsp dhania powder
1/4 tsp haldi
1 tsp mustard which has been crushed
1/2 tsp cumin seeds
2 pinches of hing
1 tbsp oil
Salt to taste
Method
Boil the amla in water for 4 to 5 minutes and then cut into segments, discarding seed.
Sprinkle all the masalas, the salt, mustard, over segments.
Heat oil, add cumin and hing and let it splutter.
Then add the amla and stir till you see the oil leaving the sides.
Take off fire.
Serve with roti
Paneer Pasanda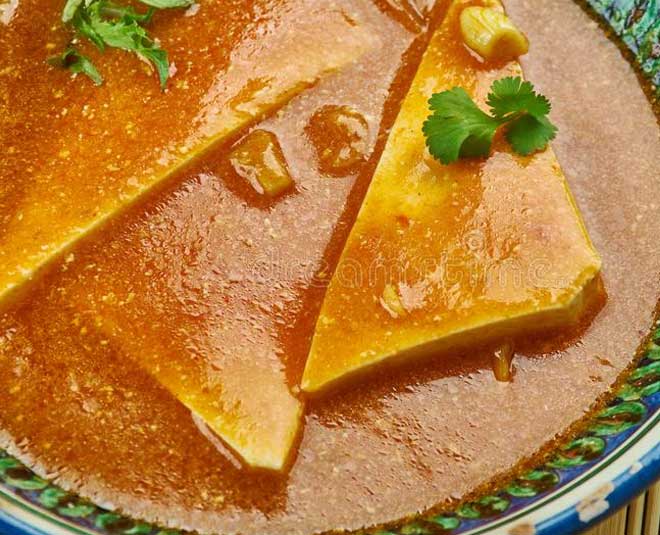 Ingredients
1.5 cups crumbled paneer
3 tbsp maida
1/2 tsp pepper
1 chopped green chilli
Salt as needed
Bread crumbs depending upon your liking and need
Oil as needed
For the gravy:
1.5 cups sliced onion
8 cashews
1 tsp ginger garlic paste
1/2 cup curd
1/2 tsp garam masala
1 tsp red chilli powder
Salt as needed
2 tbsp oil
1 sprig coriander leaves
Method
To soften the paneer cubes immerse them in hot water for 10 minutes.
Then drain the paneer completely and grind in a mixer to crumble.
In a bowl, mix the paneer with pepper, chilli, salt and 2 tbsp maida.
Make small cutlets.
Make a thick paste out with maida and water and dip the cutlets in the maida.
Then coat with bread crumbs and shallow fry.
Gravy
Fry the ginger garlic paste, onion and cashew nuts until the onions turn golden brown.
Cool and grind into a smooth paste with a little bit of water.
Heat pan and fry the ground paste in some oil for 3-4 minutes on medium flame.
Add garam masala and red chilli powder and fry until oil separates.
Add the well beaten curd and mix properly.
Cook until oil separates from the gravy.
Add another 3/4 cup of water and bring to boil.
Arrange the cutlets in a bowl and pour the gravy over them
Garnish well with chopped coriander leaves.
Bengali Kumro Chenchki (pumpkin sabzi)
Ingredients
500 gms pumpkin cut into bite size pieces
3 tbsp vegetable oil
1 heaped tsp panch phoron (ground Cumin, Brown Mustard, Fenugreek, Nigella and Fennel)
2 dried mild red chillies deseeded
1½" ginger paste
1 tsp haldi
¼ tsp mild chilli powder
1 tsp coriander powder
Pinch of sugar
Salt to taste
100 ml water
Fresh coriander for garnish
Method
Heat the oil in a kadhai on a medium flame. Add the panch puran and red chillies letting them sizzle for a few seconds.
Add the ginger paste and fry for a minute making sure to stir so it does not burn. Add the chopped squash or pumpkin and stir for 2-3 minutes.
Add the powdered spices and sugar.. Stir well.
Add the water and simmer on a low heat but covered, for 8 minutes.
Stir the squash half way through and simmer for 5 minutes with half covered lid.
Garnish with fresh coriander and serve with dal and luchi or puris the Bengali way.
Kori Ghassi (Mangalorean chicken curry)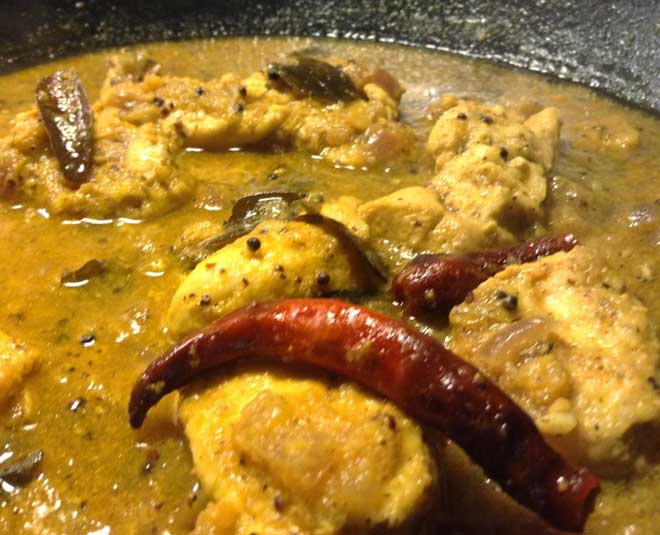 Ingredients
900gms chicken curry cut
½ tsp haldi
8 cloves of garlic
2 tbsp vegetable oil
7-8 curry leaves
70 gms finely chopped onion
350 ml water
Salt to taste
¼ tsp cinnamon powder
¼ tsp clove powder
Juice of half a lime
For the ghassi spice paste;
70gms red onion thinly sliced
3 tbsp desiccated coconut
1 tbsp vegetable oil
8 dried kashmiri chillies
8 black peppercorns
2 tbsp coriander seeds
1 tsp cumin seeds
¼ tsp fenugreek seeds
2 tsp tamarind paste
200 ml coconut milk
Method
Make garlic paste and then marinate the chicken with it and a pinch of haldi and set it aside.
Heat a dry frying pan on a low flame and then add the desiccated coconut.
Roast it till it starts changing colour to light brown.
Remove the coconut in a bowl.
Now, add the oil to the frying pan.
And then add the sliced onions and fry on a low heat for a few minutes when they begin changing colour and turn dark brown.
Now add the chillies, peppercorn, coriander seeds, cumin seeds and fenugreek seeds.
Fry all the spices on a low heat, stirring in couple of times.
Let the spices cool for the day and then add them to a blender with the tamarind paste and coconut milk.
Blend to make a smooth fine paste.
Now, to make the curry, heat oil in a heavy bottom large saucepan on a medium flame.
Add the curry leaves and the onion.
Fry for 7-8 minutes until you get an even colour.
Lower the heat and add the remaining garlic paste frying for half a minute.
Add 2 tbsps of water and the garlic sticks to the pan.
Now turn up the heat to a medium and add the chicken.
Fry for 6-7 minutes and then add the paste and coat all the pieces in the paste and fry for a further 2 minutes.
Add water.
Bring to a boil and simmer gently on a low heat with the lid on for 30minutes stirring halfway through the cooking.
Lastly, add the cinnamon and clove powder along with the lime juice.
Serve warm with plain rice.
Himachali Khatta Recipe
Ingredients
1 cup Kala Chana (Brown Chickpeas) , soaked over night
1 Bay leaf (tej patta)
1 chopped onion
1 tsp mustard oil
1/2 tsp mustard seeds
1/2 tsp cumin seeds
1/4 tsp hing
1 tbsp gram flour
1 tsp haldi
For spiced water
2 cups water in which the chickpea was soaked
1 tbsp jaggery
1 tsp coriander powder
1/2 tsp garam masala powder
2 tsp amchur
1 tsp red chilli powder
1/4 tsp hing
1 tbsp gram flour (besan)
1 tsp haldi
Salt to taste
Method
Cook the soaked black chickpeas ( kala chana) in a pressure cooker with salt, and the required amount of water.
After the first whistle, reduce the flame and cook for 15 minutes on low.
Once it cools down, drain out the water and keep it aside and use it to make spiced water.
Mix the jaggery, gram flour, hing, haldi, coriander powder, garam masala, dry mango powder, red chilli powder, salt and chickpea water.
Npw heat a kadai and add mustard oil till you see smoke.
Reduce the flame, and then add mustard seeds, bay leaf, jeera and also add the onions and saute until the onions soften.
Add the spiced water mixture and let it cook for about 2 to 3 minutes.
Next, add the boiled chickpea and mix everything properly.
Cook it on low flame for 10 minutes.
Once it is cooked, switch the flame and serve hot with rice.
Pasta with Creamy Sweet Potato Sauce
Ingredients
1 large sweet potato
2/3 cup milk
2 cups uncooked penne pasta
1 tbsp butter
1 minced garlic clove
1 tsp olive oil
3/4 tsp salt
1/4 tsp pepper
1/2 cup shredded cheese
Method
Pierce the sweet potato and bake it in the microwave on high for 10-12 minutes or until tender, turning once.
Once cool, discard the skin and mash it with milk in a bowl.
Cook the pasta until al-dente and then take a large skillet and saute garlic in oil for a minute.
Stir in the sweet potato mixture, salt and pepper.
Drain the pasta but keep 3/4 cup of the water which we will add to the sweet potato mixture.
Stir in the cheese and reserved cooking water.
Sprinkle with additional cheese if desired.
Serve.
Did you like this article ?
Disclaimer
Your skin and body like you are unique. While we have taken all measures to ensure that the information provided in this article and on our social media channels is credible and expert verified, we recommend you consult a doctor or your dermatologist before trying a home remedy, quick hack or exercise regime. For any feedback or complaint, reach out to us at compliant_gro@jagrannewmedia.com