I got my period when I was only 11 and a half years old. At that time, there was only one option that my mother introduced me to – sanitary pads. Though sanitary had three options - makeshift cloth pads and commercial pads with and without wings.
Obviously, I chose wings as they help in keeping the pad intact, most of the time. As I grew up, I started looking for other options because I used to get bad rashes, so bad that the skin around the intimate area used to get red and has even led to bleeding few times.
This used to be my skin on the third day of periods, and I bleed for six to seven days, though it is more like spotting after the fourth day. I tried cotton soft pads, they helped me with rashes for sure, but the hassle of using pads during menstrual days is painful in itself. You have to pick clothes that do not show lines.
As I grew up, I started understanding the waste produced by menstruators. Hence, I started searching for biodegradable options. Some worked out, but most of them did not. But recently, I bought SOQO's period panty, and it changed the game.
Claims
The panty can handle light spotting to heavy flow worth four to five regular tampons.
It is highly absorbent to prevent leakage. If you experience blood around the seams, you must change it.
It is easy to use, clean and reuse. Period panties can also be washed in machines.
It features a skin-touching layer that keeps the blood as well as vaginal discharge locked away from the intimate area. Thus, it keeps the vagina and the area around it dry.
Unlike commercial tampons and pads, it will only take six to eight months to decompose.
A woman would have a rash-free and leakage-free experience.
Packaging & Price
The period panty is available in an array of sizes – from XS to 4XL. Currently, there are only two colours – caviar and pumpkin – in which the panty is available. Its original price is ₹999, and currently, the reduced price is ₹779.
The brand offers discounts if you buy multiple panties from them. Each panty comes in a paper bag, signifying that the brand believes in reducing the generation of waste.
SOQO claims that buying period panties can help a menstruator save up to ₹2700 on sanitary products like pads and tampons.
How To Buy
View this post on Instagram
You can visit SOQO's website (www.soqo.in) and find your size by clicking on Find My Size in the top right corner of the page. You can even book a virtual fitting session by filling up a form.
If you already know your size, you can select your preference, colour and number of panties you want to buy simultaneously. The more numbers you buy, the better discount you will get.
Don't Miss: Dear Men, Here Are 10 Reasons Why Women Want & Have Sex
My Experience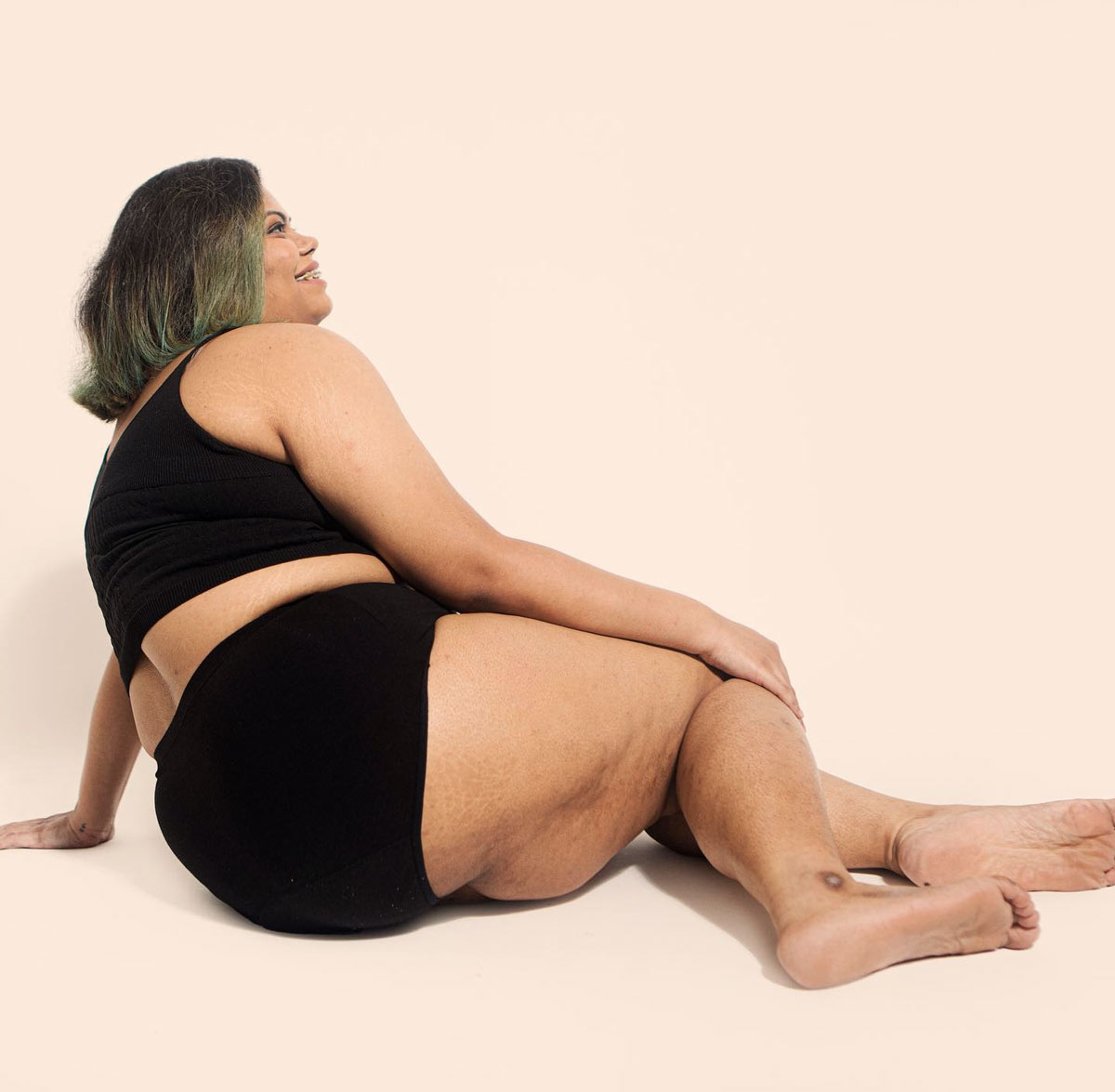 For the first two days of my periods, I used biodegradable pads that I have been using for the past four years. I experience heavy flow on the first two days and could not have changed the panty in the office, if needed.
I got a cavier-coloured panty that I wore on the third day. The moment I wore it, I felt a sense of relief around the intimate area. It was seamless through my jeans, and I felt like I was wearing padded armour.
I did not feel if there was anything chafing between my legs, which was the worst feeling when I tried on cloth pads and got a vaginal infection from them. The period panty felt comfortable throughout the day.
I used the loo without putting on extra effort, I was able to sit without having to move to adjust a slightly distorted pad, and I didn't have to worry about staining my clothes.
I came home, washed the panty and reused it the next day. I felt liberated with it, which hasn't been the case in almost 18 years. I even used it while I was not bleeding. Its absorbency allows you to keep the intimate area dry from vaginal discharge and after peeing.
The only downside is you will have a picture of red water flowing through drains when you wash the panty. It is definitely not for faint-hearted people.
Don't Miss: How Cervix Decides The Path Of Pregnancy
Pros
Seamless usage
Environment-friendly choice
Multiple sizes available
Cons
The price for one panty seems a bit high.
Verdict
I would recommend it to menstruators who have suffered through similar issues. I felt it was a game-changer for me. If you manage to buy only three, you can get by your periods without hassle. Keeping the price aside, I was happy and content to use SOQO's period panty.
Did you like this article ?