The summers are extra warm this year, and the extreme hotness is affecting us all in some way. But thankfully, there are several ways that can help us survive this season in a chill way. Yoga is one of the top ways to deal with it.
Recommending 3 Asanas that can help cool down the body, Bollywood actress & Fitness genius Malaika Arora shared a post on her Instagram account.
In the caption, she wrote, "Don't let the heat get the better of you this summer, cool down with yoga. In this week's #MalaikasMoveOfTheWeek @malaikaaroraofficial recommends 3 asanas that will help you cool down the body."
You can see the post here:
View this post on Instagram
Yoga Asanas To Cool Down The Body
Malaika Arora recommends the following three yoga asanas to cool down without letting the heat get the better of you this summer:
1. Pigeon Pose
Also Called Kapotasana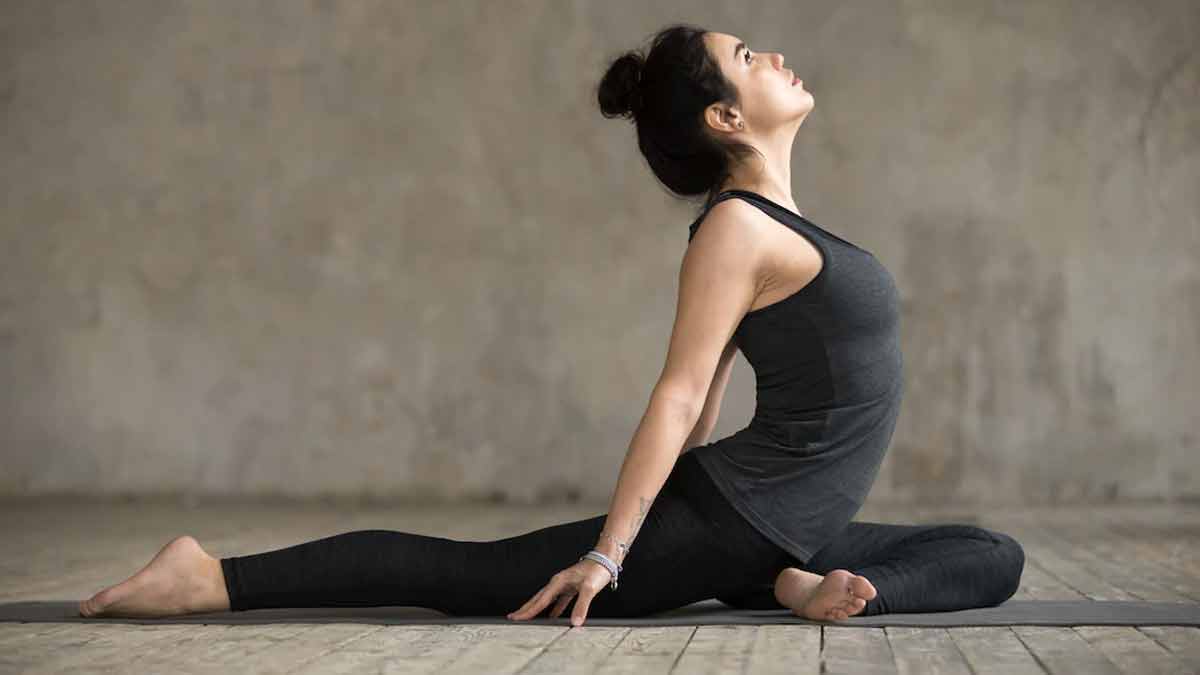 How To Do Pigeon Pose?
Place your knee on the floor and keep a straight spine. Then, gradually stretch your right leg behind you in a backward direction, stretching it till your left knee and foot are adjacent to your right hip. Make sure your toes are pointed.
Lean forward and take a deep breath in.
Push your chest outwards and hold this position for 20 to 25 seconds.
Now switch legs and repeat the process with the opposing leg, then sit in Padmasana and rest for a few moments before repeating the process four times with both legs.
2. Cat- Cow Pose
Also Called Chakravakrasana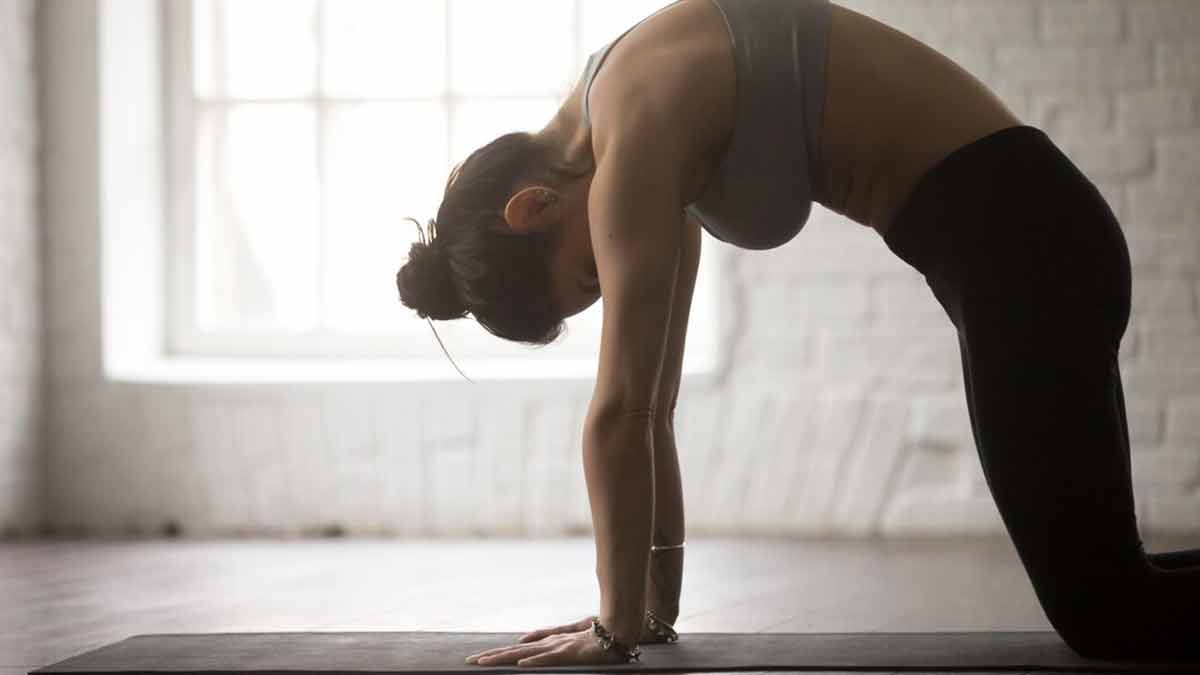 How To Do Cat- Cow Pose?
Get down on all fours (2 hands and 2 legs). Form a tabletop with your back, hands, and feet from the legs, and keep your arms perpendicular to the ground.
Keep your legs hip-width apart and your palms flat on the floor, exactly beneath your shoulders.
Curl your toes under and raise your tailbone by tilting your pelvis back.
Next, without moving your neck, allow the movement ripple from your tailbone up your spine, while letting your belly drop down.
Draw your navel in and keep your abdominal muscles hugging your spine.
Now, without cranking your neck, softly raise your sight to the ceiling.
Inhale. This is a cow pose.
Now for rounding the cat pose, exhale and let go of the curled toes.
Tip your pelvis forward while tucking your tailbone, and allow this action to go up your spine again to make it naturally round.
Draw your navel to your spine, then lower your head and look at your navel.
Repeat the Cat-Cow Stretch on each inhale and exhale for 5 to 10 breaths, matching the movement of your own breath.
3. Tree Pose
Also Called Vrikshasana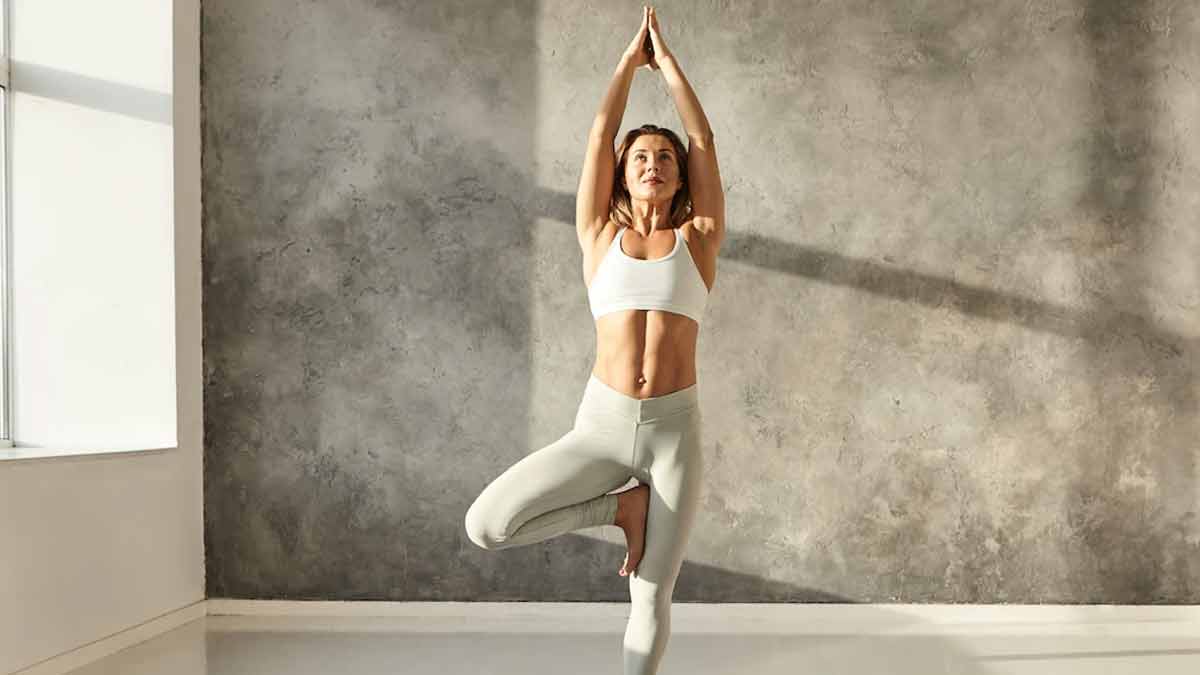 How To Do Tree Pose?
To perform this pose, stand on one leg, with the other one folded and supported on your inner thigh. Make a balance.
Then, stretch out your arms above your head and point them straight upwards.
Now, clasp your hands together in anjali mudra.
Focus your gaze on the distance, move your weight to your left leg while keeping your right knee bent in half lotus position. Hold onto this posture for a few seconds before releasing and repeating with the other leg.
Read more: Malaika Arora's Secret To A Healthy Mind And Body Is These 3 Asanas
Malaika Arora Is A Fitness Enthusiast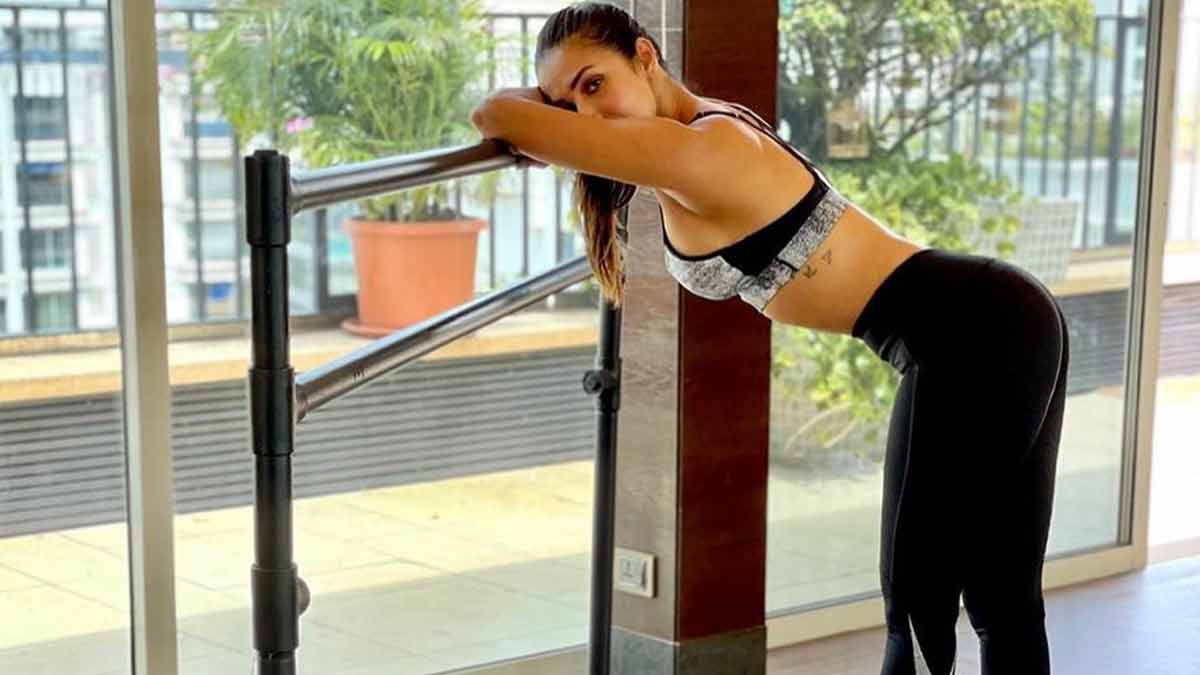 Malaika Arora is a known name not just in the Bollywood world, but also in the fitness world. She has been a fitness icon for years, and she keeps inspiring more and more people with her fitness habits and suggestions.
Her social media feeds are filled with posts and stories which can fill you with all the motivation you need to start your fitness journey.
Read more: Fitness Queen Of Bollywood, Malaika Arora Is An Inspiration For All Of Us!
If you practice these Asnas, it is recommended that you practice them with precautions and with a yoga expert.
I hope you found this story helpful. Share your thoughts with us by commenting on our Facebook or Instagram pages.
For more such stories, stay tuned to HerZindagi!
Did you like this article ?
Disclaimer
Your skin and body like you are unique. While we have taken all measures to ensure that the information provided in this article and on our social media channels is credible and expert verified, we recommend you consult a doctor or your dermatologist before trying a home remedy, quick hack or exercise regime. For any feedback or complaint, reach out to us at compliant_gro@jagrannewmedia.com