For a sound mind and soul, a good night's sleep is significant. Not being able to give proper rest to your body and mind can lead to stress and several health-related problems. Besides deteriorating health, you will also feel annoyed or irritated that may hamper your personal and professional relations.
To avoid all this all you need to do is relax your mind and assist it in having an undisturbed sleep. While you should consult your doctor to find out the reason behind this and ask for proper help, meanwhile, you can also try a couple of home remedies, such as using essential oils.
Essential oils are natural ingredients, made by extracting goodness of different woods, flowers, fruits, etc. They are known to be a great healer and relaxer. If you are struggling with your sleep, here's are some of the essential oil options you can use!
Lavender Oil
One of the most popular essential oil is lavender oil. These are easily available and are loved by many for it being extremely relaxing. In fact, researchers have found that the essence of this oil and help in increasing slow-wave sleep, and also slightly slowing heart rate. Both of these qualities promote restful sleep.
Sandalwood Oil
If you are not a huge fan of flowers and fruits but are into something earthy and woody, perhaps sandalwood oil will give you the serene experience you're looking for. Alongside relaxation, the oil will also relieve your stress and anxiety issues with time and regular usage. If health reports are to be believed, sandalwood essential oil is packed with a little bit of sedative effect.
Jasmine Oil
Jasmine has an enchanting fragrance that makes us feel calm and happy. Most of us feel bewitched by its amazing odour and that's why its oil is widely loved. This essential oil is one of the best to help yourself sleep, as it has a molecular mechanism similar to certain medicines prescribed for sleep. This is the reason; jasmine oil is a noted element to help fight insomnia.
Peppermint Oil
Looking for something powerful, besides it being calming and relaxing? Peppermint oil might solve the purpose as it comes with the anti-inflammatory properties that assist in clearing your respiratory system. The peppermint oil is being used forever to clear the airways, reduce snoring and to tackle sleep apnea symptoms.
Clary Sage Oil
Not as common as the above-mentioned oils, the clary sage oil is one of the best if you want something that has antidepressant effects. Just like the sandalwood oil, the clary sage oil is also a natural sedative, which has shown results in reducing levels of stress hormones.
Don't Miss: Add Coriander Seeds To Your Diet For These Amazing Health Benefits
Ways Of Use Essential Oils For Sleep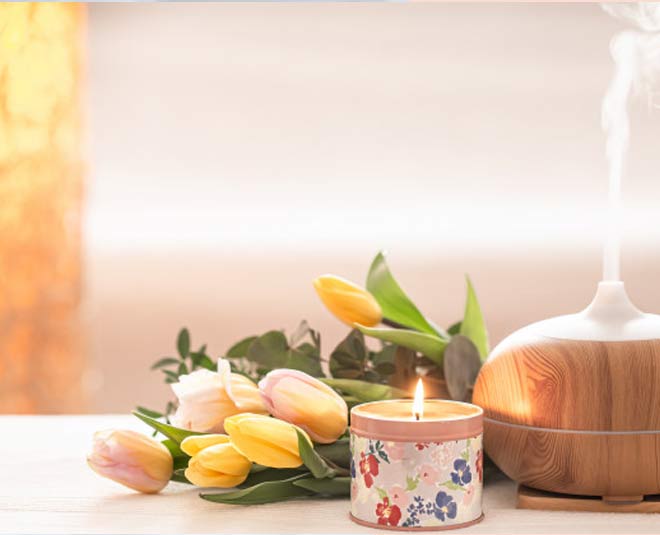 You can rub a few drops on your chest, wrist, neck, forehead, hands, or feet before sleeping.
Try light aromatherapy (reasons why aromatherapy facials are trending), wherein you can try scented candles that are infused with essential oils.
Also, you can pour essential oil in an air diffuser to make your room smell great.
If you liked this article, do comment on our Facebook page. Stay tuned to HerZindagi to read more updates.