It is said that Ayurveda was originated in India. It is an ancient form of medicinal practice that has been helping to treat ailments and to keep people healthy for centuries in our country. Despite the availability of several other medicines, the popularity of Ayurveda is growing more and more. It is because, the herbs are capable of healing the body without side effects. The regular consumption of some of the herbs can also boost the immune system and make the body disease-free. There are certain herbs that used to be in every household in older times. However, with passing time, only some people now keep one or two Ayurvedic herbs at homes. But, in order to keep the air around you clean and body healthy, one should have more easy-to-grow Ayurvedic herbs at their places. Some of them are:
Chamomile (Babune Ke Phal)
Chamomile is a beautiful plant with edible flowers. Mostly used for therapeutic purposes and to make de-stressing tea, the flower of this plant is loaded with several other benefits. In fact, chamomile tea is quite popular that helps in relieving tension and to treat anxiety and insomnia.
Lemon Grass
People who love gardening do prefer having lemon grass in their collection. It can be grown easily and in any environment. It is best known to alleviate respiratory issues and curing sore throats. Adding a few leaves of lemon grass in the tea will heal abdominal pain, headaches, joint pains, muscle pains, etc in a few weeks.
Don't Miss: Lemongrass Tea: Relief From Period Pain To Regulating Blood Pressure This Plant Does It All!
Sage
Popularly known as sadhoo in Hindi, sage has been consumed from centuries to boost memory and to increase cognitive power. Other brain-related diseases, such as Alzheimer's, can also be cured using this herb, as per health reports. Sage is packed with antioxidant properties, which will prevent many other deficiency diseases.
Henna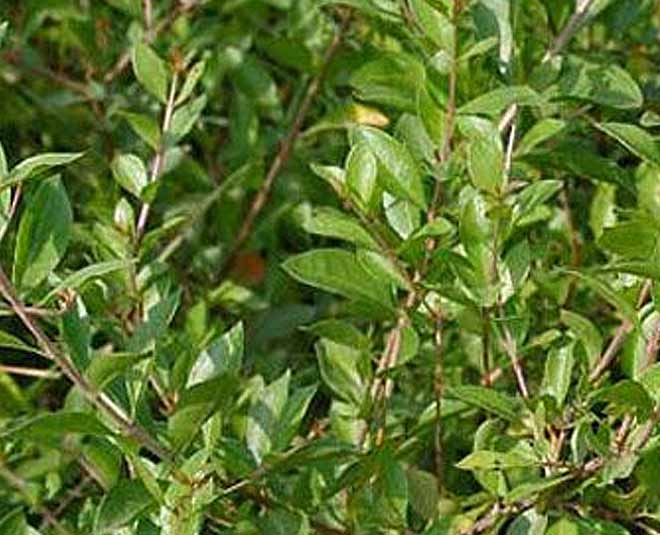 It is famous as a great cosmetic ingredient in our country. From the time immemorial, ladies have been using henna to decorate their hands, feet and to also dye their white mane. While it is a great natural colourant, henna, on the other hand, is packed with various haircare benefits. It is a lesser-known fact that, during menopause, applying henna paste on the soles of the feet, helps to deal with hot flashes.
Mint (Pudina)
Mint or pudina is very commonly used in kitchens. But, you need not spend money buying it, because you can very easily grow it in your balcony garden. The aromatic herb is great to relax the muscles of the gastrointestinal tract, fight acne, and most importantly, inhaling warm pudina water can relieve nasal congestion in no time.
Don't Miss: Neem: These Reasons Will Compel You To Chew This Plant Leaves Daily
Fenugreek (Methi)
Fenugreek seeds are used to prepare many Indian dishes. The taste of methi elevates the dish in the best way possible. Having fenugreek plants at home will benefit the whole family, and you can consume its leaves to treat digestive issues, such as dysentery and diarrhoea. When it comes to beauty and skincare, applying the paste of the plant on the scalp, will give you long and lustrous mane.
Ajwain
Almost found in all the Indian households, Ajwain is a great de-toxifying element. It comes with a very strong odour and must be consumed with lukewarm water in the morning to keep acidity, and stomach-aches at bay. It can also be used as an effective mosquito repellent, just mix it with mustard oil and apply on the skin.
Rosemary Plant
Scientifically known as Rosmarinus officinalis, this Ayurvedic herb has a pungent smell. Rosemary is an evergreen plant that will bloom throughout the year. Its stunning flowers will enhance the beauty of your house and Rosemary leaves will help to improve concentration and memory by preventing brain ageing.
If you liked this article, do comment on our Facebook page. Stay tuned to HerZindagi to read more such articles.