We are aware of the benefits of working out solo but it can get boring sometimes, you often lose motivation to hit the gym alone and try out anything new. However, when you work out with your partner, it boosts your happiness, energy level and helps with increasing the efficiency of your workouts. So we have decoded the step-by-step exercises which you can try out with your partner, that has been suggested by none other than the celebrity fitness trainer Yasmin Karachiwala herself.
Working Out With Partner
You can always do these exercises alone, but as advised by the fitness trainer it is better to grab a partner to make the workout more fun and challenging. Perform 3 rounds of all the exercises for 45 seconds each, and then take a 15-second active rest in between the exercises and a full minute rest between the rounds.
Partner Sissy Squat (45 seconds)
Begin with standing straight on a mat with your partner.
Stand in opposite direction with your backs facing each other.
Now get close and lock your elbows from behind.
Then using your body weight go down with your partner in a squat position.
Make sure you are not jerking or pulling each other while going down.
Your thighs should be parallel to the ground, hold it for 5 seconds then stand up and repeat.
Crawl to Plank Clap (45 Secs)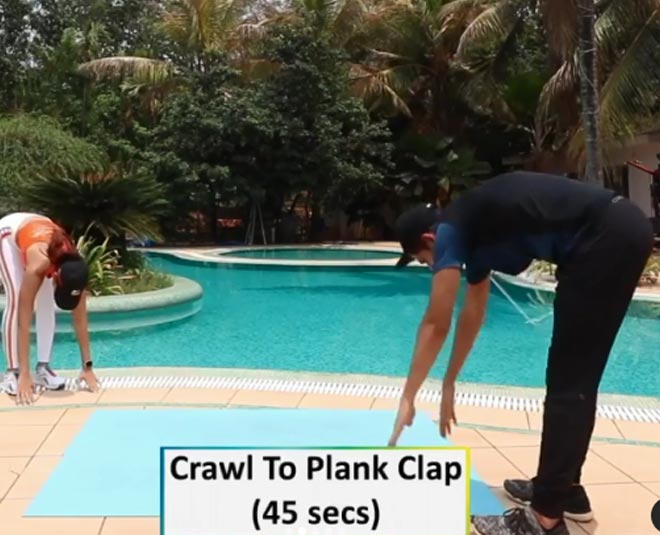 Stand in front of each at a distance.
Bring both of your hands up, then take them down while bending to touch your feet, keep your knees straight.
Touch the floor with your hands and crawl towards your partner.
Get into a Standard plank position without bending your elbows.
Do a clap with your partner by switching hands.
Now crawl back to your position, stand, and repeat the exercise.
Don't miss: Skip Till You Drop, Take Inspiration From Mira Rajput Kapoor
Russian Twist + Push-up (45 Secs)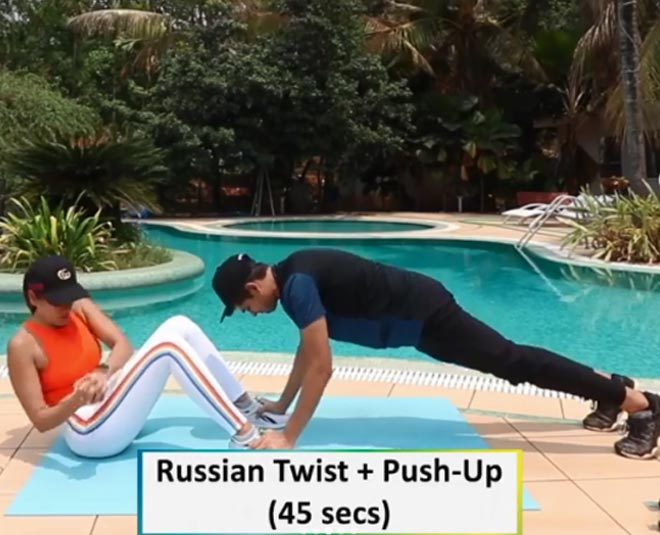 Start with one partner sitting on the mat with feet in front and twisting from the waist to do Russian twists.
The other partner needs to hold the ankle of the first partner and get into a push-up position.
Now both these exercises need to be performed simultaneously.
One partner needs to do the Russian twist, while the other has to do push-ups.
Switch the positions with your partner and then repeat the exercises.
Don't miss: Try Sushmita Sen's At Home Workout With Her Bestie
Sit-up + Clap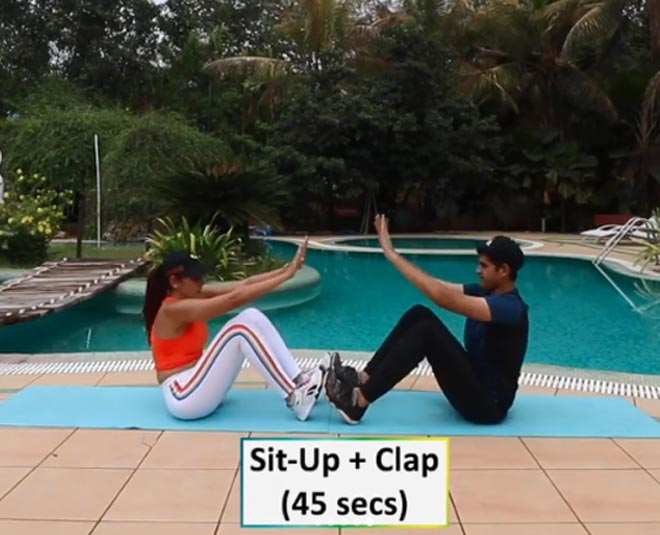 Sit in front of each other with joining your feet together.
Lie down by keeping your knees in a bending position.
Your thighs and calves should form an inverted V.
Now lift yourself at the same time and do a clap with your partner.
Then go back and lie down on the floor with your arms straight in front of you.
Come back and repeat the exercise.
Which one of these exercises would you try out with your partner? Share your thoughts on our Facebook page. Stay tuned to Herzindagi for more such stories.