So you have been planning ahead like every year to look stunning for the New Year's Eve party. And like every year, the struggle to fit into your dream dress is so real, isn't it? On top of that, gorging on sweets, cakes and sleeping for a little more time in winter season makes it all the more difficult to get into shape. So show the door to all excuses, don't make the mistake of postponing your fitness plans for the next year and start training your body right away with this ultimate December Fitness Challenge!
First Week
Monday: Focus on your upper body and core muscles by doing sit ups and push ups for sexy arms.
Tuesday: Take some rest, chill, watch a movie and try not to eat junk food!
Wednesday: Shift attention to lower body by doing thigh workouts and exercise your glue muscles.
Thursday: Do the jumping jack to tone the entire body. Skip a rope, do reps of stair climbing.
Friday: Have a rest day but don't be too lazy. Stay active with homework.
Saturday: Choose the right circuit training for you and go all out.
Sunday: Do cardio to train your heart so that it can handle all those awesome workouts.
Second Week
Monday: Get your butts in shape with lunges, hip extensions and squats.
Tuesday: Take a chill pill. Meditate if you want.
Wednesday: Work on your cardio and core muscle workout. Try planking!
Thursday: Work on your back muscles and abs by lifting a little weight.
Friday: Run to the market and go shopping but don't exert too much.
Saturday: Go for brisk walking, jogging or if you are into gymming then hit the treadmill.
Sunday: You have all the time to do a full body workout today. Do some yogasanas that are perfect for winter.
Read More: Top 5 Workouts To Lose Arm Fat
Third Week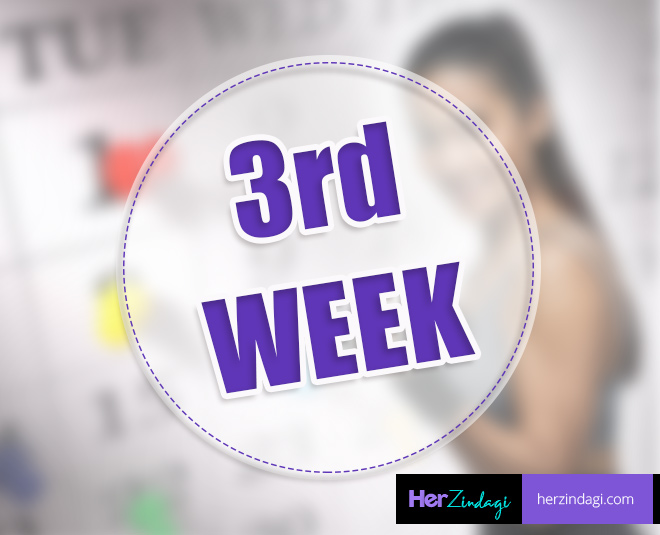 Monday: Focus on your abs and thighs again just like the first week.
Tuesday: Start planning what to wear for the party and rest away.
Wednesday: Do planks, crunches and a bit of cycling.
Thursday: Get working on those love handles. And get your family to workout too.
Friday: Post your progress on Facebook and workout some more.
Saturday: Workout like you want a bikini body, workout like your favourite celeb today.
Sunday: Do some yogasanas and pranayama as part of your December fitness challenge.
Fourth Week
Monday: Work on your shoulders. You will need a fit upper body to pull off those dance moves!
Tuesday: Watch fitness videos to get some more motivation. You are almost there.
Wednesday: Run like you are being chased by someone and do some resistance training at the end.
Thursday: Stretch your body and work some more on your core muscles.
Friday: Read fitness quotes and make it an active rest day.
Saturday: Do a mall to market walk to find that perfect dress if you haven't already.
Sunday: New Year Ahoy! Jump with joy! Hop, skip and jump like crazy because the time to party is almost here.