We girls love to flaunt our back, especially in Indian traditional outfits like a stunning lehenga or a Saree. We often invest time and money to get our blouse designs ready in a way that will hug our body perfectly and will elevate our looks instantly. And it breaks our heart when we start noticing some fat getting accumulated in our back area. If you are also dealing with the same situation then don't worry, we've got you covered. Try doing these quick but effective exercises and see your fat getting vanish with a week.
Push-ups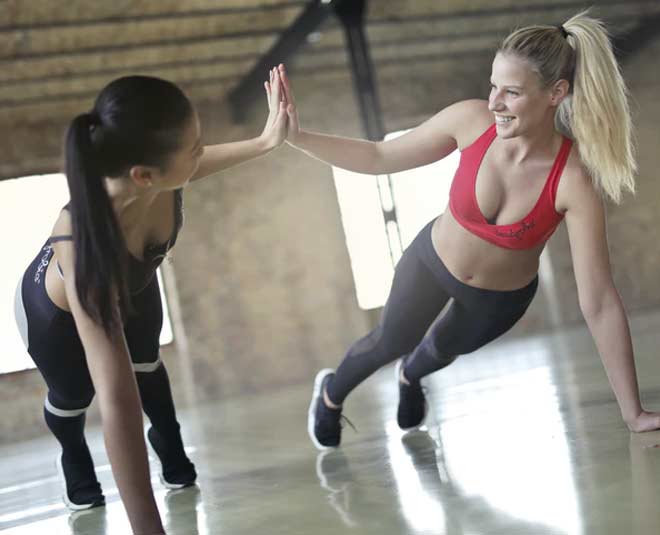 Push-ups are a great exercise that targets your chest and back area. It works wonders for building up your upper body and losing up the fat from the back area.
How To Do It?
Get down on your hands and feet on a mat.
Keep your hands slightly wide from your shoulders
Make sure your arms and legs are straight
Lower down your body till a position your chest is slightly above the ground
Hold for 5 seconds and then push back
Repeat the exercise
Pull Over
Pullovers also help in getting rid of back fat and building muscles in your upper body. It also works on your triceps and chest area.
How To Dot It?
Sit at the end of a weight bench.
Take one dumbbell in each hand and then extend hands over your chest area.
Your palms should be facing each other. Make sure your elbows are not stiff and need to bend a little.
Now inhale and extend your arms with dumbbells back over your head. Take the weight till a point it's behind your head.
Now exhale and bring beck weights in a neutral position.
Don't miss: 30 Day Challenge: Get In Shape With These 7 Minute Workouts
Reverse Fly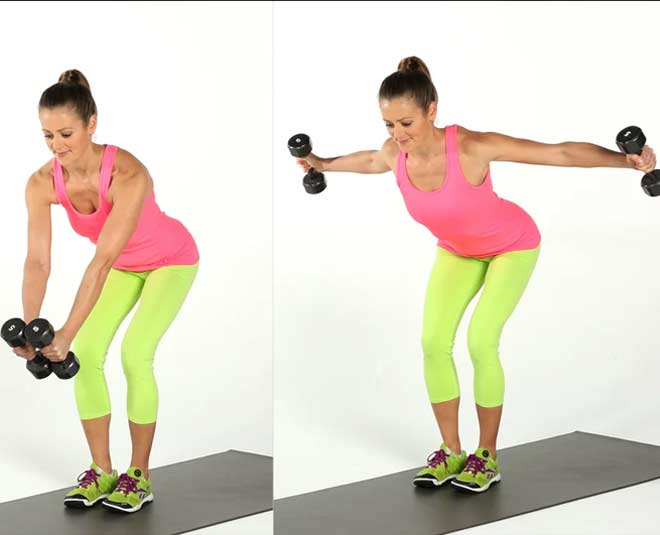 The reverse fly targets your upper back muscles. It helps you achieving strong back muscles, and also improves the strength in your shoulders.
How To Do It?
Hold dumbbells in both your hands and stand straight on a mat.
Now bring your knees in hip-width apart distance and bent your knees.
Let your arms with weight lie down straight with your shoulders.
Your palms should be facing each other.
Now raise your arms and squeeze the shoulder blades simultaneously.
Bring back the arms in a neutral position.
Repeat the exercise.
Superman Pose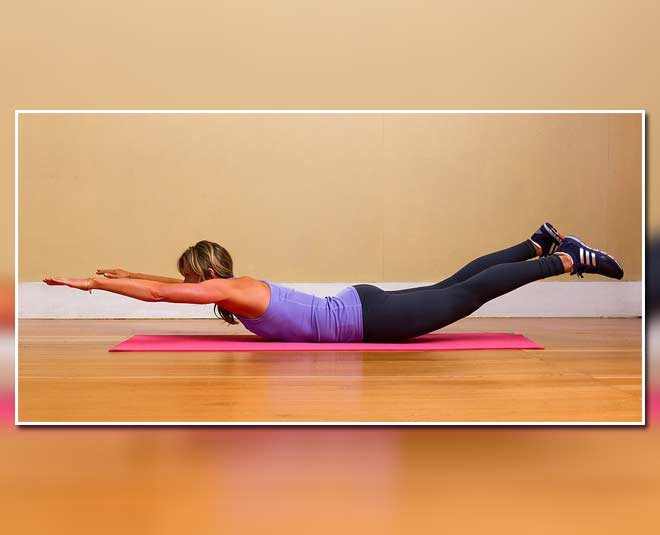 This is a super-effective pose that targets multiple muscles at a time. You don't need to lift weight to perform this exercise, and it helps with stretching and strengthening your lower back, arms, chest, leg, and abdomen area.
How To Do It?
Start with lying down on a mat with your face facing the floor.
Extend your arms and legs so that the body forms a line.
Now engage your core muscles and squeeze the glutes area and then lift your limbs, chest, and head above few inches from the floor.
Make sure your neck muscles are in a neutral position.
Be in the position for 5 seconds and then come back to starting position.
Repeat the exercise.
We hope you found these exercises to get rid of back fat useful. Stay tuned to Herzindagi for more such stories.