Met Gala 2021: Maang Tikka Goes International Once Again
American actor and model Barbie Ferreira rounded off her pearl halter-neck and off-shoulder dress with a dainty pearl maang tikka.
Maang Tikka, an integral part of an Indian bride's solah sringaar has not only become one of the most worn accessories in the country but also a much favourite among stars internationally.
At fashion's biggest night, Met Gala recently, we saw Barbie Ferreira rounding off her pearly look with India's age old accessory, a maang tikka.
Barbie Ferreira's Met Gala Look
For her Met Gala debut, Euphoria star walked the red carpet in a pearl-encrusted Jonathan Simkhai gown. The actress and model's outfit celebrated this year's theme - celebrating all things American Fashion. Barbie Ferreira's red carpet look was old Hollywood glam and we just couldn't take our eyes off her.
Barbie Ferreira featured both halter and off-shoulder detailing in white pearls. She teamed her pearl gown with a dainty pearl maang tikka.
For me, it was one of the best looks of the night. It was so graceful!
View this post on Instagram
Pearls are timeless and versatile. For years now, the traditional pearls have been a part of our jewellery closets and the best part about them is that they can be worn differently each time, in one's own style.
Barbie's pearl infused look is here to stay for long, for sure. The pearl maang tika will surely make a comeback to India now and we guess it will be a great pick for the bridesmaids this season.
All The Other Times International Stars Wore A Maang Tikka
Well, this is not just the first time an international star wore this traditional Indian accessory. Many times in the past as well, international stars picked a maang tikka to round off their look.
Kim Kardashian West
April 23, 2020
Reality TV star, Kim Kardashian paired the traditional Indian maang tikka with her body hugging grey crop top and maxi skirt. For accessories, she also wore chunky golden bangles.
However, Kim K's look wasn't well received by her followers on the social media. Many were agitated with her using a cultural accessory as her aesthetic. A user on Twitter wrote, As being someone who comes from a South Asian background seeing Kim Kardashian wearing a TIKKA pisses me off.
"My culture isn't your "aesthetic" or "style" so please show some respect and not use it for you to model in. Cultural appropriation is not okay."
Another one wrote, "Now that you've stolen from south asian culture to fit your aesthetics, why don't you donate to these countries if you appreciate their culture so much, Kim?."
Don't Miss: Met Gala 2021: Have A Look At All the Striking Appearances At The Red Carpet
Beyonce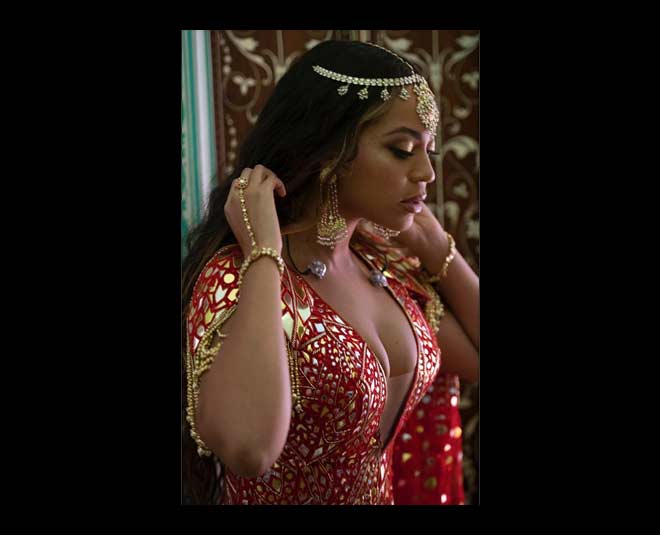 The global icon performed in stunning Indian attire at Isha Ambani's wedding a few years back. She opeted for a traditional red gown for the concert. We loved how her look was teamed with a pretty matha patti. Matha pattis unlike the maang tikka cover the entire forehead.
Beyonce's love for Indian traditions isn't new. She has always shown her love for the traditional Indian outfits and accessories all these years. However, she failed to impress with her look almost all the times.
Katy Perry
Pop music sensation Katy Perry has been an admirer of Indian culture for years now and we have seen it all a lot of times with her taking the traditional route many times. For her concert at the YMCA College Of Physical Education Grounds, Chennai, Katy Perry teamed her sporty, pink sequined look with a maang tika and multiple bindis.
Don't Miss: Kim Kardashian Steps Out In A Leather Head To Toe Bodysuit, Netizens Go Bonkers On Twitter
Farrah Abraham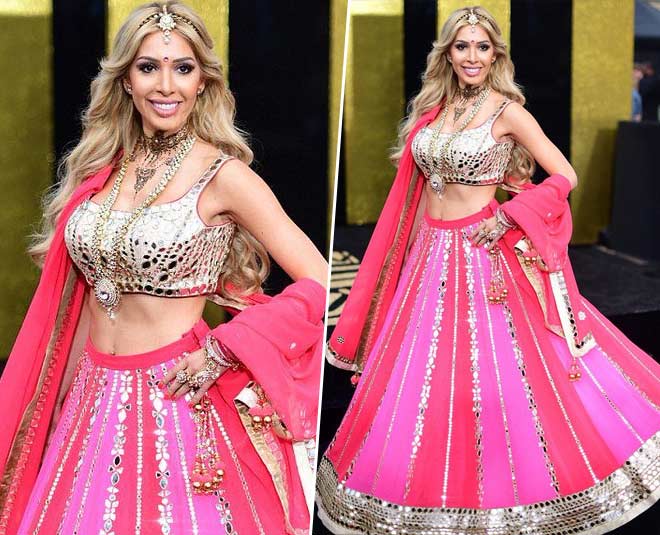 American reality TV personality, Farrah Abraham arrivied at an award event in a Bollywood inspired outfit - mirror work pink and white lehenga with a lot of Indian jewellery, haath phool, choker, long necklace and a maang tikka.
While many feared she will get backlash for doing so, she in an interview as per a report by huffpost shared that she just wanted to bring culture to the red carpet and inspire others to embrance new cultures and have a good experience.
Coming back to Barbie Ferreira's Met Gala look, what are your thoughts? Write to us on our Facebook page and for more such stories, stay tuned!