All fresh fruits and vegetables help in adding flawless skin and adds to the beauty but if you are a bride-to-be or prepping up for your best friend's wedding, these fruits and vegetables are essential. Consuming these foods regularly is essential to enhance your natural beauty.
Fruits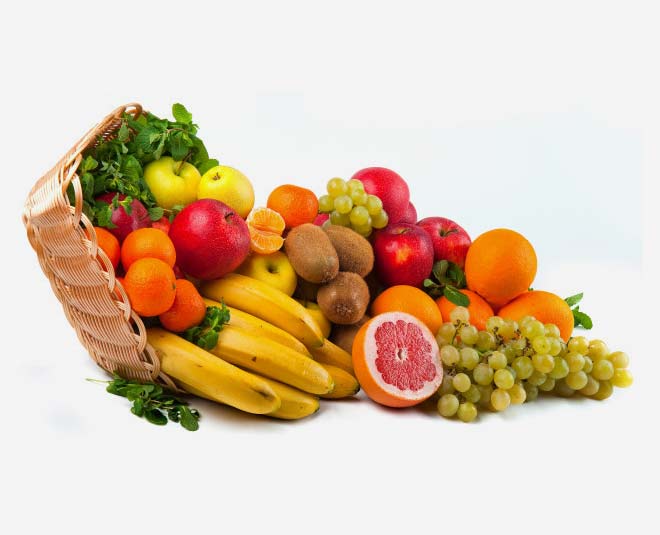 Top beauty-enhancing fruits are custard apple, apple, amla, lemon, strawberries, muskmelon, papaya, Indian ber, and peaches. Stock your kitchen with these fruits and use them as a fruit punch, snack on them as a snack, make fresh fruit juice mixed with vegetables or have them as a platter in a bowl. Apples prevent constipation, helps with gum health, custard apples prevent dandruff, amla, muskmelon, and lemon bring vitamin c which helps in collagen production. All fruits are healthy for glowing skin but these fruits mentioned are excellent for glowing skin and hair.
Vegetables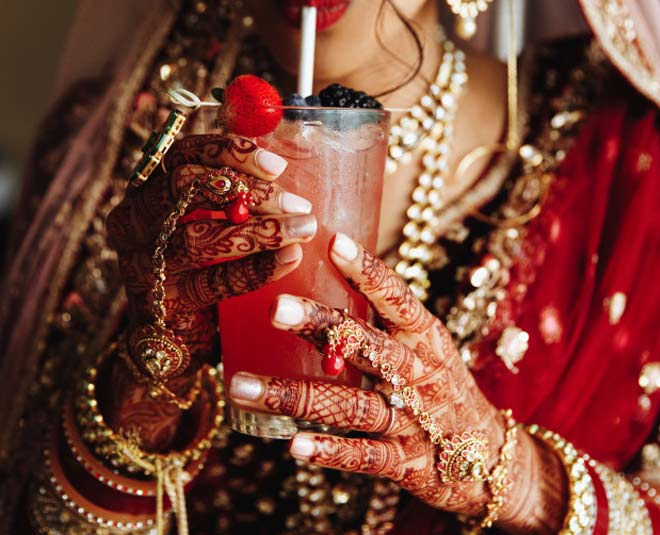 Vegetables include amaranth, ash gourd, beetroot, coriander, cucumber, curry leaves, fenugreek, drumsticks, garlic, lettuce, mint, potato, tomato. These vegetables are rich in vitamin A, vitamin C, Vitamin E, Vitamin B, and many other nutrients which are essential for glowing skin. Make a glass of fresh ash gourd juice and add some mint leaves and curry leaves to it, water infusions with cucumber slices and mint leaves are excellent in hydration, raw potato juice when applied to the scars reduces scarring. Potato is rich in potassium, Sulphur, phosphorous, and chlorine. It removes wrinkles, age spots and clears the skin.
Daal
Urad daal, besan mung, masur daal – Besan reduces eczema, reduces dermatitis, and adds a glow to our skin. Washing hair with urad daal and methi lengthens the hair and helps in retaining the natural colour of hair, and prevents dandruff. Masur daal with milk cream or malai helps in skin lightening. It helps in preventing wrinkles and helps in skin whitening. Use chickpeas to make hummus or chaat or chole curry or use different varieties of daal throughout the week. You can also make daal tikki or grilled cutlets and daal chaat.
Don't Miss: Try Expert-Suggested Top Remedies To Make Your Face Look Less Puffy During The Wedding
Almonds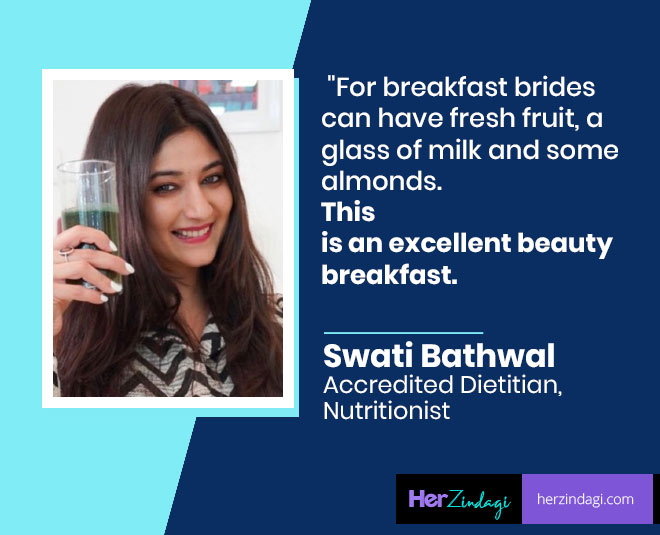 It goes without saying the benefits of almonds in glowing skin. Vitamin E helps in reducing wrinkles, copper helps in the prevention of skin pigmentation, omega 3 helps in nourishing our hair and skin. Consume 5-6 soaked or roasted almonds every morning for breakfast or keep them as a snack on a run. For breakfast, brides can have fresh fruit, a glass of milk, and some almonds. This is an excellent beauty breakfast.
Curd, Milk
Curd is one of the best foods to have glowing skin. Consuming curd protects the body from sun exposure and the bacteria helps in having glowing skin. Curd is mixed with turmeric and besan and applied on the face to add the glow, whereas vitamin b5 in curd, helps in preventing hair fall. Adding garlic, cumin, dill leaves to yogurt helps in preventing hair fall and assist in hair growth. It is one of the best hair conditioners which also prevents dandruff. Milk- homemade coconut, almond, or fresh cow's milk provides protein that adds glow.
Milk is rich in MSM (a sulphur compound) which helps in the production of collagen and adds glow. Squeeze a lime juice in a glass of boiled milk, set aside for 10 minutes, and then apply to hands, arms, face, neck at night and allow it to dry and wash the next day. This must be a bridal ritual followed 2 months prior to the wedding.
Honey
Raw or organic honey is rich in antibiotics and essential vitamins and minerals for skin and hair. It should be applied to the scalp mixed with yogurt or to the face to help in glowing skin. Also, consume warm water early morning with 1 teaspoon lemon juice and honey to cleanse your gut. A healthy gut is essential for glowing skin.
Remember, all fresh fruits, vegetables, milk, and its products which do not have additives will enhance your beauty.
Swati Bathwal is an accredited dietician, nutritionist, sports dietician and diabetes educator. For more tips on diet and nutrition from the expert, stay tuned!