Winter is here and so are all those food and beverage items restocked in our cupboards to beat the chill or simply to help boost the cosy and snuggling mood one gets with the season. Tucked in a warm fleece blanket, binging on our favourite shows with a winter special dish or drink is the first thought that comes to mind. While we are still on a work from home, hunger pangs and snacking is bound to go three-fold. If you are one of those for whom warm drinking chocolate is synonymous with the cold weather then you may feel less guilty with these health benefits to back your beverage.
A warm cup of cocoa infused in some milk is an indulgence we can rarely avoid. But what if the benefits of having it are a good enough excuse one can give to ourselves or parents and better halves?
Nutrition Level
Now cocoa according to the U.S. Department of Agriculture (USDA), is an excellent source of iron and fiber. If you can have dark chocolate which consists of 70-85 percent cacao solids then you must know that it contains magnesium, phosphorus, calcium, Vitamin A, Vitamin K and potassium.
Antioxidants
In the form of flavonoids, cocoa is very rich in antioxidants and according to the Cornell University scientists as stated by the website Weather, cocoa is richer in antioxidants as compared to a glass of red wine and three-fold when compared to green tea.
Flavonoids have are good for boosting immune systems and for reducing inflammation. These antioxidants are said to associated with weight management and a longer life among many other benefits.
According to the USDA, dark chocolate makes a difference. "The higher percentage of cacao the better when it comes to bars".
Heart Health
Cocoa is said to be helpful in reducing the risk of a heart attack according to the American Heart Association. As per the European Food Information Council (EUFIC), cocoa has flavanols which are said to help in reducing blood clotting, combat LDL cholesterol, lowering the risk of heart disease, and increase the blood flow.
Memory Aid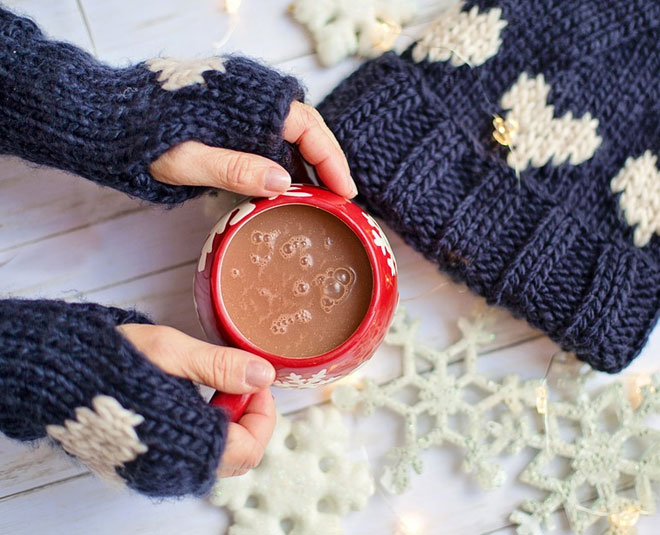 It is said that by drinking hot chocolate, you are in a way boosting memory especially if you have 2 cups a day. This can help stave off Alzheimer's according to a 2013 study published in the journal Neurology.
"When we imaged our research subjects' brains, we found noticeable improvements in the function of the dentate gyrus in those who consumed the high-cocoa-flavanol drink," according to Dr. Adam Brickman of the Taub Institute, as quoted by Weather website.
Don't Miss: Prepare Your Own Hot Chocolate Powder At Home With This Easy Recipe
Happiness
When we feel dull, something the cold weather brings along with it, we reach for cocoa or chocolates. It is said that chocolate besides tasting delicious, has a positive effect on the brain. It helps in releasing certain neurotransmitters which in turn make us feel good, comfortable and happy.
Many of us have it when we are stressed as well and this may be the reason why. According to an article by the Washington Post, a piece of chocolate has "energy-boosting caffeine, mood-lightening serotonin, and relaxing tryptophan".
Don't Miss: Here's How You Can Make The Best French Hot Chocolate Ever!
Make a healthy cup of hot cocoa which consists of unsweetened cocoa powder or dark chocolate, infused in plant-based milk. You can sweeten it with honey but just a subtle amount and enjoy it guilt-free.
Stay warm and happy. Consult your doctor to be sure if you can add it to your diet and stay tuned to HerZindagi for more on winter special drinks and food items.