As a part of ancient Christmas beliefs, it is taken that the first snow of the season is very lucky. And to make you even happier, Himachal Pradesh has recently received its first snowfall, so, it hints that it perhaps is the right time to enjoy and rejoice in the joys of the season and forget the past.
So, if you are planning to go out this new year, let it be in Himachal Pradesh. Trekking in Himachal Pradesh after the snow is like a dream come true for trekkers and hikers. During this time all you experience is singing silence of nature and your being in amalgamation to its rhythm. So, take a look at the top trekking destination of Himachal Pradesh and head to one of them right away.
Triund Trek
Triund is one of the shortest and commercially accessible treks in the foothills of the mighty Himalayas. It comprises of breathtaking views of the Kangra valley and you'll definitely be mesmerized by the picturesque sight of snowcovered peaks of Dhauladhar range, which you'll witness while walking along the trail. The trek starts from McLeodganj and while the trail is just 3 kilometers long but it's very steep which makes it difficult to climb all the way up. On the way, you'll be greeted by dense forests covered with oak trees and a wide variety of bird species. You can also camp for the night and experience a beautiful evening watching the sunset and end it by witnessing the starry night sky away from your routine social life.
Indrahar Pass Trek
Indrahar Pass trek is a continuation of the triund expedition for more experienced mountaineers or people who wish to transverse more into the untouched natural wilderness away from the civilized world. The trekkers start their journey from triund and climb all the way up to the snowline and beyond, crossing Lahesh caves on their way. Then they have to summit a rocky mountain with no paved ways all the way up to 12000 feet. Along the way, they get to witness the panoramic views of the Dhauladhar range unveiling the scenic marvels and breathtaking beauty of the Kangra valley and the Himalayas. Just beyond the Indrahar pass, there's a village that is out of any out worldly communication.
Pin Parvati Pass Trek
If you are done with easy treks and want to go for something more untouched and thrilling, then Pin Parvati Pass Trek is your way to go. The trek offers a breathtaking view of snow-covered trails, laced with glimmering rivers, majestic mountains, and a peaceful ambiance. The average time required to complete this trek is 9 days. But it is to be kept in mind that the pristine beauty here can be experienced at a price which is a difficult test of your endurance, will, and stamina, as this a 16,000ft. trek without much commercialization around. Not only that, the snow makes it even harder than it already is and only ideal for professional trekkers. The peak of this beautiful and extremely mesmerising valley will enable you to spot all Buddhist monasteries right from where Tabo and Ki Gompo where Kullu and Spiti valleys meet.
Don't miss: New Year Special: Give Your New Year A Happy Start By Visiting These Unheard Locations In India
Sar Pass Trek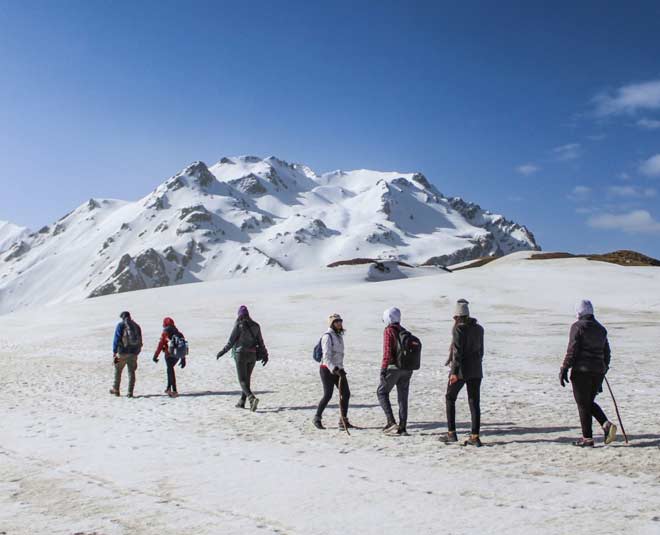 Sar pass(things to know before visiting Saach pass) trek is another amazingly captivating trek that one can opt for, in order to experience sheer thrill and oneness with nature. All you have to do is be prepared for embracing all the odds in the way along with the tempting meadows and charmingly Grand Himalayas. Although the spirit of adventure and courage must be placed on your sleeve while taking up this trek, you will also find it a place that perhaps exists in a different world.
Therefore, we suggest you pick a trek according to your capabilities and embark on it with full zeal and enthusiasm to witness the unfading beauty of nature coupled with a blessing from heaven- the snow.
Don't miss: Use These Tips To Travel Around The Country In A Small Budget
If you liked reading this article then stay tuned to Her Zindagi for more such pieces.