Summers are here and so are our favourite mangoes! Let's be honest. Mango is one reason why we all eagerly wait for the summer season. After all, there is nothing like bingeing on some fresh and juicy mangoes. Agree?
But what do you do with those mango peels? Just throw them away in the dustbin? Well, you won't throw them off after reading this article because we will be telling you how you can use these mango peels in different ways.
Mango Peel Pickle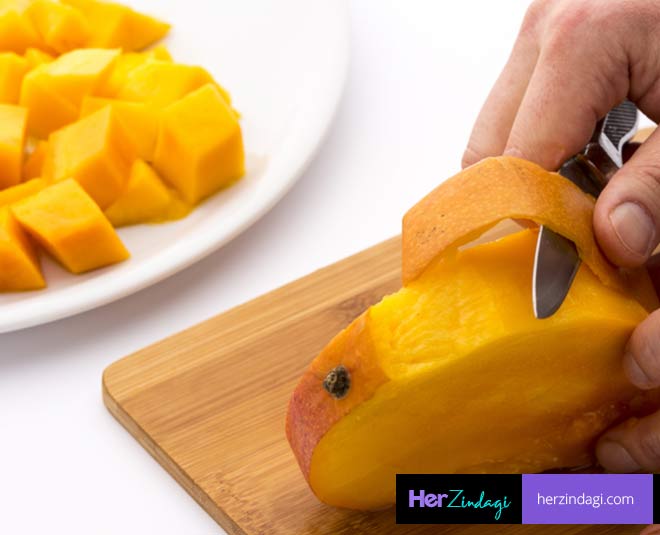 We all love pickle or achaar and you can make some using mango peels too.
You Will Need
400 Gram Mango Peels
250 Gram Jaggery
Salt As Required
Black Salt As Required
1 Tsp Black Pepper Powder
1 Tsp Turmeric Powder
2 Dry Red Chillies
2 Bay Leaves Or Tej Patta
1 Tsp Ginger Paste
1 Tbsp Mustard Oil
Directions
Cut mango peels into one-inch pieces and place them on a tray.
Top these peels with salt, black salt, turmeric powder, and black pepper powder. Spread it well so that all the mango peels get marinated.
Keep the marinated mango peels under the sun for an hour.
On a tawa, dry roast, red chilli, and bay leaves.
Next, coarsely grind the masala.
Heat some oil in a kadhai and add the mango peels. Fry for a few minutes on medium flame.
Add jaggery to the kadhai and mix well.
After the peels have turned a little soft, add the roasted masala. Keep the pan covered for 30 minutes.
Transfer to a glass bottle and your homemade mango peel achaar is ready!
Keep it under direct sunlight for the first 3 days for around 4 hours. You can later keep it under the sunlight for 2 hours every week.
Mango Syrup
Craving for a fresh mango drink? Prepare this mango syrup at home and enjoy a refreshing drink just anytime!
You Will Need
1-2 Cups Mango Peels
1 Lemon Juice And Peel
Sugar As Required
Directions
In a big bowl, add mango peels, lemon juice, lemon peel, and sugar. Toss well and cover tightly for about 40-45 minutes. Keep stirring in between after every 30-45 minutes.
Cover the bowl overnight for about 8-12 hours.
The next morning, strain the syrup and keep it in a glass container.
Refrigerate this syrup for around 2 weeks.
To make a mango drink, take some mango syrup, top with chilled water or soda. Add some ice and enjoy!
Mango Peel Salad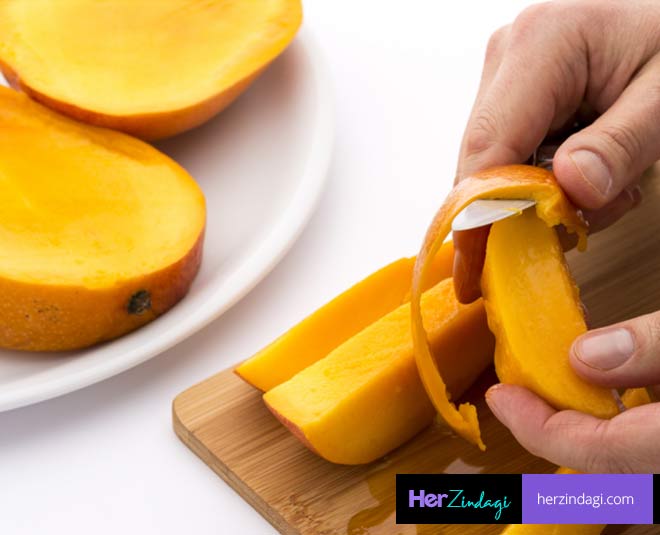 For those who don't know, mango peels are packed with dietary fiber and are believed to be highly beneficial for your health. An easy way to add them to your diet is by making this salad.
You Will Need
50 Gram Mango Peels
1 Onion
1 Tomato
Grated Coconut
Handful Of Curry Leaves
10 ml Vinegar
Tamarind Pulp
1/2 Tsp Black Pepper Powder
Salt As Required
15 Grams Jaggery
Oil As Required
Directions
Soak mango peels in vinegar for 30 minutes and then drain. Keep it aside.
In another bowl, add chopped onion, tomato, and grated coconut.
Prepare a dressing using jaggery, salt, pepper, tamarind pulp, and oil of your choice.
Toss it well.
In a big bowl, transfer the mango peels. Add the vegetable mix and top with the dressing.
In a small pan, add some oil and saute curry leaves.
Add these curry leaves to your mango salad and enjoy!
So, do not waste those mango peels and use them in different ways in your kitchen. Also, let us tell you that many fruits are injected with pesticides these days so it's best to wash the mangoes properly before use or you can end up risking your health.
If you try any of these recipes, share your experience with us on our Facebook page. For more such stories, stay tuned!