Try the delicious keto diet food recipes for breakfast and enjoy a delicious meal that you'll love.
1. Keto Coconut Rice
(source: indianveggiedelight)
Coconut rice is a favourite comfort food. This dish from south India is loved by all. However we know keto diet doesn't allow rice, it can be replaced with finely grated cauliflower to make it keto friendly. The keto friendly recipe of Coconut Rice is-
Ingredients:
4 cups grated cauliflower
2 cups grated coconut
2 tablespoons coconut oil
6-8 curry leaves
1 teaspoon mustard
1 teaspoon cumin seeds
1 tablespoon urad dal
1 tablespoon chana dal
2 tablespoons peanuts
1 whole red chilli
2 slit green chillies
Season with salt to taste.
Lime juice (to taste)
Method:
Dry roast the grated cauliflower until all of the moisture has absorbed and it has become dry and crunchy. Set aside.
Dry roast peanuts and keep aside.
In a pan, heat the oil. Add and allow the red chilli, mustard, and cumin seeds to sputter.
Add chana and urad dal and fry till they turn light brown in colour.
Then, add curry leaves and green chilli. Saute for a minute.
Now, add peanuts, roasted cauliflower, salt, lime juice and fry together.
Finally, add grated coconut to the rice and give a good mix.
Serve hot.
2. Keto Upma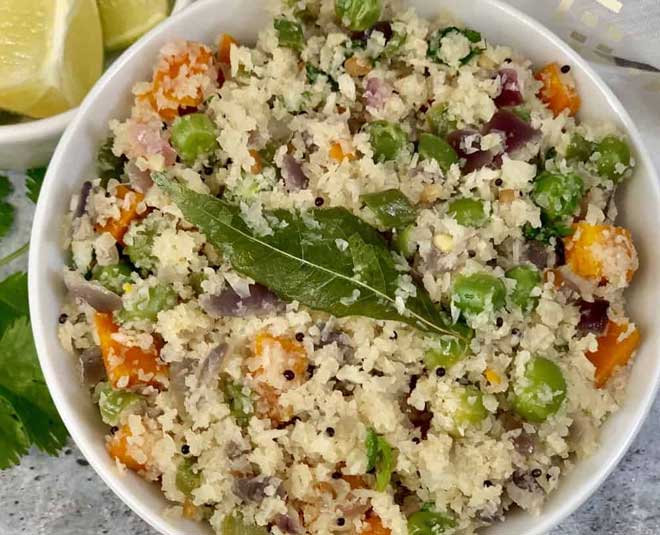 (source: indianveggiedelight)
Prepare delicious keto upma with cauliflower and slow cooked veggies. The easy recipe of this delicious dish is:
Ingredients:
1 Cauliflower
1 tbsp Green Chillies
1 tbsp Ginger
2 tbsp Oil
Salt
4-5 Curry Leaves
1/2 tbsp Mustard Seeds
1/2 tbsp Pepper
1/2 tbsp Turmeric powder
1/2 tbsp Red chilli powder
Method:
Cut cauliflower into small pieces and grind them in a grinder to form a coarse consistency.
Then add oil, curry leaves, mustard seeds, green chilies, and ginger to a pan.
Mix this together, then add the blended cauliflower and cook over low heat. Then add spices
Serve it in a bowl with some peanuts on top.
3. Keto Poha
(source: instafitness)
Prepare the perfect breakfast food- poha with grated cauliflower and enjoy a tasty and healthy meal.
Ingredients:
1 cup cauliflower floret
Half cup, blanched cauliflower stalk
1/4th cup roasted peanuts
1 chopped onion
5 curry leaves
1 tbsp coriander leaves
1/2 teaspoon mustard seeds
1 pinch hing
1/2 teaspoon turmeric powder
Salt
1 tsp ghee
1/2 tsp lemon juice
2 dry red chillies
1 chopped green chilli
Method:
Heat a pan and add ghee to it.
Add hing, mustard seeds, dry red chilli and curry leaves and sauté it.
Add onion to spice-mix and fry.
Add turmeric powder, salt and green chillies and mix all together.
Now, add the roasted peanut to the mixture and pour the grated cauliflower in the pan.
Mix in some salt.
Add water and the blanched cauliflower stalk. Cook.
Finally, add lemon juice and coriander leaves. Tasty poha is ready to be served.
Try these recipes and you'll absolutely love it's taste. They are easy to make and can be prepared within 20-30 minutes.
For more such recipes, stay tuned to HerZindagi!