Sara Ali Khan turned into a tour guide again recently and this time, she took us through the bustling and colourful streets of Varanasi. This video is a new addition to her Namaste Darshako series. Dressed in a peach suit, phoolmala around her neck and tilak on her forehead, she reported for all her fans and followers from the streets of Banaras.
She captioned the video, "Namaste Darshako 🙏🏻 Banaras ki galliyo se...oh what a lovely day 💁🏻‍♀️ So much fun- such little you pay 💰 If only in Varanasi one could stay 🤔."
As Sara moves through the Vishwanath Gali, she shares all that the visitors can enjoy on their visit to the place. She can first be seen checking out some scarves at the local shop, then she moves forward and shows the colourful bangles available at the shops. Then she moves to a curd stall. Sara being her funny self, says, "yahaan par mil raha hai dahi, yes you heard...that is curd."
Sara Ali Khan who loves wearing bangles was then seen entering a big bangle store. The big store had a wide variety of multi-coloured bangles and we are sure Sara bought a lot of them.
Pictures of Sara Ali Khan and Amrita Singh from the ghat, performing Ganga Aarti also went viral. Sara Ali Khan and Amrita Singh were reportedly worshipping Ma Ganga at the Dashashwamedh Ghat.
Don't Miss: Sara Ali Khan Looks Unrecognisable In This Throwback Video She Made On A Flight
Sara Ali Khan is in Varanasi to shoot for her next, Atrangi Re, opposite Akshay Kumar and Dhanush. Seeing Sara Ali Khan's video and pictures, we really feel Banaras should be next on the travel list. What do you think?
Thinking why? Read on.
Varanasi is home to around 100 ghats. While some ghats are used for bathing, others are used for pujas and aartis. These ghats were built back in the 14th century. You can't miss taking a morning or evening walk along these ghats. Also, a boat ride is one touristy thing you should never miss to enjoy an ethereal experience.
Did you spot the food stalls as Sara Ali Khan took us through the lanes of Varanasi? Varanasi offers you lip-smacking food and any foodie should not miss travelling here. From crispy kachoris to mouth-watering jalebis, this place is a heaven for anyone who loves food!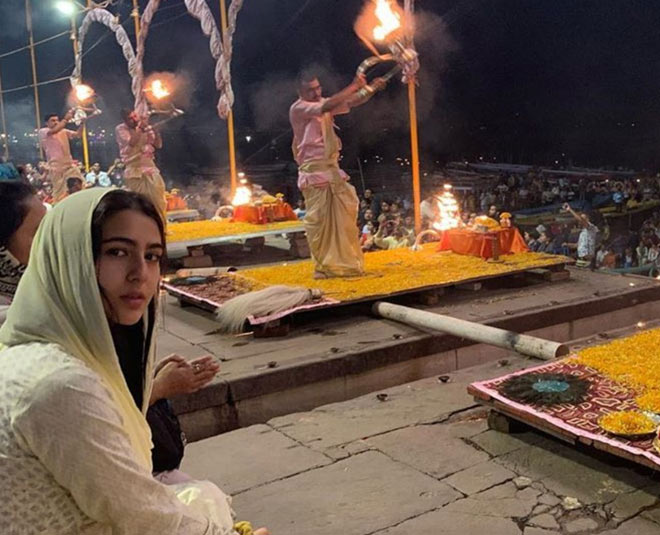 Nothing can match the experience of attending an evening Puja ceremony at the Dasaswamedh Ghat. The ceremony is held at this ghat and hundreds of people visit here to see the puja. The bells, chanting, it is a spiritual experience you can't miss!
Don't Miss: Visiting Varanasi? These 5 Places Are A Must Visit If You Are Short On Time!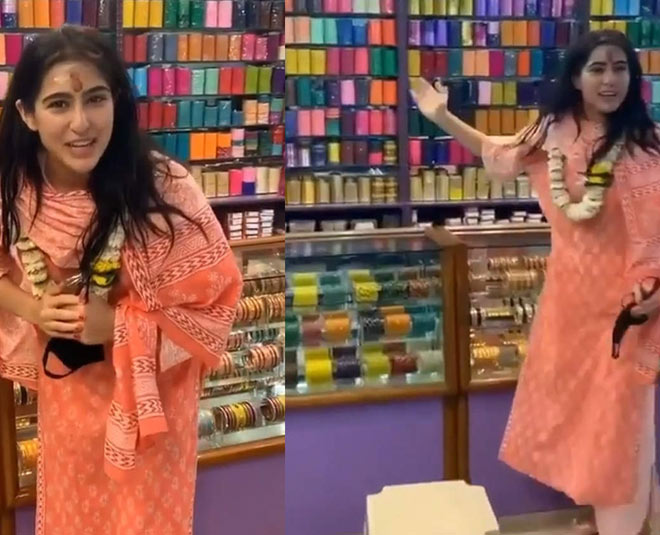 And finally shopping! If you are a shopaholic just like Sara then Banaras deserves a visit. From bangles to dupattas, you can shop for so much from the city.
A lot of people skip travelling to Varanasi thinking it is not a touristy place but if you wish to experience something like never before, this city is calling you!