If you love skincare, you must have already heard of Korean rubber face masks. These face masks have taken over the internet and how! Korean skincare has been here for the longest time now and honestly, we can't thank it enough for being a saviour.
From K-beauty face oils to masks, there is so much to try when it comes to Korean skincare. Recently, Korean rubber masks have been much talked about in the beauty market and there are a lot of reasons behind it.
What is a rubber face mask, what are its benefits? How to use a rubber mask? You will find it all in this article. Read on.
What Is A Rubber Face Mask?
A rubber mask is thicker than a regular face mask. It is prepared using some powder and liquid. The powder comes with nourishing ingredients that can boost your skin health and treat different skin issues. The Korean face masks are known for detoxifying and hydrating the skin. They are available in a wide variety and one can pick as per their skin issues or skin type.
How To Apply A Rubber Face Mask?
Always clean and exfoliate your face properly before using a rubber face mask. Usually, these face masks are used at the end of a detailed facial. If you want to use the mask just as is at home then make your sure face is clear of any dead skin.
When you buy a rubber mask, you get powder and liquid with it. You need to mix the two properly till it reaches a rubber-like consistency.
Using a brush, start to apply this mask to your face and neck. Make sure you apply a thick layer as it is easier to peel off.
Keep the mask on for at least 20 minutes and then peel off.
Always follow with a face toner, serum, or moisturiser. This will help seal the goodness of the face mask into your skin.
What Are The Benefits Of A Rubber Face Mask?
The biggest benefit of using a rubber mask is that its ingredients reach deep into our skin and nourish it. How? The rubber texture of the face mask works like a humectant. It creates an evaporation-free barrier for the skin. This means that when you apply this face mask, your skin gets the most of the ingredients that have been used in its preparation.
Also, these rubber masks help in hydrating your skin which most face masks don't. This makes these face masks stand out.
Don't Miss: DIY Korean Skincare Products For Organic Lovers
These face masks lock the natural moisture of our skin and also boost the elasticity which is essential to prevent skin ageing.
Tips To Keep In Mind While Using Rubber Masks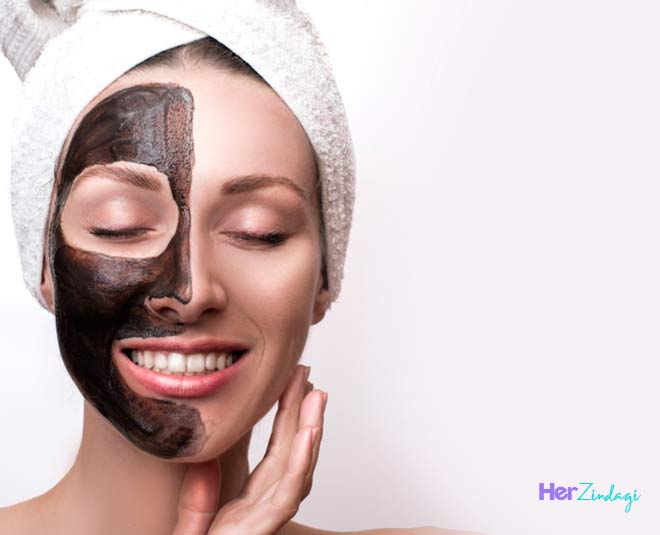 It is important to know how often you should apply this face mask to prevent any allergies to your face. Though this can be decided according to the skin issue or ingredients used in the mask, it is best not to use rubber masks more than once a week.
Don't Miss: These Korean Skincare Tips For Oily Skin Are A Gem!
Be very careful when choosing a rubber face mask for yourself. The ingredients used in these face masks are active and are usually clearly mentioned on the pack. Pick the one which suits your skin type to prevent any reaction. If you have a skin issue, pick the mask accordingly, or else you can pick just any that promises good hydration.
Tell us if we convinced you enough to try a rubber face mask on our Facebook page. For more such beauty-related stories, stay tuned!