Pumpkin seeds are an unsung hero that can do wonders for your beauty regimen. This humble superfood is a nutritional powerhouse and packs a punch of omega 3 fatty acids, Vitamin B, magnesium, iron and protein in every serving. Plus, they are pretty easily available in the market, and purchasing them won't burn a hole in your pocket. Here's how you can use them.
Benefits Of Pumpkin For Skin:
Before jumping onto DIY face packs, let's see why you should include them in your beauty regime.
Moisturises Skin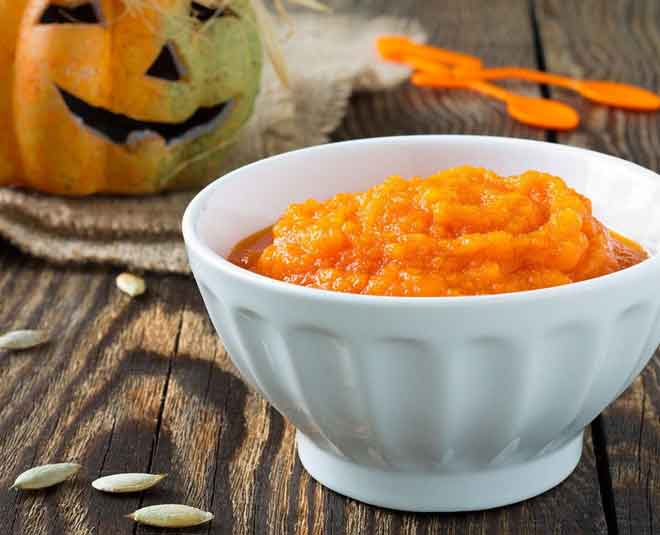 Loaded with potassium and moisture, pumpkin seeds gently hydrate and moisturise your skin, leaving it soft and supple. It also prevents your skin from drying.
Don't Miss- 5 Homemade Cucumber Masks That Fight Puffy Eyes And Promotes Healthy Skin
Keeps Skin Young
Pumpkin is rich in Vitamin C that helps boost the production of collagen, causing firmer skin and also reduces the appearance of dark spots, pigmentation and other types of damage caused by harmful UV rays.
Treats Acne
Are you looking for a permanent solution to your acne problem? If yes, look no further. This superfood is packed with several vitamins and antioxidants that can keep acne at bay.
Removes Sun Tan
Who said there's no natural way to get rid of tanning? Pumpkin's mild astringent property is considered very effective to reduce tan.
How To Use It
Take two tbsps of pumpkin puree, 1 tsp of raw honey, 1/4 tsp of nutmeg powder, and 1 tsp of apple cider vinegar and mix well in a bowl. Apply this paste onto your face and wash it off with cold water after 10 minutes for a healthy and nourished skin.
Mix 1 tbsp of grounded walnuts with a tbsp of pumpkin puree and then add 1 tsp of raw honey and greek yogurt. Complete by adding a pinch of cinnamon powder until it forms a slightly thick paste. Gently rub the mask into your face in circular motions and let it sit for around 20-25 minutes. After 20 minutes, wash your face with cold water and follow up with a moisturiser.
Don't Miss- These DIY Foot Masks Can Make Your Feet Baby Soft!
Combine 1 tbsp of pumpkin puree with 1 tbsp raw honey and a beaten egg together to form a wet paste. Then, add a few drops of frankincense essential oil and stir well. Apply it evenly on your face and neck. Let it sit for 20 minutes and proceed to wash it off thoroughly with a face wash.
Now that you know its secret beauty benefits, start including pumpkins in your beauty regime!
Disclaimer: All content, including tips and suggestions, is entirely based on research and data available on the internet. So, it is advised not to construe it as professional medical advice and consult a dermatologist before making any changes in your beauty regime.
If you found this article helpful, stay tuned to HerZindagi for more such content.