Our kitchen is full of amazing ingredients that are enriched with supreme nutrients and are super organic and healthy. But since we aren't aware of how almost all the ingredients can help us become healthier so, we have to go round and round to find the best health care, skincare, and hair care products present in the market. But those products we buy from the market are full of harmful chemicals and are not what the brands claim them to be.
Thus, it is the safest option to use natural ingredients as they are absolutely chemical-free and they actually help nourish the body, skin, and hair, working in order to provide a long-term solution to our concerns.
One such great ingredient that we use in our kitchen is Masoor dal. Masoor dal is extremely healthy and you must consume it, not only that, but this dal can actually work wonders for your skin and hair too. Here's how.
Benefits Of Masoor Dal For The Skin
It Cleanses The Skin
Masoor Dal comes in very handy when your skin feels dull and dirty. This dal can help cleanse your skin right from the cellular level and flush out the toxins and impurities present.
Works As A Great Exfoliator
Masoor dal works perfectly well as an exfoliator and massaging a masoor dal face scrub(sandalwood face mask) can help you get rid of dead skin, clogged pores, whiteheads, acne, pimples, and blackheads.
It Bleaches The Skin
The bleaches(benefits and side effects of bleaching your face) that are available in the market are very chemical-laden and as much as they make the skin glow for a short period they steal the life out of it. But to help you with that problem masoor dal is the perfect solution. This dal also works as a great bleaching agent that naturally evens out your skin tone and makes it brighter and radiant.
Reduces Signs Of Ageing
Given the unhealthy lifestyles we live, our skin is bound to age quickly, but not with masoor dal. Masoor dal can help you get rid of the fine lines, wrinkles, and blemishes on the skin, making it firm, elastic, and visibly young.
Great For Reducing Sun Tan
Summers come with a lot of skin problems but guess what? Masoor dal can help you with most of them. From reducing suntan to relieving sunburns and making the skin feel cool, this amazing dal can do it all. Thus, you must not think too much and add masoor dal to your beauty regimen right away.
Don't miss: Start Steaming Your Hair After Oiling Them For These Benefits
Masoor Dal For Hair
It Nourishes The Scalp
Masoor Dal is very rich in nutrients and that is why it can help you in nourishing your scalp nicely. A healthy scalp means healthy and shiny hair and that is why masoor dal should be your go-to ingredient.
Promotes Hair Growth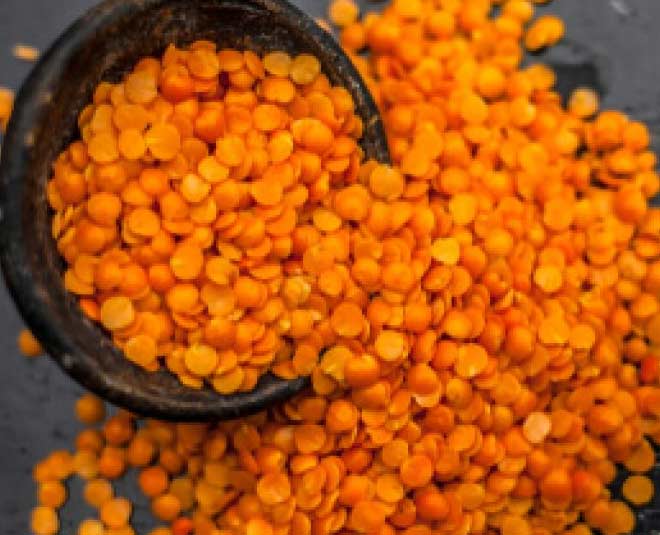 Masoor dal is also great at cleansing the scalp and hair nicely and facilitating better hair growth. In addition to that, this dal may also help in reducing hair fall and making hair stronger from the roots.
Gives Hair A Healthy Shine
Using masoor dal in your hair care routine can assist you in getting the lost luster of your hair back. This dal helps in repairing your hair, and making is super healthy and shiny.
If you liked reading this article stay tuned to Her Zindagi for more.
(Image Courtesy: newstracklive.com, punjabkesari.com, vaya.in)