Its been long since you visited the salon for a facial session. Right? Has your skin started to feel dull and dehydrated? If yes, you really need to pamper your skin and an easy way to do it is by steaming your face.
You don't really need that big steaming machine. There are easy ways you can steam your face at home without using any fancy equipment. How? Read on to know.
How To Steam Face At Home?
Hot Towel
Soak a towel in hot water and wring it. Make sure the water is not dripping or you can end up hurting yourself. Check if the towel is hot enough so that it can steam your face. Drape this towel over your face and keep it till it is warm. Remove. You can dip the towel again in hot water and use it. It is better to use a small towel than using a very big one.
Hot Shower
Run a hot shower for a couple of minutes and then place your face very close to the steam. This can be done till the time the shower area stays warm and has steam.
Hot Water Bowl
This one is again an easy one but you should be extremely careful while you do this. In a big bowl, add hot, boiling water. Place this bowl over a table and lean your face over it. Keep a towel over your head and cover the bowl carefully so that you directly get the steam on your face. This can be done for a few minutes till the water is hot.
Don't Miss: Some Lesser Known Facts About The Health Benefits Of Steam
What Are The Benefits Of Steaming Your Face?
Steaming Helps Cleanse Your Skin
With time, dust and dirt start to accumulate on our face and gets stuck into our skin pores. Steaming will help you open up the pores and loosen up the buildup in them. This will further help you get rid of blackheads, whiteheads, and acne.
Steaming Is Inexpensive
If you are running on a budget or just don't wish to splurge then steaming is the easiest way to pamper your skin. You don't really need any fancy products and your skin feels beautiful and healthier.
Steaming Soothes Skin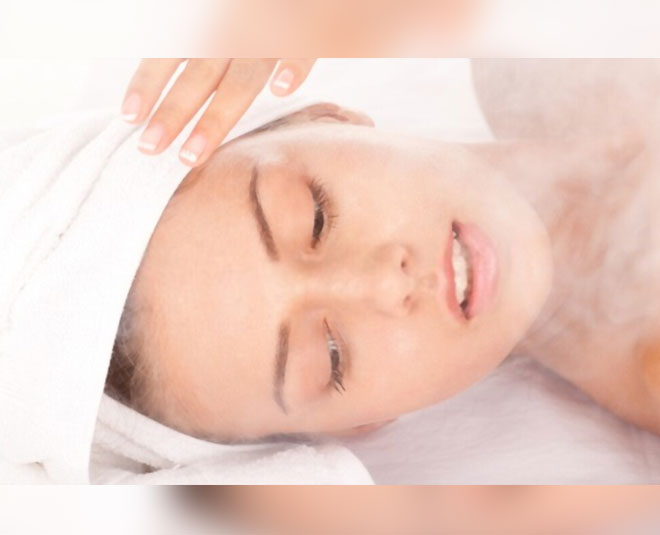 An easy way to relax your face is by taking steam for some time. The warm steam relaxes your skin and you feel a lot more calm. You can add a few drops of essential oil to the water for a more relaxing effect.
Don't Miss: Start Steaming Your Hair After Oiling Them For These Benefits
Steaming Hydrates Skin
Especially during this hot season, our skin feels much dehydrated. Steaming can help in hydrating your skin. It helps increase the oil production in your skin which keeps your face hydrated and moisturised all day.
Steaming Promotes Circulation In Skin
When you steam your face, there is a boost of blood flow in the skin which nourishes your skin naturally. You get a beautiful, natural glow after steaming your face.
Steaming Can Help Prevent Ageing
Do you know the increased blood flow in the skin promotes collagen production? Collagen is essential if you want a tight, young-looking face. Regular steaming can help prevent the appearance of ageing signs like fine lines, wrinkles, pigmentation among others.
Steaming is overall a great treatment for your skin and you should definitely try it. However, be careful while trying any of the methods. For more such beauty-related stories, stay tuned!