How we all wish that our skin starts looking spotless and youthful! However, with those wrinkles and fine lines taking over our face, flawless skin seems like a pipe dream. Is it? Not really, it takes some time to finally find that one product that starts working for your skin. Well, there is no dearth of anti-ageing products in the market. While some work, others leave behind some scary side effects. What to do?
We all know that it isn't easy to get completely rid of those wrinkles, fine lines, and other ageing signs. However, using the right skincare routine can slow the process down and make your skin look youthful. If you are in your 30s then you must have invested in a couple of anti-ageing products. Here, we have a homemade anti ageing serum for you that will help you reduce the signs of ageing. This can be prepared using natural ingredients like aloe vera gel and rose water.
Homemade Anti-Ageing Serum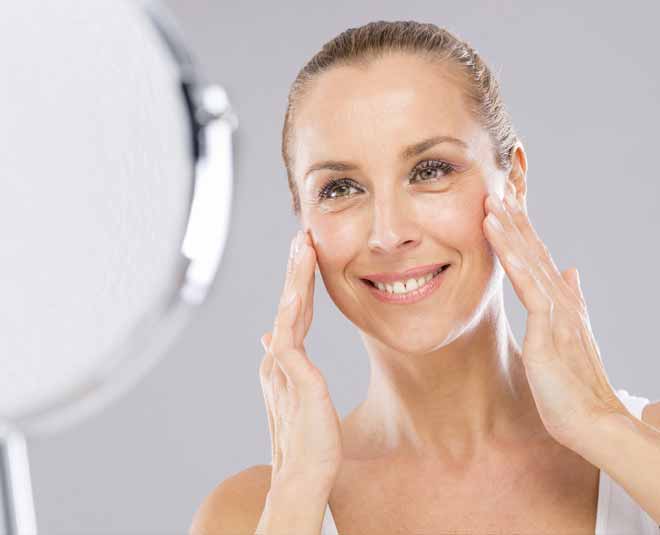 You will need:
4 tbsp aloe vera gel
3 capsules vitamin E
2 tbsp rose water
5 drops essential oil
1 tbsp glycerin
How To Prepare It?
Scrape aloe vera gel from the plant and add it to a bowl.
Now add vitamin E capsules to the bowl.
Next, add rose water and mix well.
Add glycerin and mix it again.
Lastly, add 5 drops of essential oil.
Store this anti-ageing serum in a clean, airtight container.
Best Time To Use Anti Ageing Serum?
The best time to use this serum is before you go to bed. Make sure you wash your face before using it. Take 2-3 drops of this serum and then massage it all over your face.
This anti ageing serum has some amazing benefits for your skin as it is packed with natural ingredients. Read on.
Aloe Vera Gel
Aloe vera works as an anti-ageing agent. It has Beta Carotene, Vitamin C and Vitamin E which keep your skin soft and smooth. Using aloe vera on skin helps in keeping fine lines and wrinkles at bay.
Don't Miss: DIY Coffee Face Masks For Glowing Skin, Anti-Ageing & More
Vitamin E capsules
Vitamin E has antioxidants that are good for your skin. It keeps all skin problems like acne at bay and makes your skin healthy and soft.
Rose Water
Your skin starts to look dull when you don't clean your skin properly. Dust starts getting accumulated on your skin and it takes away the natural glow from your face. Rosewater not only cleans your skin from within but also hydrates it. It is also helpful in opening your skin pores. Buy UrbanBotanics™ Pure & Natural Rose Water/Skin Toner here for Rs 259.
Don't Miss: Anti Ageing Tips: Look Young Even In 40s By Doing These 3 Things After You Wake Up In The Morning
Glycerin
Glycerin is one ingredient that works great for problems like fine lines, wrinkles, infection among others. It moisturises your skin and keeps dryness at bay. Buy Khadi Omorose Glycerine here for Rs 190.
Essential Oil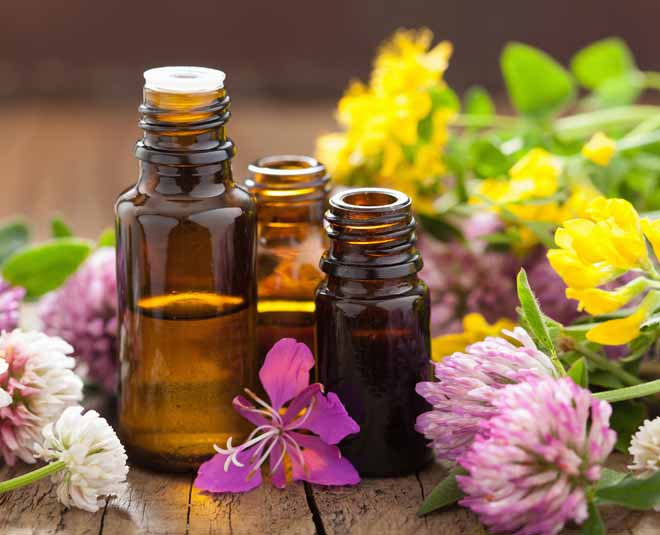 Essentials oils are ruling the beauty market like anything these days. These oils are prepared using plant extracts from flowers, leaves. These essential oils help in reducing the appearance of ageing signs. According to your skin type, you can choose an essential oil for your skin. Buy Old Tree Pure Lavender Oil here for Rs 249.