It is a known fact that dust, pollution, stress and weather conditions take a heavy toll on your hair health. If not cared for properly, they can turn lifeless within days. On top of that, treating them with chemical-ridden hair care products can worsen the damage. So, ditch your usual hair care routine and indulge in this DIY hair mask, recommended by Priyanka Chopra herself.
In an Instagram post, Priyanka shared her own natural hair care mask that has been passed on to her by her mum. She not only mentioned the recipe but also explained how to use it. PC also recalled how this recipe has been taught by her mom and is an effective DIY. She also gave a disclaimer in her post, which read-
Disclaimer: while this works wonders (for me), it doesn't smell the best. You may need to shampoo twice to remove all the yogurt, and then condition as usual.
So, try this mom-approved hair mask to bid your dry and flaky scalp issues a goodbye.
3-Ingredient Hair Mask
Ingredients required: 2 tbps curd or yogurt, 1 tsp honey and 1 egg.
Steps to make the hair mask:
Step 1- Take a bowl and crack open the egg.
Step 2- Whisk it properly, till it gets fluffy.
Step 3- Add honey and yogurt to the bowl.
Step 4- Combine everything and start applying it on your scalp.
Step 5- Once properly applied, massage it in order to ensure that the mask seeps deep inside your hair roots.
Step 6- Let it sit for at least 30 minutes, till it dries off completely.
Step 7- Wash off with a mild shampoo and lukewarm water.
Don't Miss: DIY Charcoal Masks: 4 Homemade Masks For All Your Skin Problems
Benefits Of Yogurt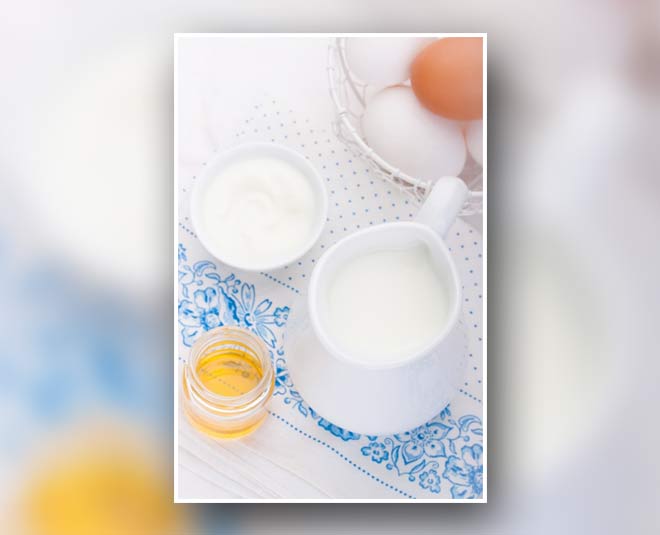 Yogurt is jam-packed with proteins which is a beneficial nutrient for your hair. It is also known for smoothening the hair and providing a cooling effect. Curd contains lactic acid, which helps in unclogging the roots. This further acts as a natural detoxifier and makes your head squeaky clean. As the scalp is cleared of gunk, new hair grows which makes your head look more voluminous.
Don't Miss: Monsoon Hair Care: Simple Remedies To Keep Hair Problems At Bay
Benefits Of Honey
Honey is a natural moisturiser and is used in hair masks to bring back shine. It has both emollient and humectant properties, which smoothes frizzy hair strands. Its antibacterial properties can keep problems like itchiness and rashes of scalp at bay. Humectants bond with water molecules and add the required moisture to dry strands. It locks this moisture in your roots and gives rise to shinier hair.
Benefits Of Egg
Egg is a magic product when it comes to treating damaged hair. From strengthening dry hair to treating damaged hair follicles, egg is a one stop solution for all hair woes. It contains protein and biotin, which provides the much-needed nourishment to your tresses. The only con of this product is that it smells bad and might not be liked by many people. To get rid of the rotten smell, you might need to wash your hair at least twice with shampoo.
For effective results, use this hair mask at least once a week. Proper care and maintenance of hair can bring about a stark difference in your hair, in terms of quality, volume and length.
For more such hair care and beauty tips, stay tuned to HerZindagi.com