Your entire makeup game can go wrong when you have a cakey base. It the base makeup that actually makes your entire look stand out.
Going wrong with your makeup base can ruin everything and even make you look like a disaster. To crack a flawless base makeup isn't that difficult but you need to follow some steps to ensure it is smooth and stays set for a long period of time.
So, here is a step by step guide which will help you do a good, smooth makeup base everytime.
Step 1
Cleanse And Moisturise
If you miss this step, you will end up putting layers of makeup on your face which already has dirt, dust, and impurities accumulated on it. The open pores will absorb all that foundation and make your face look patchy. Cleansing and moisturing your skin will ensure that your face is completely clean and ready for the base makeup.
Begin with washing your face with a regular cleanser according to your skin type. You can also follow the double cleansing method if you feel your skin has that amount of dirt present on it. Make sure you pick the face wash/cleanser according to your skin type. Follow with a regular moisturiser/cream. It shouldn't have a greasy formula.
Step 2
Prime your face
Applying a primer means creating a layer between your skin and makeup. It holds your entire makeup together. A primer smoothens out your skin and helps you further create a smooth base for all the products including foundation, concealer, colour corrector among others. If you have been skipping this step then this may be the reason why your skin starts to look shiny after a few hours of makeup. A primer covers the large pores on the skin which usually secrete oil and ruin your makeup.
Take a little quantity on your finger and apply it all over. Avoid using a sponge or brush to apply the primer as it can lead to the creation of harsh lines.
Don't Miss: This Guide Will Help You Apply Foundation In The Correct Way
Step 3
Pick the right foundation for your skin type
What is your skin type? Dry, normal, combination, or oily? It is important to choose a foundation as per your skin type or you can end up ruining the makeup base. For instance, women with oily skin should go for a foundation that has a matte finish so that their face doesn't start to look sticky after a few hours. Also, the foundation should be picked according to the amount of coverage you are looking for like a heavy or a light one.
Step 4
Get the right brush to blend your foundation
With a huge variety of foundations available in the market, it may be difficult for you to pick the right foundation brush for yourself. Let's talk about the most common choices. A beauty blender is the most common one and it is believed to be best for high coverage foundation. It helps blend the foundation really well with the skin, giving a very natural finish. Stippling brushes are also getting a lot of love these days. This one has two layers of bristles. While the first layer helps you apply the product correctly, the second layer helps blend it into your skin. You can also use regular flat brushes to apply the product.
Don't Miss: From Liquid To Mousse, Here Are Five Different Types Of Makeup Foundations
Always place the foundation on your face in small dots and then blend with a brush of your choice. Make sure you don't forget to apply it to the neck.
Step 5
Set it with a powder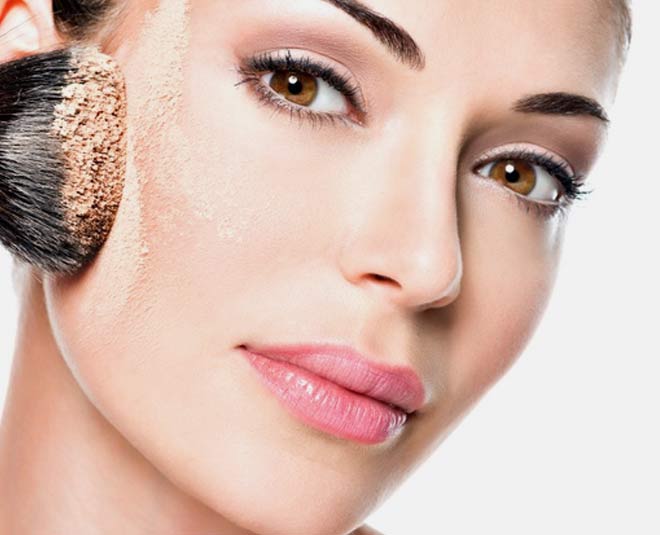 Now that you have applied your foundation, it is important to set your makeup with a powder so that it stays intact. Also, using a setting powder prevents your foundation to get that oily shine. Just take a fluffy brush and apply the setting powder all over the face and neck.
We hope this guide helps you achieve a flawless makeup base. For more such beauty related stories, stay tuned!