Maine Pyar Kiya actor Bhagyashree enjoys a huge fan following on social media and these days she is treating all her fans with some interesting beauty tips. Bhagyashree's new series, Tuesday Tips is all about skincare and haircare routines that she swears by. Well, all those who have been wanting to know the secret to Bhagyashree's gorgeous tresses and flawless skin, this is just what you wished for. Recently, Bhagyashree shared the recipe of her favourite, 2-ingredient hair care pack.
Bhagyashree's Go-To Hair Pack
You Will Need:
1 Small Bowl Methi Seeds
1 Cup Coconut Milk
Preparing Coconut Milk At Home
If you don't wish to buy coconut milk from the market then you can make it easily at home. Just take a fresh coconut and start grating it. Squeeze the grated coconut using a muslin cloth and store all the milk in a bowl. Add this milk to a pan and let it cook for 5 minutes. Let it cool and then freeze it. The next morning, coconut milk is ready!
Directions:
Soak methi seeds or fenugreek seeds in water overnight. The next morning, in a blender, add methi seeds and coconut milk. Blend to make a thick paste.
How To Use?
View this post on Instagram
Part your hair into sections and start applying the paste all over your hair roots to the ends. Keep it for 40 minutes to 1 hour and then wash off with a mild shampoo. This hair pack works as a conditioner and you don't need to follow the shampoo with your regular conditioner after using this hair pack.
Don't Miss: These Methi Hair Packs Will Revive Dull Hair, Stop Hair Fall, Dandruff, Re-Growth
Benefits Of Using This Hair Pack
Methi Seeds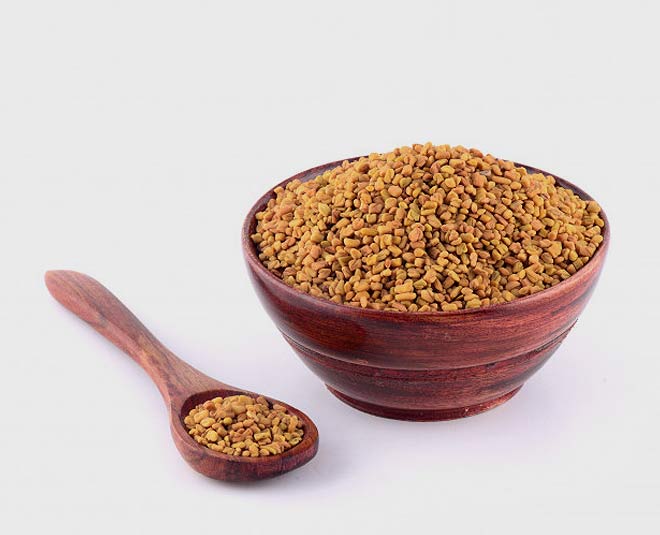 Prevents Hair Fall
On her Instagram post, Maine Pyar Kiya fame actor, Bhagyashree shared, "Methi is rich in Nicotinic acid which is beneficial against hairfall. It also contains lecithin which hydrates each strand of hair and bringing back the luster and bounce."
Reduces Dandruff
Fenugreek seeds can be your go-to solution for dandruff. These seeds have antibacterial and antifungal properties that treat dandruff and an itchy scalp. Using this hair pack twice a week can help you get rid of the dandruff problem completely.
Prevents Premature Ageing
Fenugreek seeds have potassium which prevents the problem of premature hair greying.
Improves Hair Growth
Fenugreek kills the bacteria and fungi present on your scalp which prevent hair growth. These seeds make your hair follicles strong which improves hair growth.
Treats Dry, Frizzy Hair
Fenugreek seeds are known to make your hair soft and smooth. If you have really dry hair then you must use this hair pack.
Don't Miss: Try These Homemade Coconut Hair Masks And Get Soft And Healthy Tresses
Coconut Milk
Talking about coconut milk, she shared, "Lauric acid in coconut milk strengthens the hair follicles and reduces the hair loss."
Also, coconut milk is packed with essential nutrients that nourish your hair and promote hair growth.
Coconut milk works as a conditioner for our hair. If not with anything else, you can use coconut milk along on your hair. It works like a leave in conditioner, making your hair thick and strong.
Bhagyashree took to her Instagram and shared that a lot of her followers were asking her about hair care so she thought of sharing her hair care routine. However, she also shared that food plays a key role in the growth of healthy hair. Adding vitamin A, biotin, and Omegas is essential to maintain hair and skin, she shared.
Bhagyashree's go-to haircare routine is really easy to follow and if you wish for strong and gorgeous looking hair like her then you must give it a try. Don't forget to share the results with us. For more stories around celebrity beauty secrets, stay tuned!