Hair fall is a huge concern for most people all over the world. There are indeed many treatments that you can undergo but when it comes to home remedies, very few actually work. If not bring your hair back, these remedies stop the hair fall that has been a concern for you for a while. Here are some concoctions of easily found ingredients that make for very effective hair masks to help curb baldness by preventing hair fall and promote hair growth. Take a look and see what will suit you best and try.
Egg Mask For Hair
A good source of vitamin B and proteins, these nutrients have been proven to be excellent for your hair. They work on all kinds of hair textures and give nourishment.
What You Need
A cup of milk
1 egg
2 tbsp olive oil
2 tbsp of lemon juice
How To Make It
Whip the egg with all other ingredients and apply the mixture on your scalp and leave it on for 20 to 30 minutes.
Wash it off with cold water.
Curd Hair Mask
This hair mask can help in sealing split ends, nourishing hair ends, and works on reducing hair damage. It also helps in conditioning your hair and enhance hair colour.
What You Need
1 tbsp apple cider vinegar
1 cup of curd
1 tbsp honey
How To Make It
Mix the ingredients and apply it on the tips and roots of your mane.
Keep it for 15-20 mins and then wash off with cold water.
Banana Hair Mask
Rich source of vitamins, antioxidants, natural oils and potassium, bananas are best when treating hair loss.
Recipe 1
What You Need
2 ripe bananas
1 tbsp olive oil
1 tbsp honey
1 tbsp coconut oil
How To Make It
Mix all the ingredients in a bowl and apply it on the scalp and then hair strands. Let this sit for 5 to 10 minutes and not more.
Wash off with warm water.
Don't Miss: Ayurvedic Medicine Kapoor Kachli Powder Is The Best Hair Mask Every One Should Try!
Recipe 2
What You Need
2 ripe bananas
2 tsp almond oil
How To Make It
Mash and make a paste using the two ingredients and apply on your hair. Cover with a shower cap and let it sit for an hour.
Rinse with cold water and shampoo. Seal it with a conditioner.
Curry Leaves And Coconut Oil Hair Mask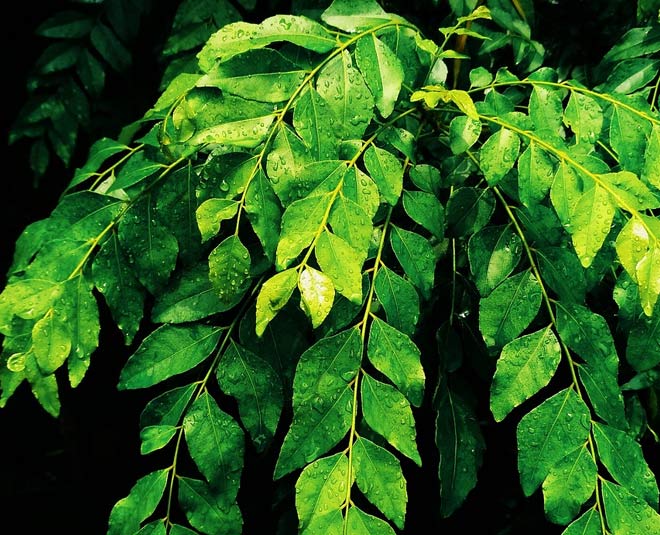 A well known Ayurvedic remedy for hair growth, curry leaves are excellent for premature greying and combined with properties of coconut oil, which has fatty acid, it makes a perfect hair mask. This mixture helps in reducing protein loss from hair.
What You Need
10 curry leaves
2 tbsp coconut oil
How To Make It
Heat some coconut oil like we do while cooking and add curry leaves to it. Let the leaves crackle until cooked and take it off the flame.
Once the mixture cools down a little, blend it together and then apply on your scalp and hair strands.
Let it be for 20 minutes and then rinse off with an organic shampoo.
Castor Oil Mask
Highly rich in proteins, this mask is excellent for repairing split ends, dandruff and increases the thickness of hair.
What You Need
2 tbsp brandy
2 tbsp castor oil
1 egg
How To Make It
Mash all the ingredients together.
Massage it on the scalp and hair strands.
Let it be for half an hour and then rinse it off with cold water.
Green Tea Hair Mask
Green tea is well known for being super rich in antioxidants and EGCG (epigallocatechin-3-gallate) which helps in hair growth.
Don't Miss: Detox Your Hair Twice A Week With These Home Remedies
What You Need
2 tbsp green tea leaves or powder
1 egg yolk
How To Make It
Blend the ingredients together to obtain a creamy texture.
Apply it on your scalp and hair strands with a brush.
Let the mixture do its job for 20 minutes.
Wash it off with cold water and then with a sulphate-free shampoo.
Cinnamon Mask
Cinnamon oil is said to have properties that help in increasing hair length and thickness as well. If you use this for two weeks every alternate day then you will see the difference.
What You Need
1 tbsp honey
1/4 tsp cinnamon powder
Hair balsam (easily available online)
How To Make It
Mix together the three ingredients and you can add more quantity depending upon the thickness and length of your hair.
Apply it on wet hair with a brush and keep it away from the scalp and even from the forehead.
Make a hair bun and cover with a shower cap.
Let it stay till dries up and wash it off with water until all the product is gone.
Follow it up with a shampoo and conditioner
Some of these have been tried and tested by me and I can assure you that they do work. I had experienced major hair fall due to stress and these turned out to be a boon. Do not forget to do a patch test whenever you plan on preparing a mask that goes directly on your scalp. If it itches, wash off immediately.
For more on hair growth and baldness remedies, stay tuned to HerZindagi.