If you don't know already, let us tell you that vitamin E is one of the best things you can use on your skin. Packed with antioxidants and anti-inflammatory properties, vitamin E has numerous benefits for the skin and can be used in different ways to treat skin issues.
An easy way to use vitamin E for your skin is by applying a face mist a few times a day. Here, we thought of bringing you an easy DIY. Read on to know how to make vitamin E face mist at home.
How To Make Vitamin E Face Mist?
Ingredients Required:
5 Vitamin E Oil Tablets
1 Cup Water
Few Drops Of Tea Tree Essential Oil
Few Drops Of Lavender Essential Oil
Spray Bottle
Directions:
In a bowl, break vitamin E tablets, pour some water, add a few drops of tea tree essential oil, lavender essential oil and mix well. Pour the mixture to a spray bottle. Homemade vitamin E face mist is ready!
How To Use Vitamin E Face Mist?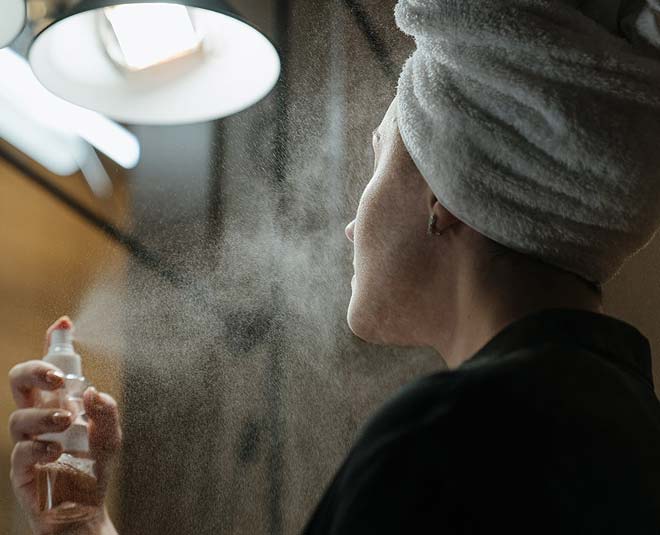 Spray this face mist on your face twice a day. You can keep it in the refrigerator before using it.
Don't Miss: Get An Instant Glow On Your Face With These Homemade Face Mists
Benefits Of Using Vitamin E Face Mist
This vitamin E face mist is prepared using all-natural ingredients and usually these don't have any side effects. However, if you have sensitive skin then make sure you do a patch test on your hand before using the face mist directly on your face. Read on to know some interesting benefits of using this face mist.
Vitamin E
Vitamin E is known to be highly beneficial for the skin. There are numerous benefits of using this vitamin E face mist on your skin:
Vitamin E has antioxidants present in it which improve blood circulation on the face and slow down the skin ageing process and reduce the appearance of signs like wrinkles, fine lines, pigmentation among others.
Vitamin E works as a moisturiser and prevents the skin from drying.
Exposing our skin to the sun often leads to hyperpigmentation. Vitamin E oil is beneficial in protecting the skin from harmful damage and reduces hyperpigmentation.
Don't Miss: HZ Tried & Tested: Plum Grape Seed and Sea Buckthorn Nutri-plenish Face Mist Detailed Review
Lavender Essential Oil
Lavender essential oil is used in numerous skincare products for its amazing benefits. Lavender has aromatherapeutic properties that detoxify the skin and clear all the harmful toxins to prevent in the skin.
This essential oil also has antioxidants and phytochemicals which fight signs of ageing like wrinkles, pigmentation, fine lines, and dark spots.
Dry skin is one of the most common problems women face today. Lavender essential oil is one of the best ingredients to treat dryness. This oil keeps your skin moisturised for long and prevents it from drying.
Tea Tree Essential Oil
Tea tree essential oil has anti-inflammatory and antiseptic properties which reduce acne, redness, and irritated skin.
This essential oil leaves the skin with glowing and flawless skin.
According to a lot of studies, tea tree essential oil has properties that can fight skin cancer.
Tea tree essential oil also helps in relieving skin inflammation.
This vitamin E face mist is easy to make and has numerous benefits for your skin. Using this face mist is one of the easiest ways to enjoy the amazing benefits of vitamin E for your skin. Do make this at home and share the results with us. For more such beauty related stories, stay tuned!