There is something very unusual about travelling during the monsoons. Don't you think? Imagine sipping on a cup of hot tea as you enjoy a drizzle and stunning view of the lush greens. What better, right?
Travelling in the rain is indeed special but it brings along a lot of challenges too. To enjoy travel during the rainy season to the fullest, you must pack along some essentials.
So, here, we thought of sharing a list of essentials that you shouldn't forget carrying when travelling during the monsoons. Read on.
Monsoon Friendly Footwear
Your packing is incomplete if you don't pack the right footwear. Avoid packing any footwear that might be slippery or just too fancy to be ruined in the rains. This is not the perfect time to flaunt your expensive footwear as they would be higher at the risk of getting covered in rainy water and mud. A good choice would be rubber boots or gumboots. If you want to take along regular flip flops then pack the ones that are anti-slip.
Waterproof Bags
It is not a good idea to carry your regular backpack for a trip during the monsoons. Your regular backpack may not be able to take the pressure of the heavy rains. Always pick a waterproof bag with a lot of inside pockets for a monsoon trip. The material for these bags is durable and works well for the rains. More inner pockets mean that you can store a lot of essentials inside.
Mosquito Repellents
Most people head for treks during the monsoon season to enjoy the lush greens. One big risk here is getting stung by a mosquito. Don't forget to pack a mosquito repellent with you along with other first-aid essentials like bandages, skin creams, pain killers among others.
Waterproof/Silicone Mobile Case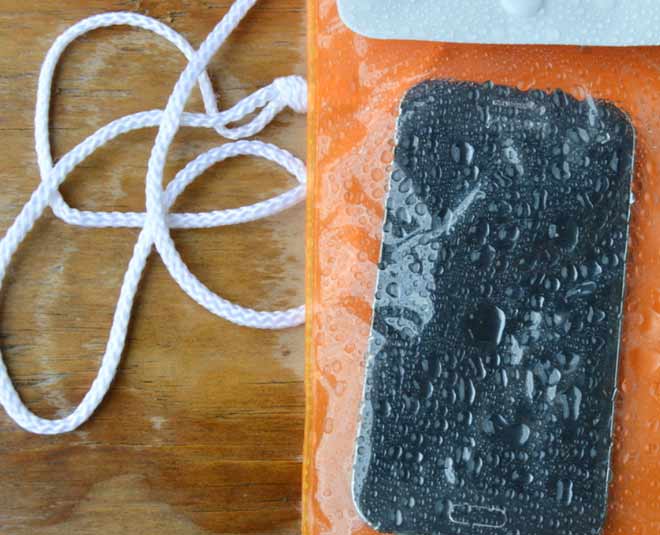 Can you imagine travelling without your mobile phone? No right? Your mobile phone is essential and it can be a little tricky to prevent it from the heavy downpour. Always get a silicone case for your mobile phone. You can carry this along easily even if it is raining heavily outside because the water won't reach the phone.
Don't Miss: Tips To Keep Your Phone Safe From Rainwater During Monsoons
Beauty Essentials
It can get really difficult to dry your hair after getting wet in the rain but it is important or you can end up having a cold. Always carry a hairdryer along. Keep your hair dry as much as possible to prevent any health issues. Also, if you are fond of makeup, make sure you carry waterproof makeup along.
Don't Miss: Take A Look At These Ingenious Monsoon Makeup Tips
Don't forget to pack lightweight, water-absorbent, monsoon-friendly clothes. Cotton and synthetic clothes should be your only preferences because they dry quickly. Needless to say but don't forget to carry an umbrella and raincoat. Raincoats are much useful because they are easier to carry.
Lastly, carry your own water because monsoons weaken your immune system which puts you at the risk of many health issues. To prevent the risk of contamination, carry your own packaged bottle.
We hope this guide helps you have a hassle-free trip during the monsoon season. For more such travel tips, stay tuned to HerZindagi.