Something that has gained a lot of popularity off late is essential oils. Their fragrance, multiple benefits and the overall therapeutic effect that the oil leaves are what make it widely used by every self-care lover. However, what do you do when a bottle of essential oil gets empty? Do you throw it? Oh, what a waste! We have brought to you five easy ways to make use of empty essential oil bottles effectively! Some of these are so easy that it would take less than ten minutes to execute them!
Tiny Planters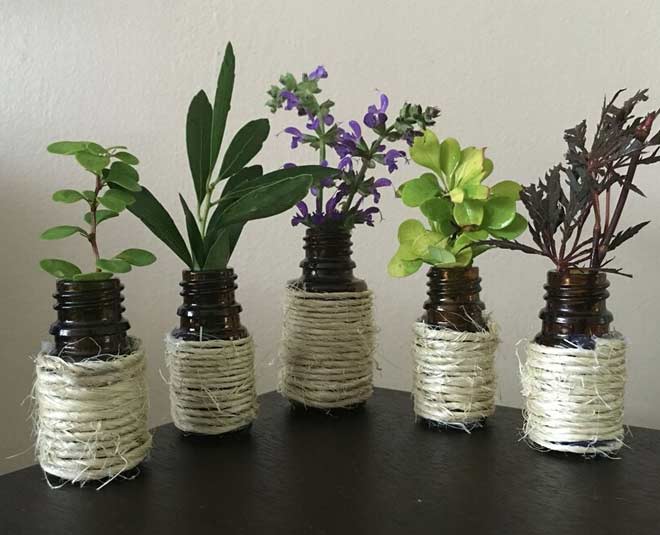 Image Credit: images.squarespace-cdn
Hear us out because we are not just giving you a way to reuse your bottles but to create a whole new vibe at home. Take the essential oil bottle and in them keep pretty flowers and small plants. Wrap the body of the bottle with jute to give it an aesthetic feel. Organise an area where you can indulge in body care, or even your bathtub area works. Light scented candles, place these bottles, get in the tub and relax your body, mind and soul at this home spa!
Freshen Up Your Drawers And Cupboards
Fill the empty bottle up with a fragrance of your choice, open the lid and place it inside your cupboard or even drawers. Make sure you do not keep it at a place where it can stumble and fall. Every time you open the drawer, you will be faced with a fresh fragrance that will live longer than any of those store-bought fragrant elements.
Inhaler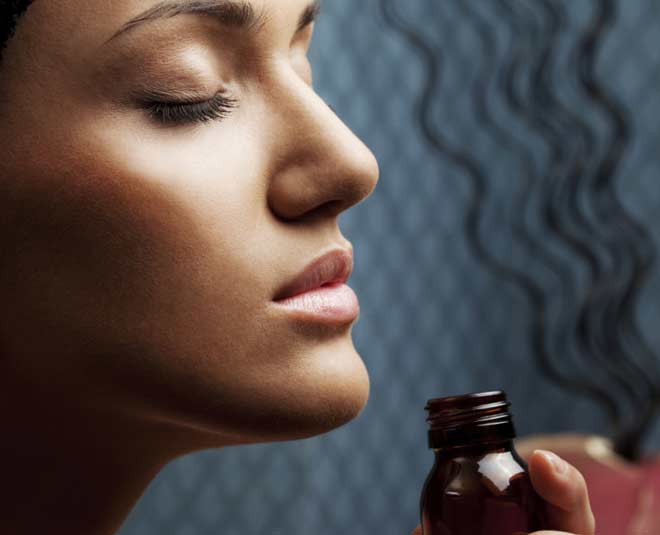 Image Credit: shoplacure
The way essential oil bottles are designed makes them a perfect inhaler. The tiny opening on the top is ideal for the smell to be inhaled. Fill the bottle up with any oil that helps you during cold and flu, we recommend eucalyptus oil. Inhale this every once in a while to fight cold!
Read More On Essential Oil- Do You Know Essential Oils Can Assist To Get A Good Night's Sleep?
Add Jazz To Your Fairy Lights
This one is our personal favourite and we are sure you will love it too! All you have to do is take the empty bottles, clean them thoroughly so no trace of oil is left. Dry the bottles up. Take fairy lights and carefully insert individual light bulbs into the bottles via their opening. Make sure to tape the bottle well so it does not fall. Hang the lights up and change the entire look of your room!
Learn How To Use Essential Oil- Use Essential Oils The Right Way, Avoid These Mistakes
Car Fragrance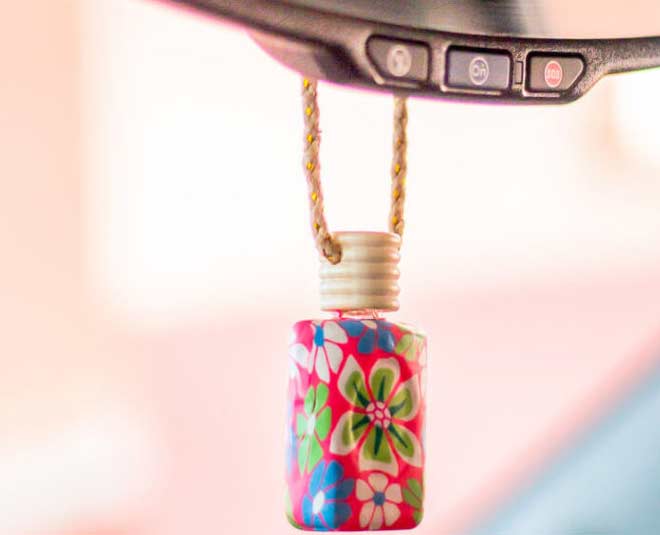 Image Credit: cdn.wonderfuldiy
The best part about the essential oil bottles is that they are so tiny that they can be easily carried anywhere. Fill the essential oil bottle with any fragrance of your choice and decorate the bottle to make it look like a pretty car accessory(read more on fragrances). Hang it on the rearview mirror. Every time your car jerks, there is a beautiful fragrance guaranteed!
We hope you found this article helpful and are going to store all your empty essential oil bottles to try these DIYs out! If you enjoyed reading this article, stay tuned to Her Zindagi for more such content!