Love Stars? 9 Celestial Decor Ideas Using Stars For Your Home
If you are want to give some contemporary changes to your home interior, then star decor ideas are ideal for you.
If you are of the opinion that stars only belong to your kids' room, then you might be wrong. Stars belong to one such theme which can be experimented in whichever way you feel like. When it comes to decor, you need to consider the colour of your room, the style of the furniture, and even the colour of the bedding or linen. Stars are something that can go with everything due to the subtle nature of their colour. When used in home decor, they are ideally preferred in the shades of silver, grey, and golden, which makes them suitable to be paired with other items of a room.
Here are a few celestial decor ideas which will help you turn your house into a star-studded affair:
Star Bedsheets
If you are looking to add some stars in your bedroom, then you should go for star bedsheets. You can match the colour of the sheets with the theme of your bedroom and can easily go for either matching or contrasting sheets.
Star Chandelier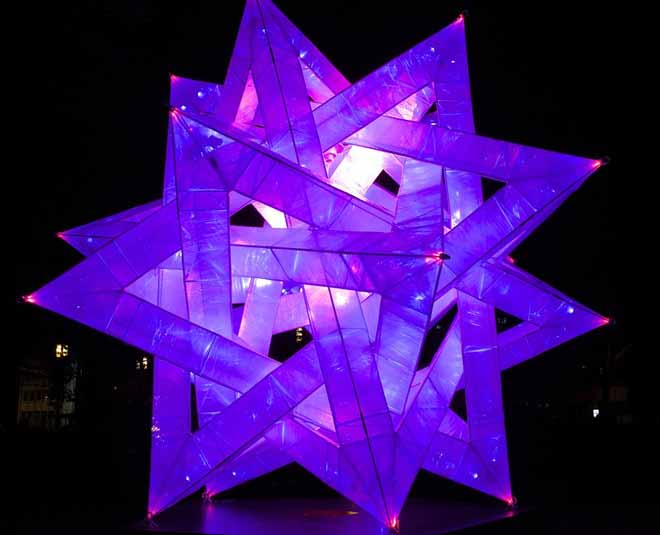 If you are looking to add a new chandelier or are planning to replace your old one, then opt for a star-themed one. The tiny stars emitting light will not only make your room look brighter but will also enhance the appearance of your living space.
Star Shaped Bowls
When it comes to the kitchen, you can go for an addition of star bowls. These bowls can be used either for eating desserts or for special occasions. The star bowls will break the monotony of similar shaped cutlery and will also make eating fun.
Don't Miss: Follow These Do's and Don'ts While Decorating Your Home With Mirrors
Star Shaped Center Table
If you are looking to bring about a major change in your living room, then you can consider changing your center table to a star-shaped one. Usually, center tables are either round, square, or rectangular in shape. A star-shaped center table will change the look of your living room single-handedly. If you do not wish to bring such a big change, then you can replace your side table with a small star-shaped one.
Star Wallpaper
If your room has the same paint on all the four walls, then you can opt for pasting star wallpaper on one of them. This will not only bring a contrast to the room but will also enhance the look of your room. You can put up star wallpaper either in your kid's room or study.
Star Decorative Pieces
You can also add a star-themed wall hanging in your living room if you have an empty space that you want to fill with something contemporary. You can also get a star-shaped showpiece that can complement your shelf or side-table.
Don't Miss: Six Impeccable Ways To Arrange Cushions On Your Sofa
Star-Studded Carpet
You can also place a rug just by your bedside which has stars printed on it. This will give you the bread from traditional rugs and can also match your star printed bedsheets. You can also look for star-shaped mats or coasters which will complement your dining space.
Glow In The Dark Stars
When it comes to decorating your kid's room, 'glow in the dark stars' is the best option. These fluorescent stars not only fascinates the kids but also make them more interested in topics like space and galaxy.
Moravian Star
Moravian star is basically a decorative item that hails from Germany. It is a star-shaped hanging in which a light bulb could be fixed. You can fix it from your ceiling, and it becomes a perfect night lamp. Moravian star is widely used for lighting during Christmas.
Make sure you do not practice all the above given options as it would too much. You can easily adopt one or two decor suggestions, according to your house or living style.
Recommended Video
If you liked this article, do share your feedback on our Facebook page. For more on decor and home interiors, stay tuned to HerZindagi.