Ever since Sonu Sood was declared as a the brand ambassador of the Aam Aadmi Party by Delhi CM Arvind Kejriwal, he has started to grab spotlight once again. The actor was earlier making headlines for helping thousands of people during the pandemic.
From helping people reach their home states during the nationwide lockdown to ensuring the infected patients get enough supply of oxygen, he did it all.
However, recently, Sonu Sood's Mumbai office and 6 other places owned by him are being surveyed by the IT department. Sonu Sood's fans from all across the country have been pouring in a lot of wishes and blessings for the actor during these tough times.
For those who don't know, Sonu Sood resides in a 2600 sq ft four bedroom hall apartment in Mumbai with his family as per a report by Housing.com.
Sonu Sood's Home In Lokhandwala
Happy New Year actor, Sonu Sood's house is located in Yamuna Nagar, Lokhandwala, Andheri West. The house has been designed as per Vastu Shastra according to the report, keeping in mind the needs of the entire family. The entrance of Sonu Sood's house has been artistically crafted and has metal motifs of men at work, which has all been deisgned by Sonu Sood himself.
For the Ganpati Utsav, Sonu Sood and his family arranged the mandap in the living room. Lord Ganpati's idol was beautifully decorated with flowers. Have a look -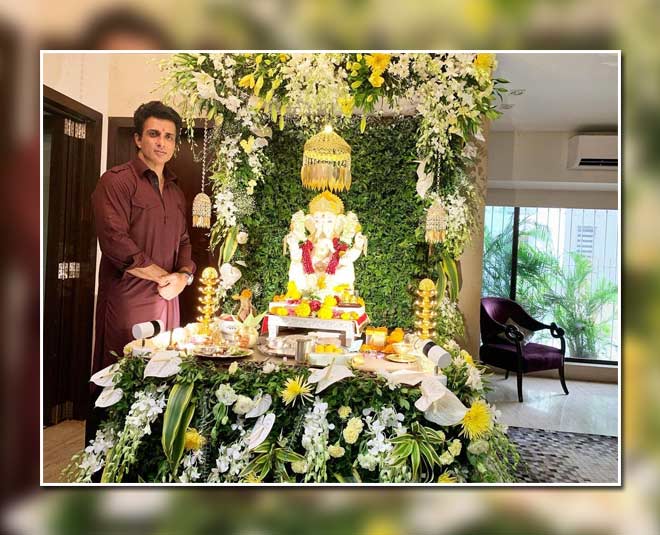 The Living Area
The living area of Sonu Sood's home has been beautifully done with a huge glass window that overlooks a lot of greenery. Then we Sonu Sood's trophies set on one side of the wall and a lot of photo frames covering the other side of the wall.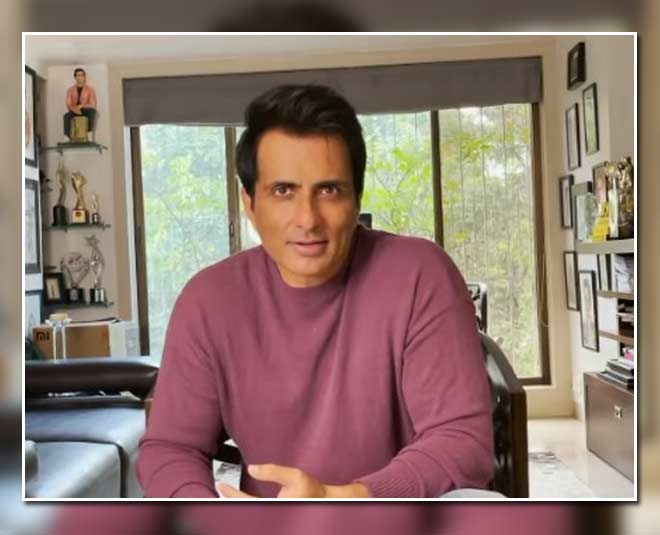 Image Courtesy: Sonu Sood/Instagram
A lot of glass has been used across the home. Glass always gives the rooms a more spacious feel. Sonu Sood has indeed beautifully planned the entire house.
Love For Lord Buddha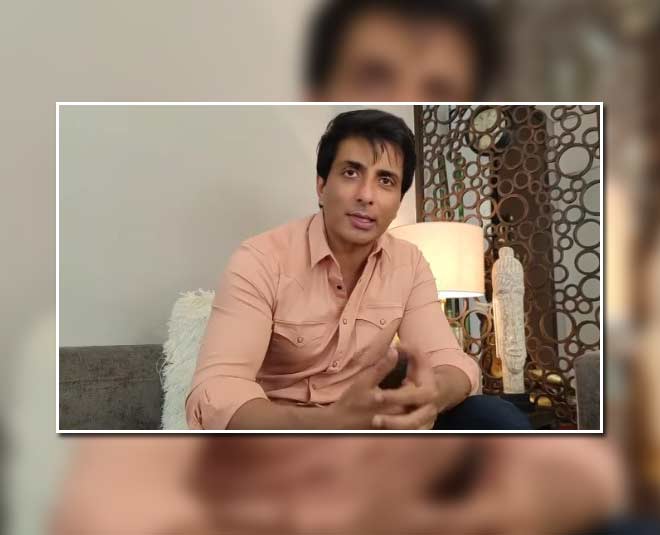 Image Courtesy: Sonu Sood/Instagram
In an interview with Housing.com, Sonu Sood shared that he and his wife Sonali had a lot of Lord Buddha idols in their home. He said, "My wife and I have collected various Buddha statues, from our trips to Thailand. We have used some of them here, while the others are in our house in Moga Punjab."
Don't Miss: See Pics: Take Artistic Home Decor Cues From Singer-Songwriter Prateek Kuhad's Delhi Home
Wardrobe Shutter In His Sons' Room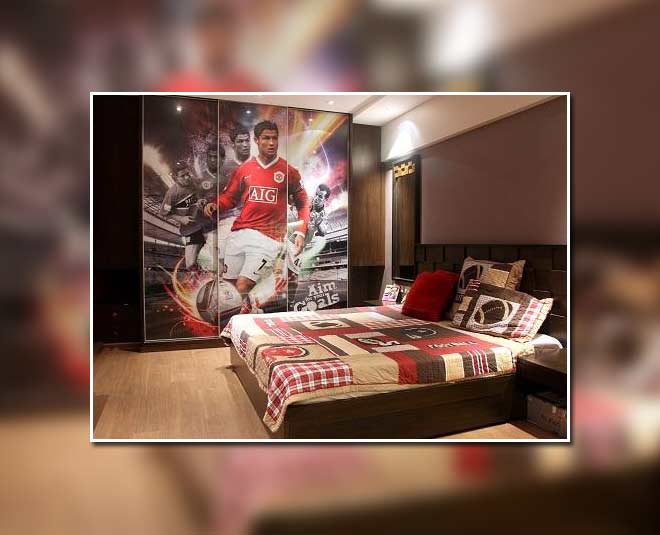 Image Courtesy: Housing.com
Sonu Sood is father to two sons - Ishaant and Ayaan Sood and they are big fans of football. Their wardrobe shutters have a huge poster of celebrated football player Christiano Ronaldo. The wardrobe paper also reads - Aim Your Goals.
Don't Miss: Take This Tour Of Kangana Ranaut's British Mansion Inspired Mumbai Flat
The Dining Area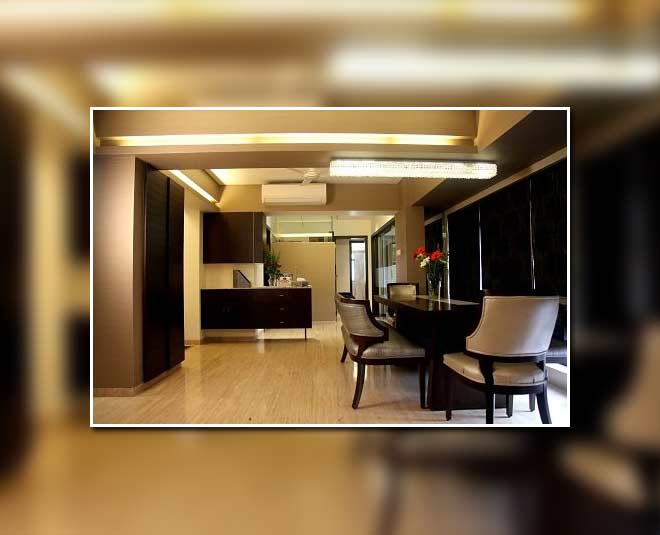 Image Courtesy: Housing.com
This area too has been beautifully done, the decor is minimal yet stylish. The dining area has a rectagular crystal chandelier which just sets the perfect mood for a meal with the family. Don't you think?
Sonu Sood's Love For His Home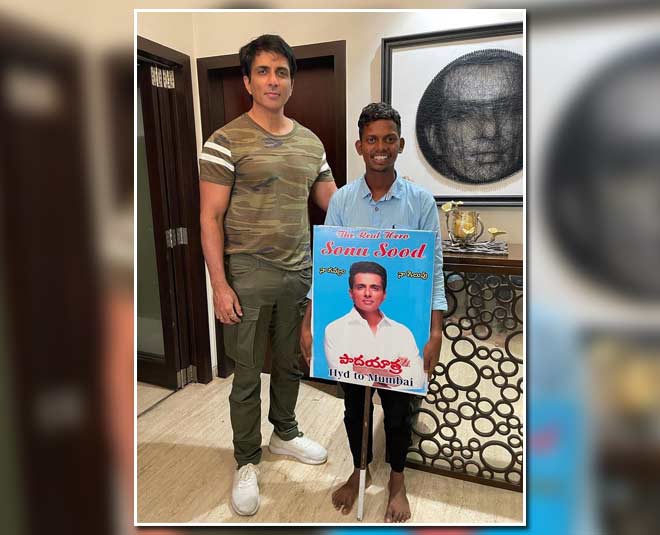 Image Courtesy: Sonu Sood/Instagram
Talking about his home in an interview with Housing.com, Sonu Sood shared, "I love my home. It is the best place to relax in the world, with my wife and two sons. As I travel a lot, I value my stay at home. However plush a hotel may be, there is nothing more cosy and calming, than one's own home. It is my personal heaven. My parents have stayed with me here and I feel blessed. Even though I have bought two more flats after this one, I love staying here."
Tell us your thoughts on Sonu Sood's beautifully done home in Mumbai on our Facebook page. For more stories around celebrity homes, stay tuned!