Reusing old stuff is a really great habit that we all should promote. We can reuse plenty of things in our homes to revive the character and add a great feel inside our abode. Like we use old glass bottles to make light fixtures, flower vases there are a lot of things that we can make by reusing old stuff.
So today let's take a look at what we can make by reusing an old dupatta which most of us may generally find at home. If you don't have dupattas, you can also use sarees for making the following DIY projects. Sarees are generally longer so you might have to deal with some complexities but dupattas are easier to handle and work well for all. Take a look at the following:
Frame Colourful Dupattas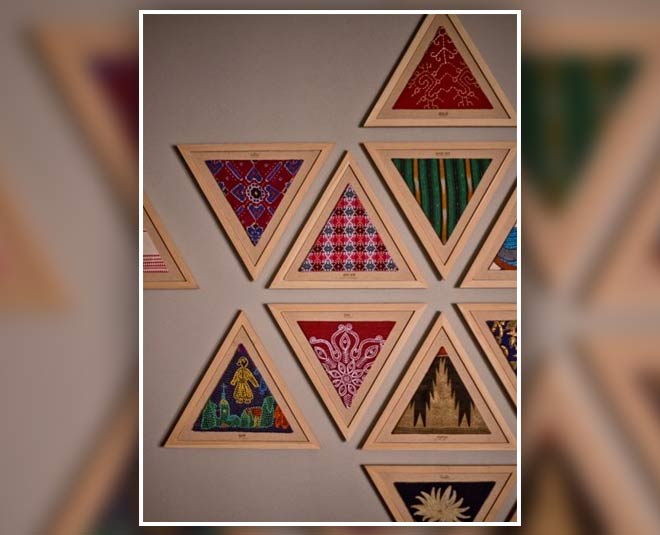 One of the easiest DIYs to make with dupattas are these elegant frames. You can install them anywhere at home and they would instantly take the look of your space a notch higher. So, in order to make these frames, you need to cut 4-5 equilateral triangles out of a cardboard sheet. Then stick colourful sheets over them. Afterwards cut triangles from your old dupattas measuring an inch smaller than the cardboard and stick them over the cardboard triangles using fabric glue. Stick OHP sheets(transparent sheets) to protect the frames and make the borders using a broad tape.
Make Curtains With Dupattas
Dupattas are a great way to add that shine and glimmer to you otherwise boring homes(Accent wall ideas to check out). To make curtains out of your old dupattas, all you need is a needle and a thread. Line one of the smaller sides of the dupatta with fabric glue and fold it down making a loop. Now stitch across the width of the loop, making sure there is space to pass the curtain rod. And, finally, hang your all-new curtains to add to the festive feel of the season.
Make Sofa Covers With Dupattas
Another easy and cool way to reuse old dupattas is to cover your old and dirty sofa with bright and colourful dupattas. You can directly stretch the dupatta across the seating of your sofa and decorate it with several colourful cushions, or you can also add tassels to the dupatta and then use it to cover the sofa. To make tassels, take a collection of thick threads, fold them into half and tie another thread around the tassel tightly. Remember to leave a gap to pass a needle or string to hang/attach to the dupatta. Now attach the tassels to the dupatta and spread it on the sofa.
Don't miss: How To Make A DIY Table Cover With Old Bedsheets
Make A Rug With Old Dupattas
This is a very interesting way to reuse your old dupattas and add a pop of colour inside your room. For this, you need 5-6 contrast colour dupattas and fabric glue. So first, cut the two dupattas in half (lengthwise). Then take three pieces and start tying a plait. Now, use fabric glue to secure the ends, else your plaits might open. After that, start arranging the plaited dupatta in a spiral pattern and keep sticking the layers with the glue. Repeat the process to achieve the size of your desire. Use this rug this diwali(Give your homes a budget-friendly makeover this diwali) to hear everyone complimenting you.
Don't miss: Get These Plants If You Need Luck, Prosperity
So, use these ideas to reuse your old dupattas and stay tuned to Her Zindagi for more such pieces.