Bollywood actress Shilpa Shetty, who is known for her fit body and charming beauty recently opened up about her inferiority complexes. While everyone around celebrities feels that they are flawless and perfect, Shilpa's confession revealed that everyone, including the top-notch stars, can have their own set of fears and securities. The actress was in conversation with a leading entertainment daily, wherein she talked about her feelings and her sister Shamita's debut in Shah Rukh Khan-starrer Mohabbatein.
Shilpa confessed to being insecure about Shamita's fair skin and thinking that she would not get more projects after her younger sister signed her first film. "I always felt she's the better-looking sister, the fairer one. She's a better actress and a dancer. So I'll admit this for the first time on this show that when she debuted, I did feel that nobody would give me work anymore after that," said the actor.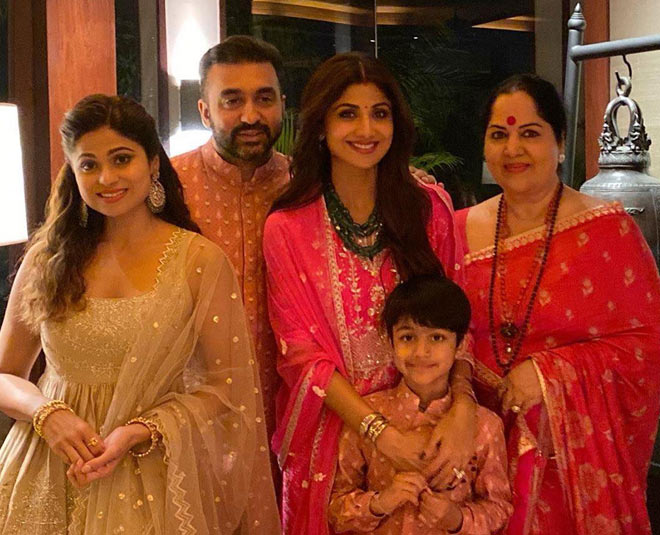 Shamita, who also participated in the chat also talked about a few childhood incidences with her elder sister. She shared that Shilpa used to pinch her in the back. Narrating her part of the story, the 44-year-old actress said, "My dad told me that I did feel a little left out in the first year. Shamita was fairer, I had dark complexion so I was going through an insecurity phase in my life. I used to ask my mom, 'why did you make her fair and why did you make me dark?' At night when she would be sleeping, apparently I would go and pinch her and make her cry."
Don't Miss: Sick Of Constipation? Shilpa Shetty's Latest Workout Really Works
The celebrity sisters also had a few pretty embarrassing, yet funny incidences. Revealing some more nasty moments of their childhood, Shilpa shared, "We used to fight a lot when we were kids. There was a time I have locked Shamita inside daddy's cupboard. Then, when she came out, she was mata chandalini (laughs). Then we have had huge fights. She and I have fought, I have thrown a sun mica piece at her and there's a cut on her face."
Don't Miss: Get A Toned, Fit Body Like Shilpa Shetty With Her Fitness Secrets
The Shetty sisters share a very strong bond. They have often seen peening heartfelt notes for each other on social media. Besides the fact that Shilpa felt insecure about her sister at one point in time, Shamita always looked up to her elder sister for making small and big decisions in life. During another interview with a media house Shamita had shared, "Anything I take up or do, I have to consult Shilpa. From what I wear to who I am dating, I make her a part of everything as I have faith in her judgment. But when this came along, I had already made up my mind and told her about it. She was happy because she knew that I wanted to get back to acting. I don't think I really got a chance to do enough of that."