We all have been wanting to know when the youngest member of the Ambani clan, Anant Ambani will tie the knot. A lot is being talked about Anant's rumoured girlfriend Radhika Merchant lately.
Radhika is being spotted with the Ambani family a lot lately. She was seen close with soon-to-be mother-in-law Nita Ambani recently. With the Ambanis, she has become a public figure now but not many know about her in detail.
It was at Akash Ambani and Shloka Mehta's roka party that we all got to know about Radhika Merchant. She was a part of the ceremony and was also reportedly seen walking hand-in-hand with Anant Ambani.
Superstar Shahrukh Khan was also a part of the party and he asked Anant about his girlfriend, hinting at Radhika. Post that, Radhika was spotted many times with Anant and that somewhere cleared the air about this relationship.
Let us quickly tell you about Radhika's family. A lot of you may not know about them in detail. Read on.
Radhika's Father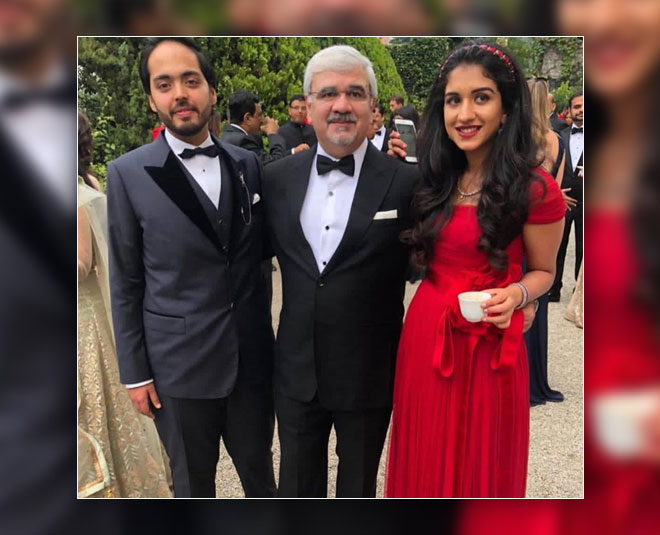 Radhika's father Viren Merchant is a businessman and a close friend of Mukesh Ambani for a long time now. He is spotted very less at events but he is a key part of all the celebrations that happen at the Ambanis. Viren Merchant owns Encore Healthcare Services and Radhika is serving as the Director of the company.
Don't Miss: Radhika Merchant And Anant Ambani Are A Match Made In Heaven, These Pics Are Proof!
Radhika's Mother
Many people don't know about Radhika's mother Shaila Merchant. She is a page 3 personality but most days she is busy taking care of the family business with Radhika and her dad. Shaila Merchant is also one of the directors of the company.
Radhika's Sister
Radhika has an elder sister Anjali who is also working with their dad Viren Merchant. She is snapped very less by the media with Radhika Merchant which is why we haven't seen her much around.
Radhika is currently really close to the Ambani family and in recent times, her closeness with Nita Ambani is much talked about. Anant and Radhika are reportedly engaged but they are not confirming their relationship for a long time now.