Mother's Day Special: Supermom Shobhna Tyagi Gets A Complete Makeover With HerZindagi
Meet Shobhna Tyagi, a homemaker, and mother of three who got an incredible makeover ahead of Mother's Day.
Our mothers often neglect themselves while taking care of us and the entire family. They do it all unconditionally, without any holidays or breaks. Mothers sacrifice each day in some way or the other without making any of us feel it.
We all realise how selfless our mothers are but don't really find words to thank them for being the superwoman they are in our lives. This Mother's Day, HerZindagi took three supermoms on an incredible transformation journey with its series, 'Mom Makeovers'. In the series, 3 mothers with 3 unique life stories were given an unbelievable look transformation. Busy, taking care of the entire family mothers don't really get any time for themselves. So, the children of these 3 supermoms joined hands with HerZindagi to give their mothers a completely new look.
Earlier, we took you through the journey of supermom Shashi, and now it is time to introduce you to our second supermom, Shobhna Tyagi.
Shobhna Tyagi - Living Out Dreams Through Her Children
Shobhna Tyagi got married in the year 1999 when she was about 24-25. Shobhna Tyagi is a mother to 3 children - two daughters and a son. Shobhna Tyagi raised her two daughters, Ojaswi and Tejaswi to be strong women and didn't let society dictate any terms. As a mother, she always dreamt big for her daughters. She wanted them to achieve things that she couldn't but only wished for. Today, she is a proud mother because her daughters have fulfilled all her dreams. Her daughter Ojasvi recently bagged her dream job.
Shobhna Tyagi's children call her their motivation and feel that she is no less than a superwoman for them because she lives each day to fulfill the dreams of her children.
Shobhna Tyagi's Makeover
This mother's day, Shobhna's children wanted to give her a brand new look. Shobhna's daughter Tejasvi shared that her mother often wears traditional sarees or classic Western outfits and she wishes to look her in a look that is a mix of both. For her new look, Shobhna's children wanted to give her a fusion of traditional and western look.
Don't Miss:Mother's Day 2022: Self-Care Products That Will Be The Perfect Gift
From Boring To Glam At Roop Vatika By Raj Arora
Supermom Shobhna was taken to Roop Vatika by Raj Arora by team HerZindagi where she got a quick makeover. Roop Vatika is known for its cuts and styles, drape sarees, lehengas, gowns. The store is specialised in customisation and aims to offer a Roop Vatika experience to each of its clients.
Don't Miss:Mother's Day 2022: A Housewife And Mom Of Three Gets An Incredible Makeover, Watch Video
Shobhna Tyagi tried a couple of Indo-Western outfits and drape sarees at Roop Vatika. While trying the different outfits at the store, we saw her smiling ear to ear. Lastly, she opted for a fusion dress which looked like a saree but was actually a gown.
Next, Shobhna Tyagi got an elaborate makeup makeover by Makeup expert Ankita Kakkar. For her makeup, the makeup artist decided to give her a glam look and give a hairdo that complements her dress well.
Shobhna's Final Look Reveal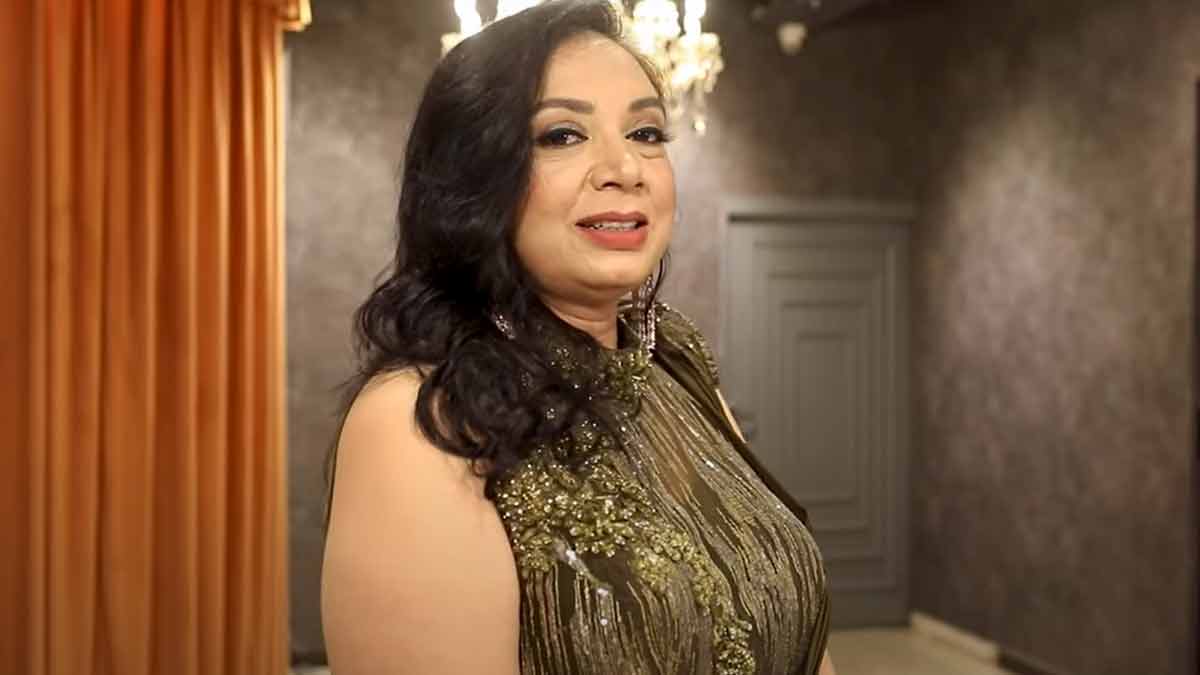 Shobhna's children couldn't stop looking at her as she walked out and revealed her final look. They couldn't keep calm and felt her look was made for the red carpet!
Watch the amazing transformation journeys of the three super mothers on HerZindagi's YouTube channel. Also, don't forget to share your thoughts on these Mom makeovers with us on our Facebook page. For more such Mother's day stories, stay tuned!