An icon for many of us, actress Deepika Padukone and her husband and actor Ranveer Singh have worked hard and reached where they are today on their own. Although right now Deepika has been summoned for questioning on the weekend by Narcotics Control Bureau, she is admired by us all for her body of work and for acknowledging and coming out with her depression phase which opened a can of worms for a lot of us who were on the same boat. They have given some of the best performances in some amazing films, displayed their talent by doing so many different roles and moved us all. When the couple got married, the entire nation was full of love for them as they definitely look good together and Ranveer sure looked and looks like that man who can keep our fav Deepika happy as she deserves every bit of attention the actor we hope gives her. Heavily packed with their schedules most of the time, this lockdown gave many working couples the chance to spend valuable time with each other. Like most celebs, Deepika and Ranveer kept posting some pictures on their respective Instagram accounts, professing love, teasing each other, giving us all a glimpse of what they eat, their skincare regimes, cooking skills and of course, a sneak peek to their house. So I scavenged their Instagrams and took out some pics that cover their entire house adding all corners I could see. Their home is luxurious enough to give us ideas for redecorating our own house. So scroll down to take a look.
Wallpapers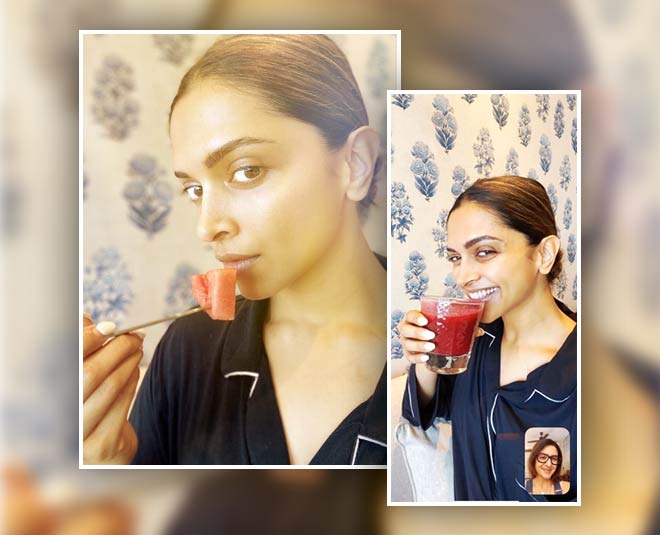 There was a time when many homes had wallpapers but that went out of fashion as their upkeep was not so practical some decades back. However, this trend is back and we are loving the lively vibes that the wallpaper in Deepika's house is giving us. The off white wallpaper with blue floral block prints behind Deepika looks very classy and would look nice even in small houses. Deepika & Ranveer live in a flat so perhaps a balanced combination of colours on the walls would look classy and tasteful. One wall with a printed wallpaper like this and keep the rest plain off white with brown wooden, off white and blue furniture. Place crystal showpieces and viola! P.S: This pic also shows Deepika loves watermelon and juices, which should encourage us all to eat healthily!
The Carved Table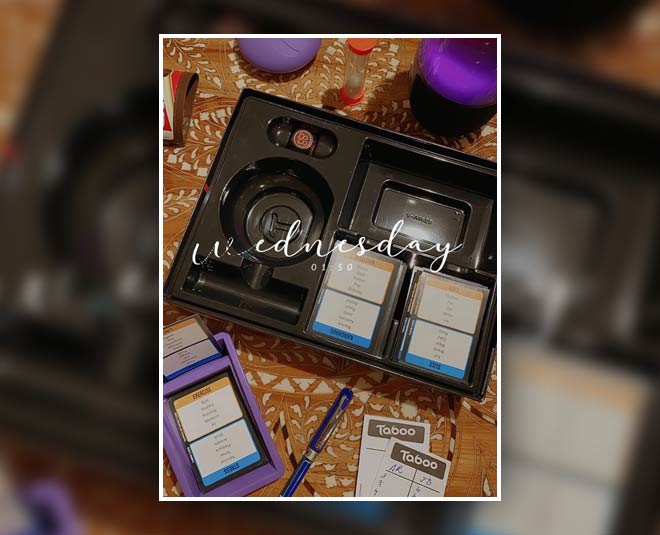 Although the table top is full of cards and other belongings of a famous game Taboo on it, you can see a carved wooden table with a white filling which shows that handicrafts accentuate all households. A table like this would look great as a center table or even a side table in the living room, adding that ethnic touch.
Don't Miss: Deepika Padukone & Ranveer Singh's Combined Net Worth Is Much More Than What You Expected!
Wooden Walls & Doors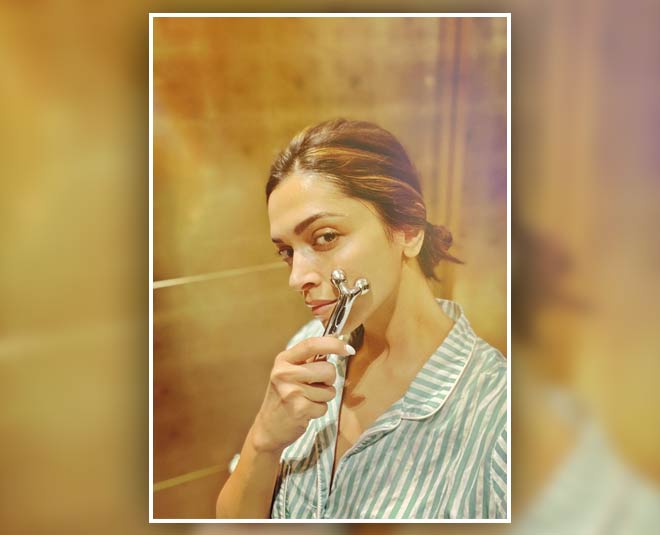 Many houses get their wooden doors painted white which in one way make your house look big but in some ways hide the classy touch wood gives to a house. Here, what we can do is that instead of leaving the door unpainted, we can have one particular room or side of the house where we let the brown be and show the original wood. You can use that wall as a background for many pictures as well! Note: Deepika is very serious about her skincare and the signs of ageing, She uses rollers to uplift her skin in an upwards direction.
Wooden Headboard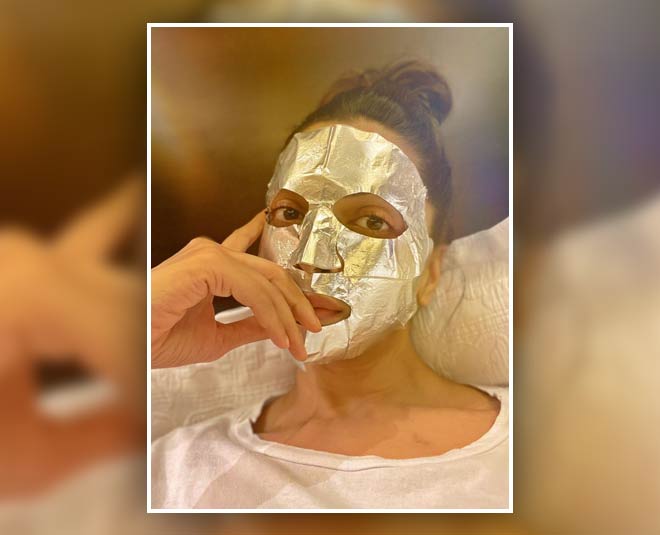 For a long time we used to have wooden headboards by the bed but they did go out of fashion and were replaced by cushion textures which reminded one of the mafia films and "The Godfather". However, they seem to be back as we can see it behind the actress who is chilling with her sheet mask on.
Piano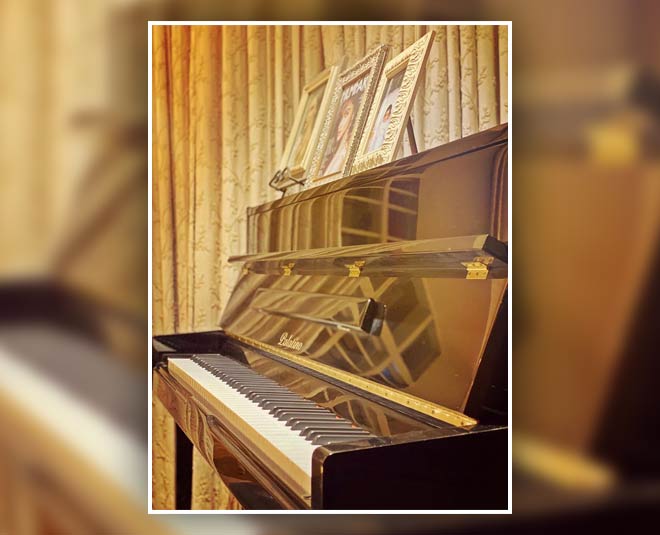 This piece, this musical instrument is an investment, but it also shows off the taste and the pocket of the person who possesses it. It is a good stress-buster, makes for a good place for some smashing pics and impresses all guests.
Don't Miss: Times Deepika Padukone And Ranveer Singh Gave Us Quarantine Couple Goals
The Kitchen Crockery
At one glance they may look like just bowls and dishes, but once you get past that, the key similarity you will notice is that they all are made of ceramic! Ladies! Ceramic crockery is back and well it sure looks classy! Eating food in ceramic is any day better than having a meal on a plastic plate which is not even eco-friendly when it breaks. There are many brands that sell ceramic crockery and these days you can save ample money by getting them on sale. If not all, invest in a set that you can take out every time you have guests coming over.
Vitrified Tiles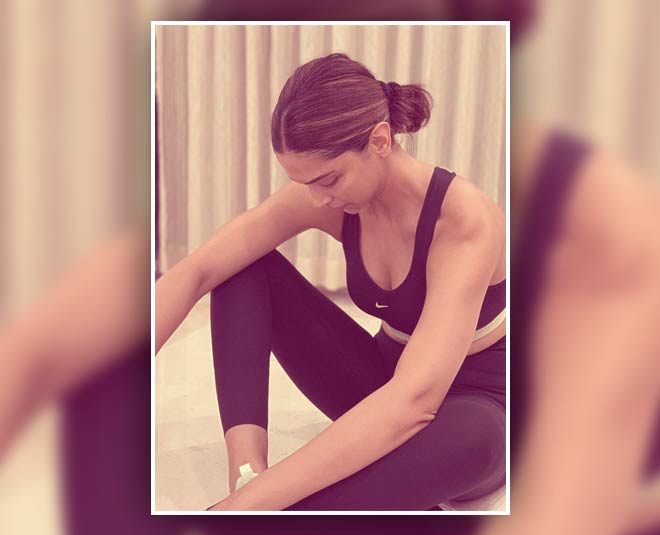 Marble flooring is the ultimate but taking care of it is a task as they are porous and we cannot use a Detol or any floor cleaner on it more than once a month. These days vitrified tiles are considered the best as they are glossy and easy to clean. Also, they dry up quickly after mopping. Deepika & Ranveer's house seems to have this flooring which also makes a small area look big, so perfect for a flat. Available in many shades, if you plan on getting some renovation done and get rid of those chipped floorings, then this is a good investment.
A Fancy Dining Table Spread & Mix Matched Dining Crockery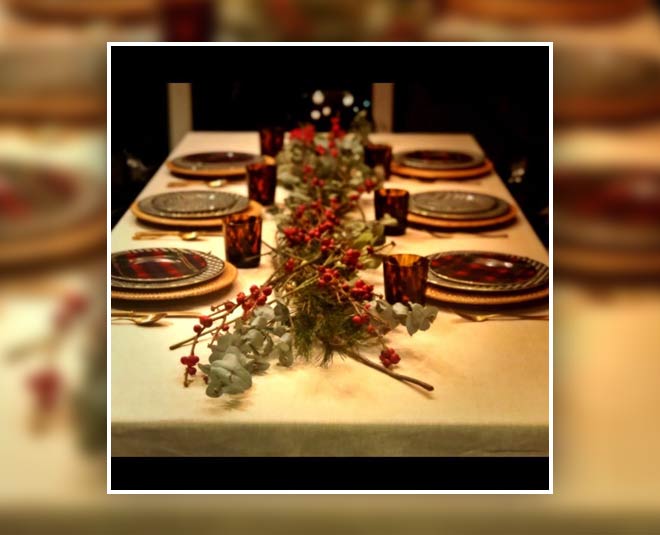 Generally, we buy sets with matching serving bowls, plates and katoris but Deepika's pretty spread is giving me dinner goals for sure! It doesn't matter if your table cloth is simple and white, what matters is how you decorate it when you have guests over! Invest in quality dried or fake flowers and spread it like this. Get different contrast colour plates for different courses of meal and glasses in a different colour or style. You are done! And luckily, everything you see here is available online so sourcing is not an issue.
Stay tuned to HerZindagi and let us know what you think of her home that exudes warmth, luxury in a classy way. Share ypur comments on our Facebook page.