HerZindagi is speaking to real brides who are sharing their experiences so that those who are planning their weddings can take notes on some do's and don'ts to plan their weddings better. But that's not the only reason our real brides are taking a trip down memory lane - it is also because revisiting that time of their life, reignites the young love, and brings a smile to their faces. And a smile to all those making that trip with them.
Honestly, who doesn't love to see beautiful wedding pictures, the exquisite lehengas and sarees, or the gold and diamond jewellery? Who here doesn't like to hear the wedding stories of mooh dikhai, joota chipai or a teary eyed vidai? Or the antics of the baratis and the first dance of the bride and groom! Well, we have that, and a lot more packed in this real wedding story shared with HerZindagi by a real bride.
Popular TV journalist and anchor Samia Kapoor tied the knot with Siddharth Sood aka MC Sid, a professional wedding rapper on 2nd Jan 2019.
"I've known him since 2012 and I met him through a former colleague. We were acquaintances but then he pursued me for months, made best friends with my friends and colleagues, built a team to convince me to say a 'yes' to him," she said.
A seven-year-long courtship meant they had seen the best of each other and the worst of each other. The relationship then was as honest and transparent as it gets.
"We started dating in a non-dating app era and back in the day sharing the BB pin was a big deal. In the March of 2012, we'd spend hours talking on the phone and chatting when he went visiting his friends in Sydney - that's when we realised the attachment and the fondness we had for each other. It wasn't all rosy, rather it was a tumultuous journey that we sailed through to overcome the 7 years itch and finally tie the knot," added Samia.
Everything To Know About Sid & Samia's Wedding Planning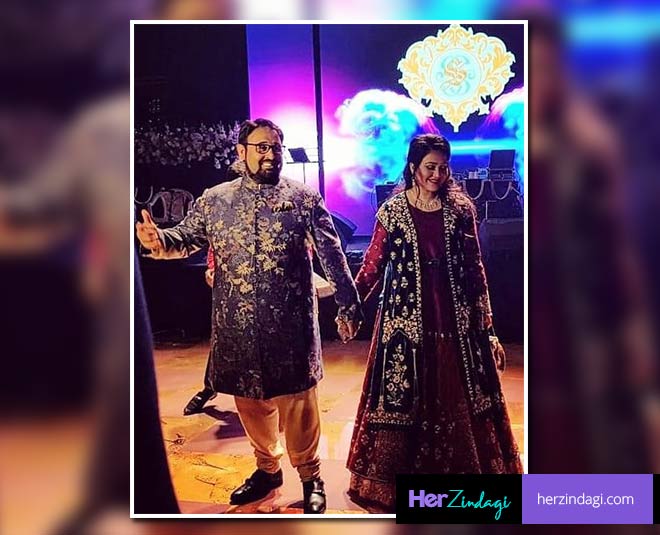 Mostly at a wedding, one thing that you don't have to think much about are the wedding rituals. As they are being followed for centuries. However, it becomes tricky, when it is an inter-faith matrimony, just like Sid and Samia's. Hence, the two decided to skip the traditional path and go for registered marriage.
"We decided to skip the traditional rituals of Nikah or Pheera and go for a registration marriage," said Samia.
Post the documentation, the couple planned to celebrate their union lavishly. So, they decided to go for big-fat Indian wedding ceremonies, with two receptions, and around five other wedding events, such as sangeet, mehndi, cocktail party and much more!
"The registration marriage was of course followed by unending parties for 3 days. I had my haldi followed by a welcome dinner hosted by the groom's side, a gorgeous mehndi function with lots of singing and dancing on a crisp winter afternoon, followed by a sangeet in the evening. An afternoon reception and a cocktail at night. I also had a reception in Calcutta after a week," told Samia.
Samia was a busy bride. Her demanding profession meant that she did not have the luxury of spending time from trials and fittings or for that matter beauty routines ahead of the wedding. Many of you may resonate with that. Many of you would-be brides may not be finding time to shop or dedicate to beauty regimens. Would that impact the wedding look? Did Samia's busy schedule take away the sheen from her bridal look? Add that the pressure of looking stunning in 5 different functions...Samia spills the beans here.
Samia's Bridal Fashion: Couture & Hair, Makeup
Samia started her bridal look journey taking inspiration from social media trends. She first looked out for several options. But this came with a limitation. No matter how many designs you go through, you can never actually visualise how it would look on you at a venue that is completely different from what is being shown in the picture.
"I didn't have too much time, I did go to a bunch of Instagram profile to check out different designs, attires and hairstyles. But by looking at photos you can't actually tell how would it look on you. So, I went on a trial with one makeup artist, Riddhi, with 'Get Gorgeous With Riddhi' as her profile name on Instagram. She also had a hairdresser, who worked with her. I went on a trial and liked the outcome. So, it is not just about the makeup and the complete look, but also about the vibe that you share with the makeup artist," explained Samia.
View this post on Instagram
Registration Wedding Look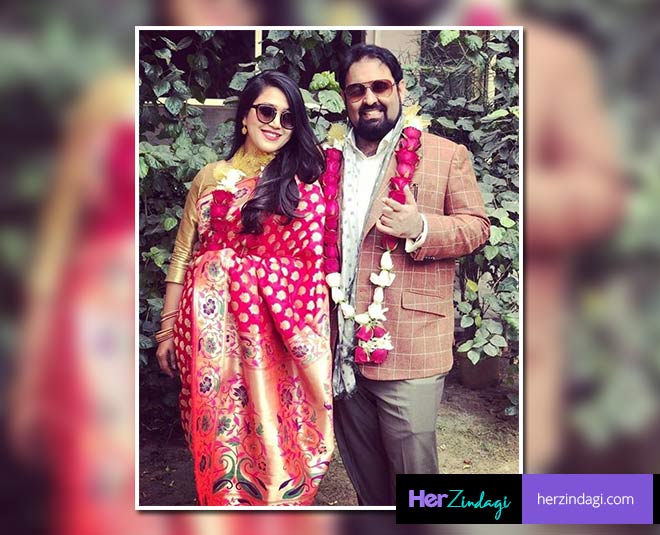 For the registered marriage, Samia sported a stunning scarlet red saree. She picked it from Kolkata. The bride paired it with a golden blouse. Along with simple base, she coloured her lips in a subtle old rose-pink shade. Samia completed her appearance by leaving her mane open.
Reception Party Look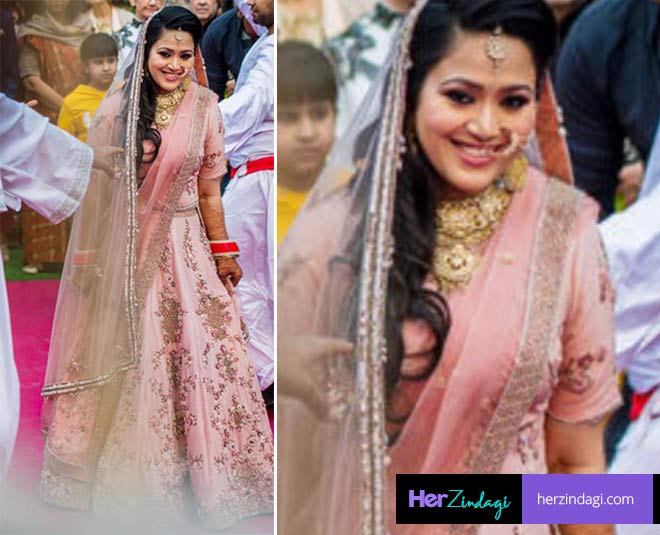 Nothing can beat the charm of an elegant silk lehenga. The fabric automatically makes you look regal. Samia went with a beautiful baby pink couture by Christina WT. The lehenga has the most amazing pearl embroidery, that elevated her entire bridal appearance.
"For this lehenga, I didn't spend even a second visit at the store, liked the attire at the first sight as it was exactly what I was looking for, in the colour/ shade that I had ever imagined myself in," said Samia.
Sangeet Party Look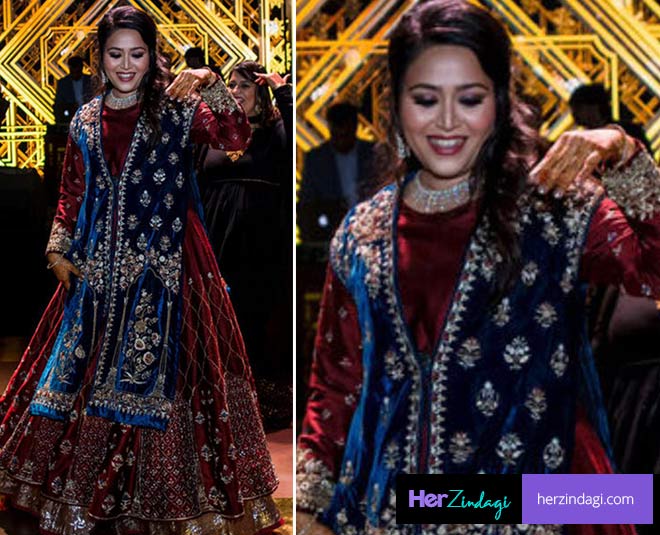 The bride wore Anju Modi for her sangeet. The complete outfit comes with different layers. The first layer is a heavily embroidered coat. Underneath Samia wore a luxurious gown in maroon. She paired it with a belt that accentuated her waist. The bride completed her look by putting her hair in soft curls and carrying dewy makeup.
Proof That Samia Wasn't The Conventional Indian Bride
Generally, in Indian weddings, brides are seen blushing and completely overwhelmed with their attire, makeup and ornaments. But Samia, on the other hand, made her wedding one of the most memorable nights of her life by rapping and having fun.
"My husband is a professional wedding rapper, poking fun at the guest and families of the wedding tribe at his gigs- I knew one thing that whenever we get married, I had to pull an MC Sid on him and rap like he does. Turning the tables around, which, I did at our sangeet. Needless to say, I wasn't the coy bride by any stretch of the imagination, I was a bride who rapped at her own wedding taking a swipe at the rapper husband," reminices the bride.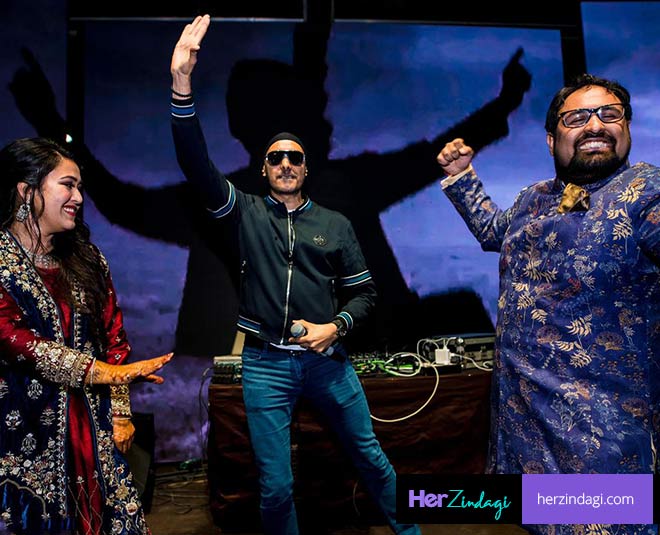 Lessons To Learn From Samia's Experience
Go For Trials And Re-Trials
"Go for as many trials as possible if you have time. Especially, when it comes to your hair, try different styles to find out what actually suits you," said Samia.
Re-trials are a must because, for "my Kolkata reception my blouse fell short at certain places. Yes, my designer helped me out and it turned out to be fine, but you must go for trails to avoid such last-minute mishaps," told the bride.
Be Prepared For Last Minute Mishaps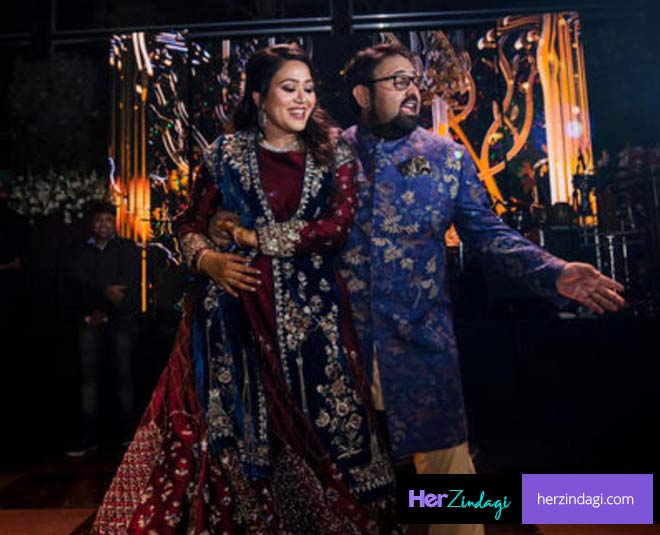 No matter how many lists you prepare, or how well you plan the entire wedding, there would a couple of mishaps at every wedding. Samia and Sid's nuptial was no different.
The popular rapper faced some last-minute wardrobe malfunctions, which he was able to overcome right on time. Samia told Hz what exactly happened. "My husband forgot his pyjamas for the sherwani and he had to wear these another pair of pyjamas, which were not matching with the sherwani. Thankfully no one noticed it. Not only this, for my Kolkata reception, Sid didn't fit into his wedding attire, the one that he got stitched for the ceremony."
Samia & Sid's Wedding Shopping
No matter if it is a cross-cultural wedding, or the one happening between two of the same caste and religion, wedding shopping is one of the most difficult parts of the entire process. It was not easy for Samia and Sid. But thankfully they also received help from friends and family.
"I'm blessed with a mother-in-law who made my life immensely easier, she had shortlisted some attires and I ended up picking my dresses from them. I was working till 2 days before my wedding, running all errands, distributing invitations all by myself and really had no time at hand to go to multiple shops to pick dresses," told the bride.
Shop Smartly
There is no point in buying too many dresses because at last, it will all be locked up in your wardrobe. "I decided to shop very smartly and minimalistic, as at the end all the wedding attires ends up in the wardrobe. Also, you may or may not have other occasions to wear all of them. It has been years and I still haven't worn them to any occasion," she said.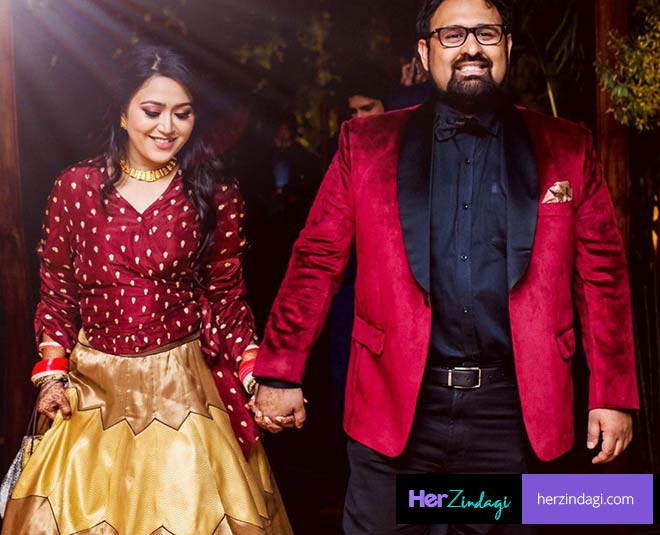 Is Chandini Chowk Really The Best Place For Wedding Shopping?
Beware, says Samia! Unlike many, Samia didn't have the best experience doing her wedding shopping from Chandini Chowk. Describing her encounter, she said, "I think Chandini Chowk wedding shopping is overrated. My Kolkata reception lehenga was from Chandini chowk (street markets for local wedding shopping) and I went back and forth with them. The one that was shown to me was different and the one that I got was a completely distinct material. Also, the embellishments were changed. The piece that I decided on had pearls embedded in it. But the one that was made for me had something completely different," told Samia to Hz.
Piece Of Advice While Going For Wedding Shopping
"Given my busy breaking news schedule, I had no time for special bridal pamper, I didn't go through any bridal packages which I feel brides must not miss out on if you do have time in hand, please do indulge in all the pampering, you only get married once and it's worth soaking in all the goodness that the salons have to offer," she said.
Don't Miss: Expert Reveals Top Bridal Jewellery Trends You Must Follow In 2021
Wedding Venue & Décor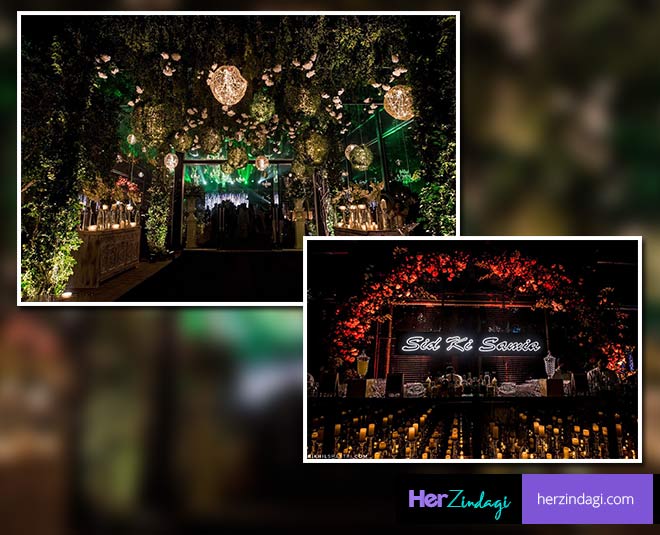 It is hard to get a perfect venue, especially in the metropolitan cities. Many don't even get what they actually dream of. Also, a wedding planner or a decorator plays a huge role in making your dream wedding a reality.
"My husband is a wedding rapper and he knows many people from the wedding industry. There was a bit of relaxation there. A really close friend of ours Nidhi, she runs Rashi & Nidhi wedding décor company. She and my mother-in-law decided on the themes and décor of the wedding. Nidhi does one of the best wedding decorations, in fact, I would say she does out-of-the-world weddings decors," described Samia.
Don't Miss: HZ Exclusive: Kerala Brides! Get Inspired By This Gorgeous Bride
The two carried out most of the ceremonies at a single location in Mor Bagh, Delhi (getaways around Delhi). They didn't particularly decide on a theme, instead, they kept it all subtle and elegant in pastel, which ended up matching their wedding card design and shade. However, they did go for a themed Sangeet Night, which was enchanted forest.
Talking about the same, Samia said, "We did decide the sangeet night theme, which was enchanted forest. It was spectacular, as I remember my own venue, the moment I entered, I was jaw-dropped."
Samia and Sid have been married for 2 years and we at HerZindagi wish them love, luck and success for the years ahead.