Getting married in India is all about the grandeur, colours and excitement thanks to umpteen ceremonies. Amid all the hustle-bustle, every bride has a different experience. She makes several memories which are at times captured in beautiful pictures and some remain in her heart as she sees them. To bring one such personal account for our HZ readers, we got in touch with a Real Bride, Shylaja Varma, who is a journalist based in Delhi. She was born in Kerala and spent her childhood there before moving to Bengaluru. Her husband Aravind is a corporate lawyer and the couple has been married since the summer of 2015.
Since there are different functions and different ceremonies across the country, Shylaja shared what all happens at a Keralite Hindu wedding.
"As you may have heard, the actual ceremony involved in a Kerala Hindu wedding is a blink-and-miss affair and lasts just about ten minutes. And so, a bit of details on the functions on the previous day. Ayinioonu takes place a day before the wedding where the bride (or the groom) is blessed by the parents and other elders. Before the ceremonial lunch, the bride is taken for a purifying bath. I loved the whole thing of being led to the family pond with lamps, etc," Shylaja shared.
Shylaja's Wedding Look
She tied her hair in a loose knot as the rituals require her to and "had something called 'Dashapushpam', a bunch of ten sacred flowers and leaves, on my hair. In my case, the bath was a symbolic one, involving only the washing of the feet, since I was already 'ready' for the ceremony."
Shylaja opted for a pastel-bordered kasavu mundu and golden blouse as her wedding was outdoors and in the day time.
After the bath, "I was to hold the valkannadi (a metallic mirror) and the Dashapushpam bunch for the rest of the afternoon. This was followed by lunch and mylanchi or mehendi. It turned out to be a fun afternoon, with the women of the family and my friends performing the thiruvathirakali, the traditional slow dance in a circle. I wore a peach saree for this."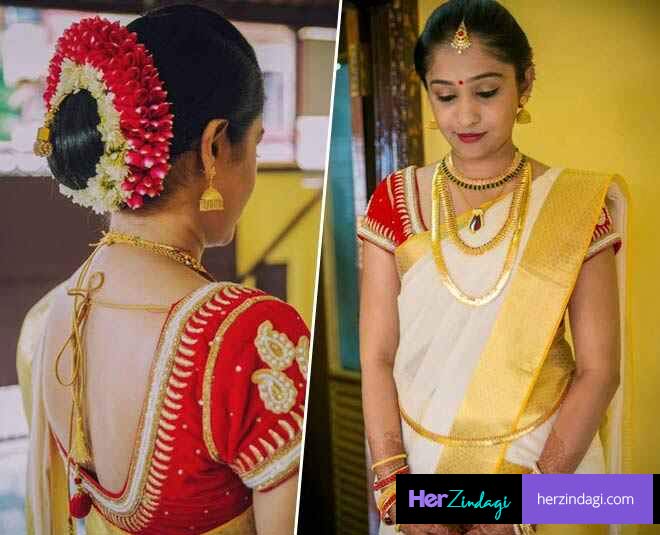 Pre-Planning Her Look
"I was clear from the beginning that I did not want to wear a saree for my wedding and instead, chose the traditional two-piece kasavu mundu with a broad golden border. I paired this with a red velvet blouse and temple jewellery. I spent considerable time months before, looking up for patterns and the embroidery work that could be done on the blouse," she shared.
Speaking on her hairstyle, Shylaja shared that "instead of a plaited hair-do, I loved the idea of a classic up-do or a "bun" with flowers. It was my hairstylist who suggested the red flower (whose name I forget) and jasmine/gajra combination. Since it was nearly impossible to find the red flowers in Thrissur where the wedding was, the local florist sourced them from Coimbatore and delivered them on the morning of the wedding."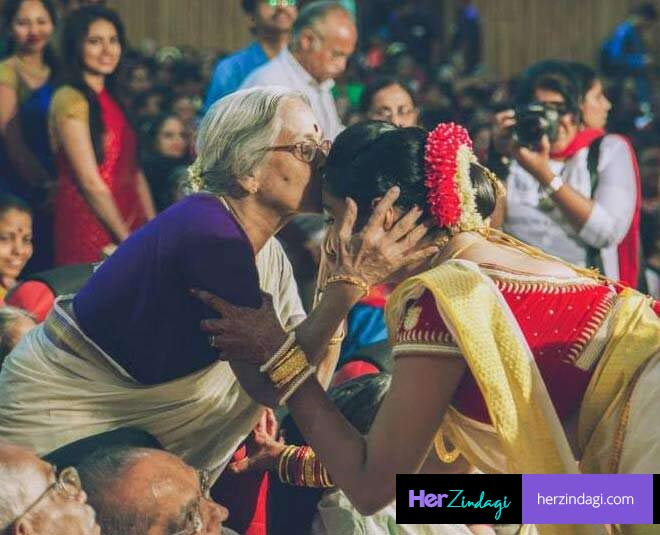 A Fun & Crazy Moment While Getting Ready
Now there is so much to do, it is a crazy time and you are bound to forget something. Shylaja shared that it was the mehendi on her feet in her case!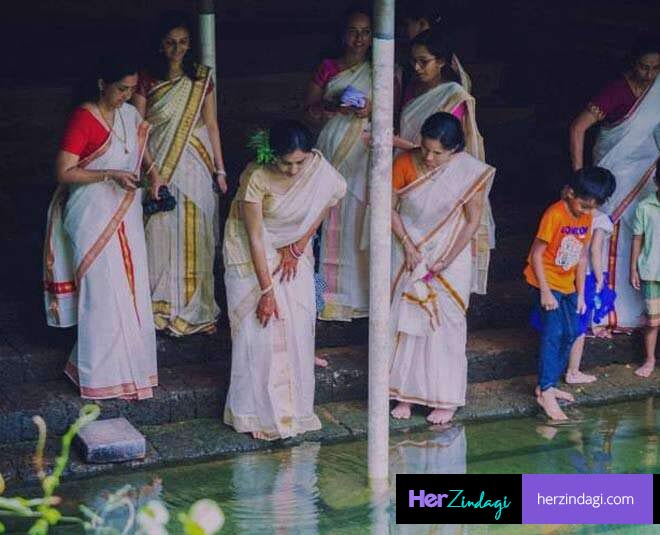 "In the middle of all the other preparations, I forgot to get mehndi done on my feet! My cousin and I remembered it just when we were going to bed the night before the big day. Keep this in mind, brides-to-be," said Shylaja.
Coordinated Attire With The Groom
Coordinating with the groom in terms of attire is a major fad and Aravind too decided to come on board!
Shylaja shared that since she had "picked the off-white and golden look, Aravind too decided to stick to an off-white shirt and mundu or dhoti with a golden border, although he had initially threatened me, saying he'll turn up in a red kurta to match my red blouse".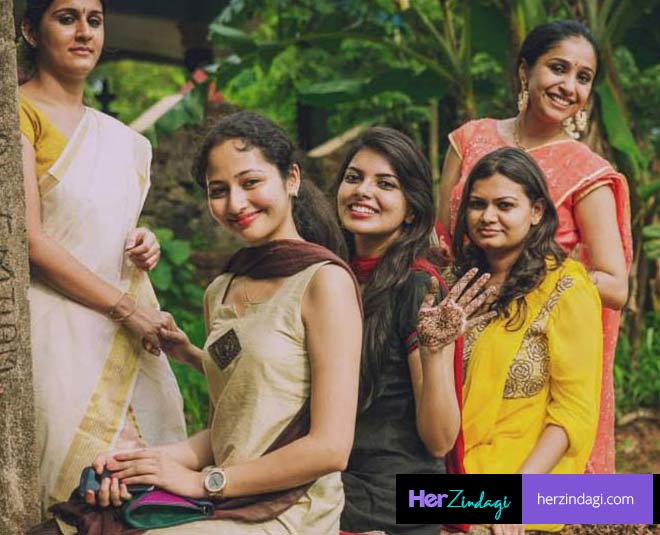 Things To Keep In Mind For The Wedding Trousseau
Before the main day comes, how can we miss out on the wedding shopping! Asked what she kept in mind for her wedding trousseau? Shylaja shared that both of them had begun with their shopping almost six months before
"In order to not miss out on pieces of clothing or accessories, my cousin and I maintained a chart to note down the clothes and other items for each time of the day, for the days before and after the wedding," she shared with HerZindagi.
Don't Miss: Tips For Brides: Make Sure You Pack These Things in Your Wedding Trousseau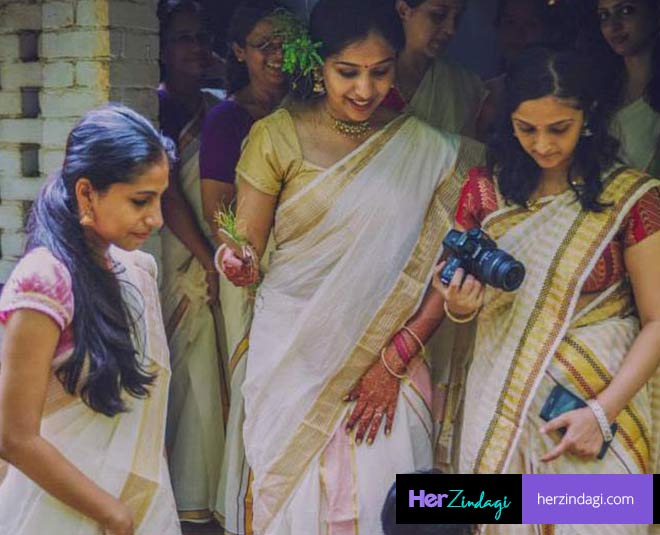 Looking For A Destination?
As per the destination of the wedding which many couples prefer these days, Shylaja shared that it was held in Thrissur in Kerala. "It was the most obvious choice as it's my hometown and where my grandparents were. It was also the most accessible place for a majority of the wedding guests."
Don't Miss: Getting Married Soon? Check Out Reasons To Consider Having A Destination Wedding
Her Favourite Wedding Ritual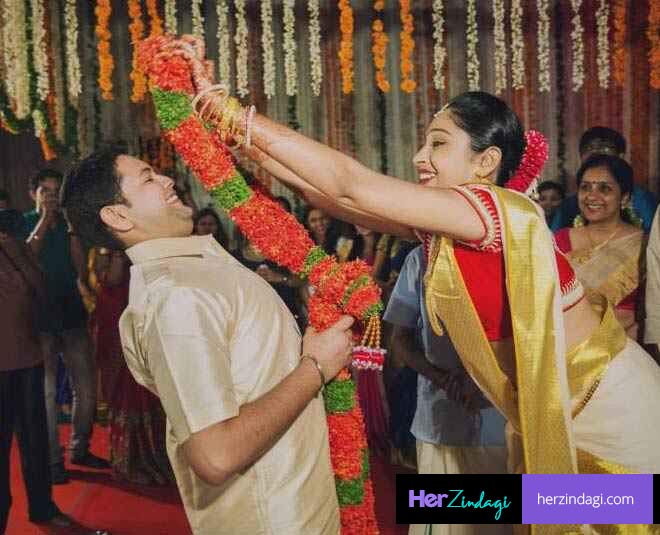 There are many rituals when we speak of weddings and Shylaja loved the "exchange of the garlands in which Aravind tried to duck my garland."
Tips For Perfect, Beautifully Captured Pictures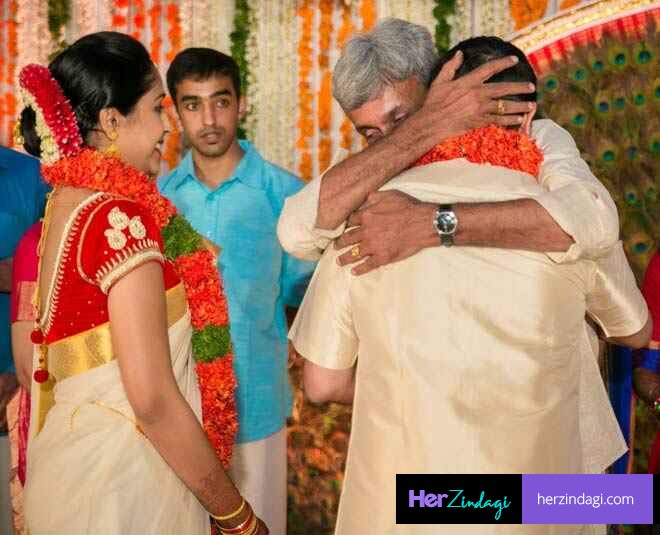 Shylaja shared that it is all about getting the right photographer who knows when to click.
"It all begins with identifying a good photographer who can capture your most special and candid moments. If you have an indoor wedding, try and take outdoor photos during the day," she shared.
Don't Miss: Pre-Wedding Shoot In Bengaluru? These Are The Best Places Where You Can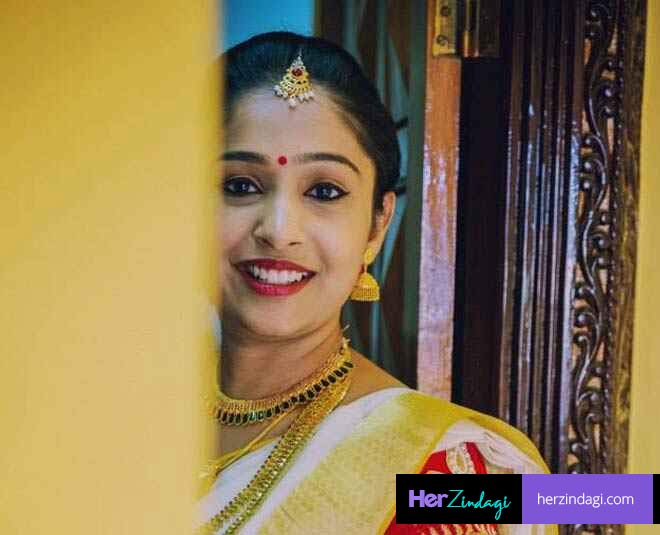 Advice For Would-Be Brides Getting Married Amid The Pandemic
Since big fat weddings are a no-no, given the pandemic, the HZ Real Bride shared that "nothing beats an intimate wedding".
"Women getting married in these times could see it as a chance to fully let their creativity flow with the wedding theme, décor and the ceremonies. Nothing beats an intimate wedding with just the most special people in your life. You now also have more bandwidth to look into small details that could otherwise be ignored in a bigger wedding.
"Focus on having a good time and making your day special and memorable. Also, get a good photographer since pictures stay forever."
One Memory From Your Wedding Day?
"While the whole day remains special, when I look back at that day, having my grandfather, who passed away last year, conduct our wedding rituals and guide us through each step, would remain very special. Also, that look on Aravind's face as I walked down the aisle."
What is your special memory from your wedding? Stay tuned to HerZindagi for more such beautiful, heartwarming, personal wedding memories and rituals.