Is the arrival of the guests at your house, keeping you occupied? If yes, then you have no reason to worry. Although the lockdown has been very harsh upon us but it has made us love and enjoy our company and now that the lockdown is not here people will be permitted to travel and visit their close ones. So, if your guests are arriving overnight and your guest room is a mess for a year now then you just follow what we tell you. We are here with some easy ways to make your guest room look decent and presentable in absolutely no time. So, read on and get sorted right away!
Start By Cleaning The Clutter And Mopping

Clutters always add a negative character to your rooms and spaces. So, our first and foremost goal is to clear all the clutter that you have been dumping inside your guest room. After cleaning the clutter itself you will start feeling both positive and space will start looking good to you.
Then move on to clean the entire room and cleaning it nicely with a disinfectant floor cleaner, after dusting and moping you will finally have the plan to figure things out.
When guests arrive, we try to show them what isn't even there, so know this for sure, that you can't really change anything overnight and you just have the chance to make it all look better. So, don't try that at all.
Change Bed Sheet
It is very crucial to change the bed sheets (best bed sheet fabrics)and add new ones to the bed, to make everything look up to the mark. So change the bed sheet, add more pillows for the comfort of your guests and also remember to keep a quilt or a simple bed sheet according to the weather conditions.
All this will make your room look super fresh and untouched which will make a great image of you in your guest's mind.
Keep Fresh Towels
Well setting up just the bedroom won't be of use, you will also have to clean the bathroom also and make it usable. Then you will have to add fresh towels, keep fresh soaps, and hand gels outside the washroom in the wardrobe or the table nearby present in the room.
The Lighting
Check for the lighting of the room and make it better if that needs to be then install a few portable lights that you already have, will do the needful. Keep the lights on the side tables and at a position where it is easy to be lit. After checking for all the above-mentioned things, we will head in for the last step.
Don't miss: Revamp Your Study Space Within A Budget Of Rs.1000
Final Touches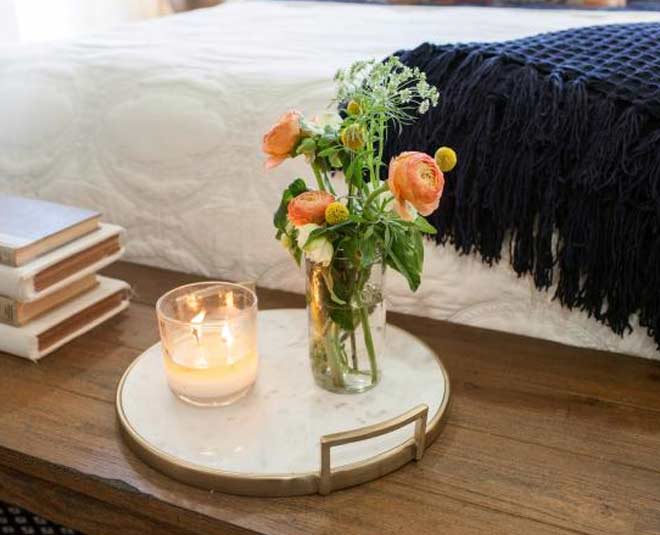 Finally, when you are done with all these things, it is turns to add some aroma diffusing flowers, some oil burners to the room and the bathroom. Take a tray and arrange an aroma diffuser, a few candles, and a lighting torch. Spray the room with a fragrant room freshener and just when they are about to arrive, burn the candles(how to make diy candles) and wait for the guests to come in.
Don't miss: Reuse These Items In Your Household For Effective Waste Management At Home
If you liked reading this article then stay tuned to Her Zindagi for more.
(Image Courtesy: darlingdarleen.com, hgtvhome.com, timeincuk.com)