These days toys have become so expensive that you can probably buy something more useful with that amount. But a childhood without toys is like a bulb without a filament, it is very important for a kid to have toys. Toys help your young ones to be able to imagine and expand the depth of their thoughts. This is consequently very vital for the overall development of his personality.
So, to give you a solution, we are here with some easy DIY projects that you can do for your kids and make them small and interactive toys. Take a look.
Feed The Monster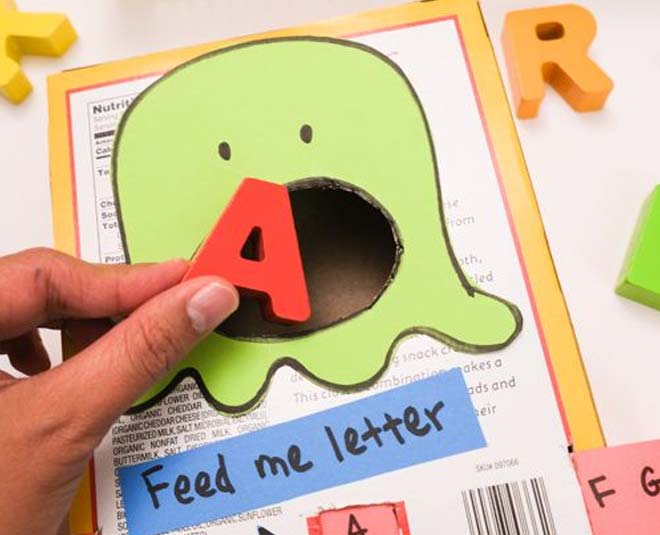 This is a super cool DIY game that you can make for your small kids. This game is great as it can be a part of your kid's learning process and can help him in learning alphabets and numbers or even shapes easily. There is a slider that displays what the monster wants you to feed him and then you insert the particular shape, alphabet or number and score 1 point.
So, to make this game, all you need is an old cardboard box, coloured papers and rubber sheet. Start by drawing alphabet/numbers/shapes on the rubber sheet and then cut them out. Then draw a green or a dark-colored monster on a chart paper with a wide-open mouth and cut it out. Trace the opening of the monster's mouth on the box and cut out using a paper cutter. Paint the entire box with a uniform colour and stick the monster over the box where you made the cut for its mouth. Next, make two incisions one on each margin of the box just where you have placed the monster. Make a small window to see the letters through it, then write the letter/numbers on a thin strip of paper and pass it through the incisions you have made. Now, feed the monster!
Helicopter With A Ball
We often get sweets or chocolates for kids inside balls, use them to make toys for your beloved baby. Take a transparent ball, some ice-cream sticks and some skewers. Now using a hot glue gun stick two equally sized skewers on the bottom of the helicopter, like two legs then stick ice cream sticks on each of the skewers to make it stand. For the top, insert a skewer on the top for the fins of the chopper. Then cut the ice cream sticks into two and stick 3 half pieces of those sticks on the skewer. Lastly, take an ice cream stick and attach it at the back of the ball to make the tail of the helicopter. Make a small character on another ice cream stick and place it inside the ball. There you go!
Miniature Hot Air Balloons
To make these DIY (How to make a diy planter with earthen pots)toys, you need balloons, straws, square-shaped paper cups and colourful paper. First, take the paper cups/bowls and decorate them with a theme in mind. Then cut small triangles and stick them on a thin rope to make a small garland. Next, stick the straws on the four corners of the bowl and inflate a balloon and stick it inside the four straws. Decorate the top of the balloon with your garland and voila!
Don't miss: Fabric Jewellery DIY Projects That Every Girl Should Check Out
Ship With An Egg Crate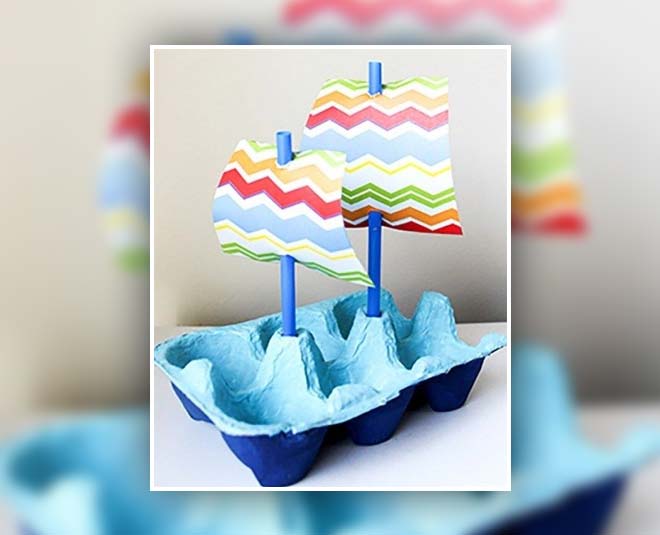 To make a ship with an egg crate, start painting the inside of a small crate with light blue paint and the outer portion with a dark blue shade paint and then allow it to dry. Then take a coloured paper and make two trapeziums on it, cut them out and then make two holes on both the cutouts. Insert a straw from the paper and then stick those straws firmly on the crate. Add small characters made out of ice cream sticks and you're done!
Make playtime fun-filled for your kids with these super amazing DIYs(Diy for diwali).
Don't miss: DIY Lip Packs To Make Your Pout Look Pink Naturally
If you liked reading this article, then stay tuned to Her Zindagi for more such pieces.