CODA Won Oscar And Other Hollywood Films That Were A Remake Of Bollywood Movies
Let's see how many know that their favourite Bollywood film inspired a Hollywood movie. Read on!
Recently, an English film, CODA, won the Best Picture award at the Oscars 2022. Did you know its story is based on Sanjay Leela Bhansali's Khamoshi: The Musical? Starring Seema Biswas, Salman Khan, Nana Patekar and Manisha Koirala, the film was Bhansali's debut in the Hindi Film industry.
Many said that CODA is a remake of a French film, La Famille Bélier. However, only a few know that the 2014 French movie was itself a remake of Khamoshi. CODA (Child Of Death Adults) is about the only hearing member in a family of deaf people who tries to fulfil her dream while taking care of and supporting her loved ones.
Well! It is not the only Hollywood film that was inspired by a Bollywood film. Below is a list of other English movies that were based on Hindi films.
Maine Pyaar Kyun Kiya - Just Go With It
Image Courtesy: IMDb, IMDb
In 2005, Salman Khan, Katrina Kaif and Sushmita Sen graced our screens with the romantic comedy Maine Pyaar Kyun Kiya. Salman fell in love with Katrina, but he had lied to her about being married. Therefore, enters Sushmita Sen, Salman's secretary to his rescue.
With a few details here and there, Just Go With It is a Hollywood copy of Maine Pyaar Kyun Kiya. It came in 2011 and starred our favourite Jennifer Aniston and Adam Sandler.
Jab We Met - Leap Year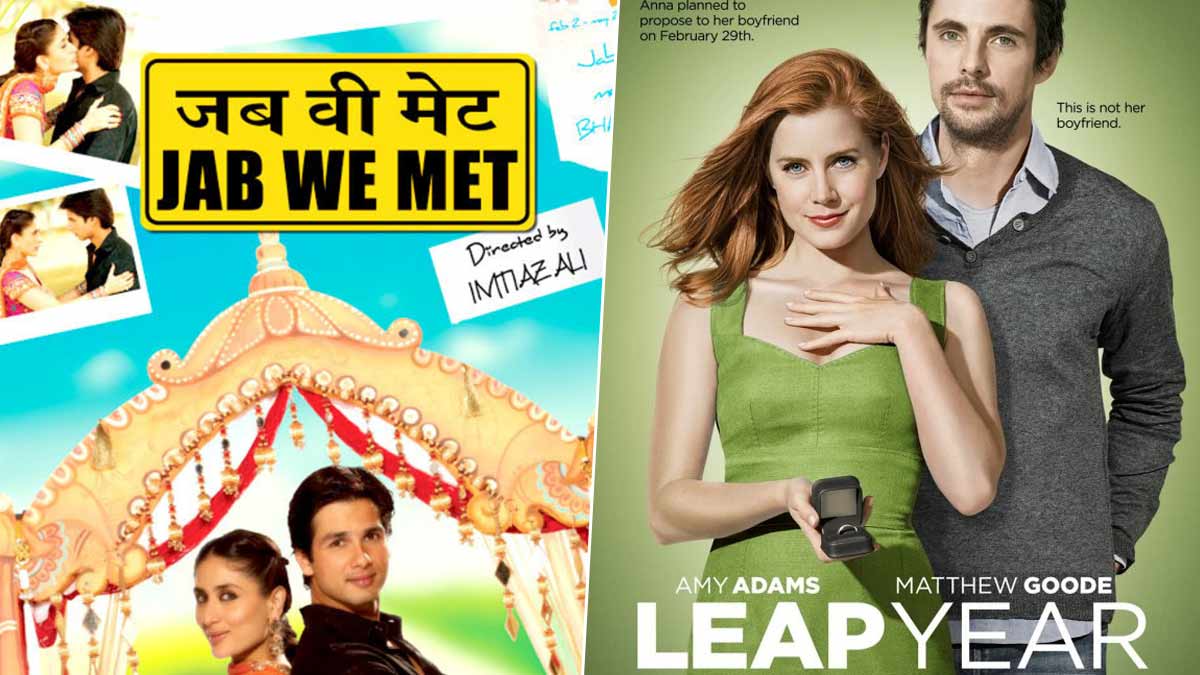 Image Courtesy: IMDb, Movie Insider
Jab We Met was Imtiaz Ali's film that was well-received by the audience. Featuring Kareena Kapoor Khan and Shahid Kapoor, it was a hit and still has a separate fan base.
On the other hand, its English version is renowned by the name - Leap Year. With a few details twisted, it seems inspired by the Bollywood film. It starred Amy Adams and Matthew Goode.
Darr - Fear
Do you remember Shah Rukh Khan as a psychotic stalker in Darr? It is one of the Bollywood movies that fans appreciate even today. In the 1993 movie, King Khan's character was so obsessed with Juhi Chawla's character that he carved her name on his chest. Shah Rukh Khan will be next seen in the action-thriller Pathan.
Based on a similar storyline, Fear was an English-language film that starred Mark Wahlberg, William Petersen, Reese Witherspoon, Amy Brenneman, Alyssa Milano and Christopher Gray.
A Wednesday - A Common Man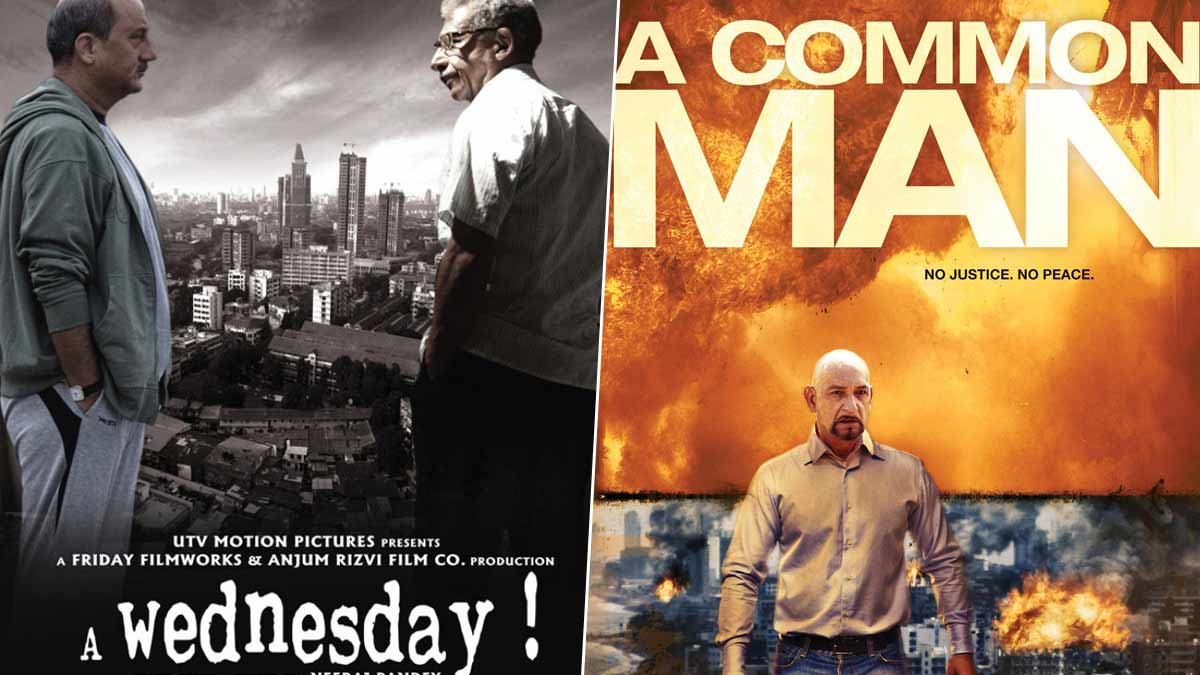 Image Courtesy: IMDb, IMDb
Do you remember Naseeruddin Shah's A Wednesday film? It also starred Anupam Kher and received many awards and accolades. The classic story of 2008 was well received by the Indian audience as well as critics.
Its English version goes by the name of A Common Man. Ben Kingsley played the role of Naseeruddin Shah. He planted four bombs across Colombo and threatened the system to release four prisoners in order to prevent the explosion. It was released in 2013.
Don't Miss: 10 Bollywood Star-Wives Who Are Running Successful Businesses
Vicky Donor - Delivery Man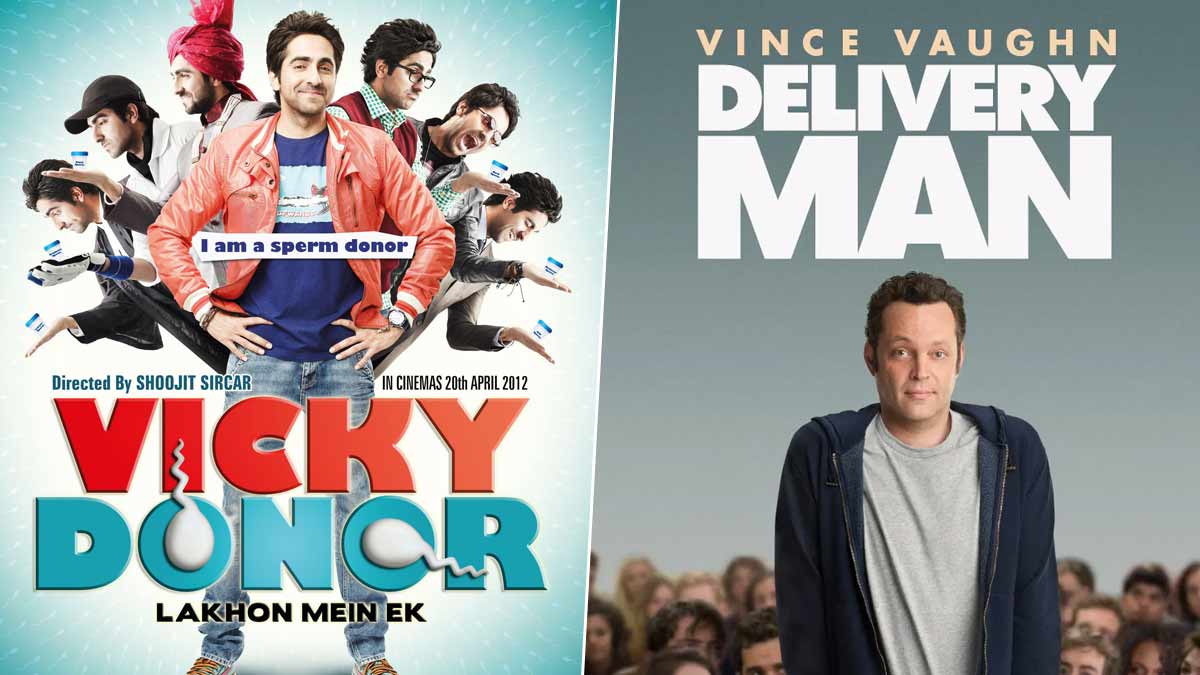 Image Courtesy: IMDb, HeyUGuys
Who does not remember Ayushman Khurrana's Vicky Donor? The 2012 movie dealt with the concept of sperm donation and infertility among men. It was a romantic comedy that made Ayushman a star in the Hindi Film industry.
Don't Miss: How Indian Films Coped With The Death Of Their Actors
The Hollywood version of the story is Delivery Man, which starred Vince Vaughn. It also stars Cobie Smulders and Chriss Patt. According to a few reports, both Vicky Donor and Delivery Man were inspired by Starbuck, a 2011 French film.
Stay tuned with HerZindagi for more such stories.