One of India much awaited festivals, Ganesh Chaturthi is just around the corner. The day celebrates the birth anniversary of Lord Ganesh, who is one of the most revered Gods in the Hindu Dharma.
Lord Ganesh is believed to be the God of wisdom, good fortune and prosperity. Ganesh Chaturthi is celebrated during the Shukla Paksha of the Bhadrapada month and this year it is falling on September 10, Friday.
Ganesh Chaturthi 2021
On the occasion of Ganesh Chaturthi, devotees bring home an idol of Lord Ganesh, decorate and worship them for 3 to 11 days till the time of visarjan or the day devotees bid farewell to Lord Ganesh by immersing the idol of the God in a water body and requesting him to return the next year.
Ganesh Visarjan Or Anant Chaturdashi
Most people bid goodbye to Lord Ganesh on Anant Chaturdashi which is 9-10 days after bringing him home. If you will be doing the visarjan on Anant Chaturdashi then follow this muhurat: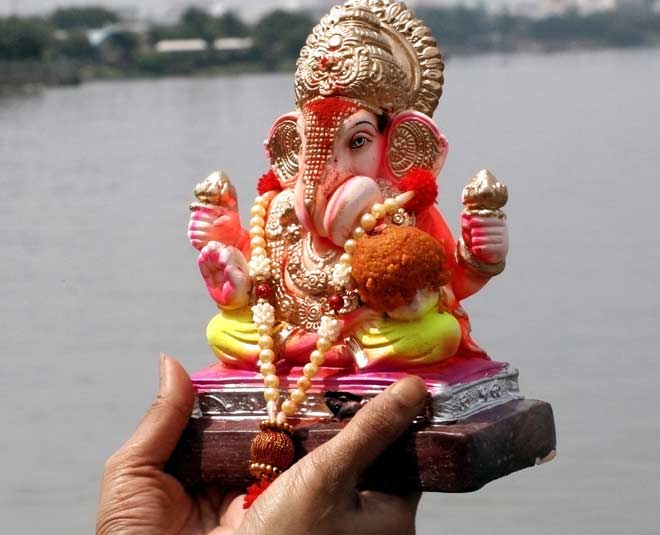 Image Courtesy: Shutterstock
As per drikpanchang.com, muhurat timings for Ganesh Visarjan are -
Date - 05:59 AM on Sep 19, 2021 to 05:28 AM on Sep 20, 2021
Morning Muhurat - 07:40 AM to 12:15 PM
Afternoon Muhurat - 01:46 PM to 03:18 PM
Evening Muhurat - 06:21 PM to 10:46 PM
Night Muhurat - 01:43 AM to 03:12 AM, Sep 20
Early Morning Muhurat - 04:40 AM to 06:08 AM, Sep 20
Many devotees bid farewell to Lord Ganesh the same day or in less than 10 days.
Ganesh Visarjan On The Same Day
The muhurat for visarjan on the same day as per drikpanchang is -
Afternoon Muhurat - 04:59 PM to 06:32 PM
Afternoon Muhurat - 01:33 PM to 01:51 PM
Night Muhurat - 09:25 PM to 10:52 PM
Night Muhurat - 12:18 AM to 04:38 AM, Sep 11
Don't Miss: Ganesh Chaturthi Special: Prepare Tutty Fruity Modaks At Home Using A Few Ingredients
Ganesh Puja Vidhi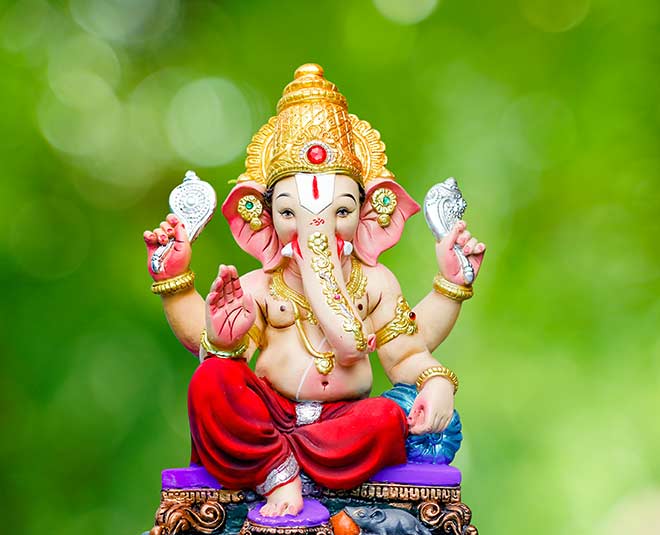 Image Courtesy: Freepik
We spoke to Astrologer Sonia Malik and asked her about the puja vidhi for Ganesh Chaturthi. The expert shared a quick guide -
First, the expert shared that after bringing the idol home and placing it in the temple or bhavan, one should chant a mantra while folding hands.
ओम गं गणपतये नमः (Om Gan Ganpataye Namah) is one of the easiest mantras of Lord Ganesh and it helps invoke Lord Ganesh into the idol.
Next she shared that flowers should be offered to Lord Ganesh's idol and they should be 5 in number.
Offer water to Lord Ganesh and place it near the idol.
Prepare panchamrita using milk, curd, honey, ghee and sugar. Mix well offer it to Lord Ganesh.
Give bath to Lord Ganesh with milk, curd, honey and then clean the idol.
Apply scented oil to the idol of Lord Ganesh.
Follow with cleaning the idol once again with clean water.
Clean the idol and offer new clothes to Lord Ganesh. You can offer moli or a towel as their new cloth.
Place a garland of flowers around Lord Ganesh's neck.
Apple sindoor or vermilion on Lord Ganesh's forehead, offer dhoop and light with a diya.
Offer coconut, paan with betel nuts and dakshina (fruits, clothes, money). This dakshina can later be given to a needy after visarjan.
Do Ganesh aarti with all the family members.
Hold Lord Ganesh's idol and step out of your home for visarjan. Pray to Lord Ganesh to come back next year.
We hope this guide helps you perform Lord Ganesh puja at home. If you have any questions related to Ganesh Visarjan, write to us on any of our social media handles and we will try to get them answered for you by our expert.
Tell us how are you planning to celebrate Ganesh Chaturthi this year on our Facebook page. For more such stories, stay tuned!