Follow These Easy Tips To Prevent Your Laundry From Bleeding
Colour bleeding usually happens due to how the fabric and threads were manufactured or because of the improper handling by customers.
Are you tired of losing your favourite clothes to colour bleeding? Then, you've landed at the right place.
We all have been in that place where we just wanted a fresh and clean set of clothes but ended up getting rose-tinted socks. How? Because just one red t-shirt got mixed in with a load of whites.
If we look out for this issue, then, we get another one! It's also difficult to figure out which piece of clothing would bleed out (even the light ones can bleed!) and which cloth would be the victim of the colour.
Not only bleeding of clothes ruin your light-coloured clothes but also, it can leave the dark-coloured clothes looking dirty and faded.
But don't worry! We are here to help you.
Fortunately, there are several ways that can keep your favourite and expensive clothes looking exactly the way you want them to.
So, we've listed some easy tips and tricks for preventing or even reversing the effects of color bleeding. Also, they will not burn a hole in your pocket. Read on!
Why Does Colour Bleeding Happen?
Image Courtesy: Renaissance Mom
Who doesn't like buying new clothes? But then, the thought that is constantly on the back of our minds is what if the dye from these new threads bleed in the very first wash, right?
Colour bleeding is basically when one garment stains another. Usually, this happens when the clothes are wet. Why?
The dye of the threads runoff from a certain piece of clothing while it is wet and it stains the water. Then, the water stains other fabrics.
This issue is observed when clothing manufacturers use ineffective or cheap dyes. While sometimes, it can also happen that manufacturers overdye the fabrics so they'll appear more vibrant in the store, but then fade in the very first wash.
But sometimes, it happens because of incorrect handling by consumers. Therefore, you should remain more vigilant while purchasing the fabrics and doing laundry.
Tips To Prevent Colour Bleeding
While, you may be thinking that taking your clothes to a professional cleaner is an easy option, but we are going to tell you some easy tips and tricks that you can follow before, during, and after washing the clothes. Take a look!
Before The Cloth Wash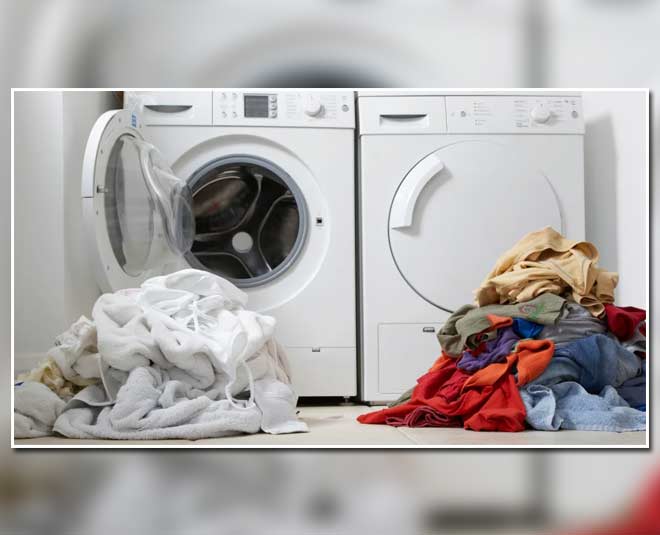 Image Courtesy: reviewed.com
First, sort all your clothes carefully and correctly before placing them in the washing machine.
Separate light and pastel-coloured clothes from bright and dark-coloured clothes. Then, wash similar colours together. This is the best way to prevent bleeding and staining!
If you think that colours from a clothing piece can bleed, then it is recommended that you hand wash it separately.
Then, always remember to turn your clothes inside-out when washing them. This trick will definitely reduce the friction which can further prevent bleeding and fading.
Also, when you shop, look at the cloth labels and avoid clothes that are labelled with instructions like 'Color May Fade', 'Do Not Use Detergent', 'Wash Before Wear' or 'Use Cold Water'. These are the hints that the colour may wash off the clothes.
Don't miss:Here Are Five Mistakes You Are Making While Washing Clothes
During The Cloth Wash
Image Courtesy: Understanding Compassion
Always use cold water if you are skeptical that a certain piece of clothing can bleed. Because hot water tends to open up the fibers of the cloth which leads the dye to bleed. Also, use a detergent that is designed to perform in cold water. This trick will help the colours last longer.
You can add 1 cup of white vinegar to the wash to help the fibers absorb dye and further, hold the colours.
If you don't have vinegar, then add half a cup of salt. It will help in setting the color into the fabric and the colour away from fading or bleeding.
Use color-catcher sheets. They can trap extraneous dyes during the wash and prevent the clothes from bleeding. Also, these colour catchers work best in cold water.
You can also opt for a dye fixative, as these products are intended to reduce bleeding and fading.
The friction that occurs during a wash can cause micro-breakages in the fibers leading to colour bleeding. For clothes that fade quickly or have the tendency to bleed, then wash them using the permanent press or gentle setting to reduce friction.
You can also reduce friction by not overfilling your washing machine. Moreover, you should fasten the zippers and hooks of your clothes and turn the items inside-out for a safer wash.
Don't miss:How To Clean Woolen Clothes At Home
After The Cloth Wash
Just like before washing your clothes, turn your clothes inside out while drying as well. This will save them from a lot of wear and tear.
Since the sun can act as a bleach, don't hang your clothes in direct sunlight as this can cause fading.
Don't leave the wet clothes sitting in the machine for too long. This can increase the risk of colour bleeding.
Which of these tips are you going to follow? Do share your thoughts with us on our Facebook page. For more such stories, stay tuned to HerZindagi!