Our house remains full of old and unused stuff but what if you could use all of those things and make something really cool and catchy. Well, making the best out of waste is one of the very good practices that we must try and instill. So, here we are, with some really great ideas to use to create the best products out of the things that you no longer use, such as CDs, plastic bottles etc.
Take a look at these DIY projects and try them at home.
DIY Planter With Newspaper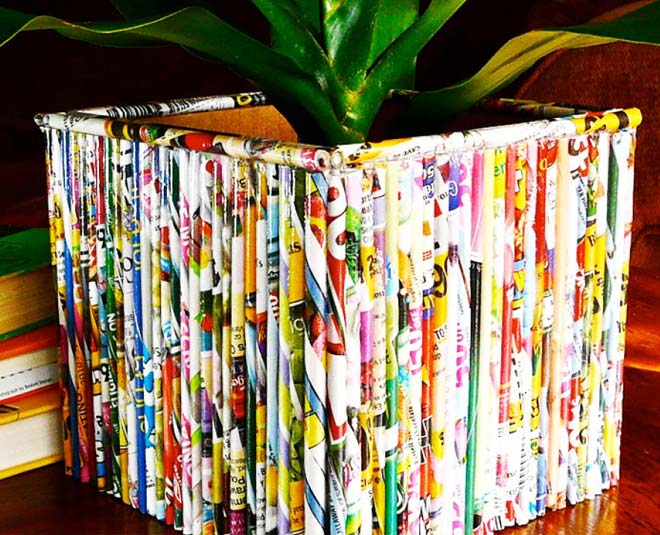 To make a DIY planter all you need is an old box made of plastic or metal, some newspapers, and spray paints. To start with, make thin rolls of newspaper and use a mixture of glue and water to coat them to secure. Let them dry for 24 hours and then stick them on the metal box using a strong adhesive glue. Cover the entire box like this and then leave it to dry. Once the planter dries out, spray paint the newspaper rolls and add your plant to your best out of waste planter. Place this planter in your verandah, living room(accent wall ideas for your room), or your study to enhance the appeal of the room.
DIY Jewellery Holder
For making this DIY you will need, a kitchen tissue roll, some waste plastic bottles, ribbons, and decorative flowers, and a CD. Cover the CD with a coloured paper and stick a perfectly sized thermacol sheet underneath it for extra support. Now, take the tissue roll, and cover it too, with a coloured sheet then stick it on the center of the CD. Next, cut the bottoms of the plastic bottles under adult supervision and cover the edges with ribbons. Now that you're done preparing all the elements, it's time to assemble them all together. So, stick the bottle bottoms at different levels around the tissue roll and decorate them more with flowers, etc.
DIY Table Showpiece

To make this DIY(DIY projects for diwali) you need plastic bottles, ribbons, beads, and other decorative items. So, all you have to do is cut strips from thin plastic bottles and join their ends like in a heart shape(by making a fold at the strip). Then make three such heart shapes and then cover them with ribbons, beads, and other things that you have. The align and stick these hearts together and attach them to a sturdy base. Decorate the base with pictures of butterflies, birds and place it over on the table to enhance the look of your room.
Don't miss: Fabric Jewellery DIY Projects That Every Girl Should Check Out
DIY Table Organiser
Again, for this DIY you need, CD, pingles boxes or any cylindrical storage box, thin ropes for decoration, ribbons, and some other unused boxes. First, cover all the pieces with the thin ropes from the CD to all the boxes. Then assemble all the pieces together and place them like you want to. And using a strong adhesive glue, stick all the pieces together, one by one. Now add decorative flowers or tie a ribbon around the entire piece to make it look more beautiful. Finally, keep it on the side of your study table and add pens, and the small stuff to the different sections of this DIY organiser, and keep your table neat and clean.
Don't miss: Check Out Some Cool And Creative Ways To Reuse Old Dupattas
If you liked reading this article, then stay tuned to Her Zindagi for more such pieces.