Bigg Boss and Khatron Ke Khiladi fame Rahul Vaidya recently got married to girlfriend Disha Parmar. The pictures from their fairytale wedding did create a lot of buzz on social media.
A few weeks later, newlywed Disha Parmar's pictures too are making headlines but for all wrong reasons. Disha Parmar has got quite active on social media ever since her wedding and keeps posting a lot of pictures on her Instagram handle.
However, some people are just not happy seeing Disha Parmar in her new avatar. Recently when Disha Parmar dropped some stunning pictures in a gulaabi pink saree, social media users started to troll her for not wearing sindoor.
Newly Wed Disha Parmar Trolled For Not Wearing Sindoor
View this post on Instagram
As soon as Disha Parmar posted her picture in the saree, some netizens just couldn't keep calm and flooded her comments section with a common question. Most of them were curious to know why she wasn't wearing sindoor.
A user wrote, "Sindhoor kidhar hai? ??." Many others slammed her for disrespecting the Hindu Dharma for not applying sindoor. Another one wrote, "Sindurr nhi lgyaaa".
"Ek sindur daal leti to kya chala jata tumhara," wrote another one.
Disha Parmar Reacts To Trolls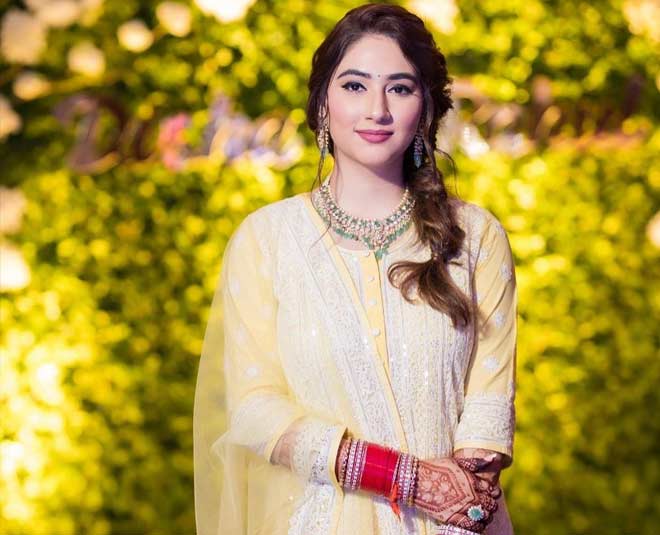 After seeing so many trolls flooding her posts on Instagram, Disha Parmar too replied to the comments. She wrote, "Also to all the people who feel it's their right to litter my comments with negativity because am not wearing sindoor.. it's my choice! I wear it when I want to wear it.. am okay with it, my husband is okay with it, my family is okay with it! Why are you so triggered?"
Earlier, during a live session with husband Rahul Vaidya, she was asked why her sindoor and wedding ring were missing. Rahul Vaidya first faked a fight with Disha Parmar on why she hasn't applied sindoor. Disha Parmar then blamed him for not applying it. Rahul Vaidya then ended up assuring his fans that he was fine with her wife not wearing it.
Don't Miss: Mehendi to Reception: Here Is What Disha Parmar Wore For All Her Wedding Functions
What's The Big Deal With Sindoor?
Sindoor has been a part of our age-old Hindu traditions and is a common rasam performed at an Indian wedding even today. Sindoor is believed to be a symbol of a woman's marriage.
While many love adorning themselves with vermilion, many others just don't wear it for different reasons. However, for many, it isn't acceptable. In the past, there have been cases in India where divorce petitions were filed by husbands when their wives refused to follow the traditions, something like wearing sindoor, covering the head with pallu among others.
Don't Miss: Inside The DisHul Wedding: Catch The Highlights Of All Their Function Here
Clearly, it is not enough to just get married in India. Married women like Disha Parmar are even judged for not looking married. Strange? Well, looks like society is quite obsessed with sindoor. Even today many people believe that not wearing sindoor or any other symbols of marriage like the mangalsutra, bangles, toe rings is inauspicious. All these rituals are considered sacred but do they assure a happy married life?
We guess it is high time we start to realise that wearing sindoor can be a woman's choice. Also, if these traditions are supposed to be a symbol of marriage for us women, why aren't men ever asked to follow any such rules?
What is your opinion on the trolls after Disha Parmar? Do you think sindoor is just a symbol of marriage or more? Share your thoughts with us on our Facebook page. For more such stories, stay tuned!